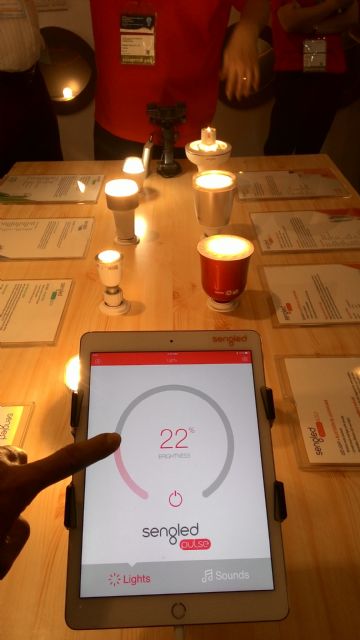 Sengled's smart technology enables users to control lighting with mobile computing devices like tablet PC.
​
Sengled Optoelectronics promoted its smart control system for household lighting and security systems at the 2015 autumn edition of Hong Kong International Lighting Fair on October 27 through 30.
The control system primarily consists of wireless and Internet of Thing (IoT) technologies operated via a smartphone, or a tablet PC, installed with the company's dedicated application.
Making most of these technologies and the built-in JBL Bluetooth speaker, the company introduced E27-plug LED bulbs that plays music downloaded from the so-called cloud, as well as increase and decrease intensity and color temperature. All these functions are controlled via a smartphone running on Apple or Android OS.
A master bulb, which is connected remotely to a smartphone, can relay signal to seven other bulbs to constitute a lighting network.
The smart lighting system won the Innovation Award at Consumer Electronics Show (CES) 2015, which was held in January in Las Vegas. The Hong Kong lighting fair was the company's first lighting event for the smart lighting system.
Sengled has integrated the control system with household security system, enabling users to monitor their yards on their smartphone, or tablet PC, remotely connected to outdoor closed-circuit television cameras. It has designed voice and face recognition technologies into the security system to enable alarm activation upon detection of mismatched voice and face.
According to the company, Sengled is now a world leading brand for smart household products and the only Chinese brand selling such products in App Store. Brand & Digital Marketing Director Terry Ma of the company's marketing department reported that the company now runs four production lines for smart lamps with adjustable color temperature, compared with Philips' single line, and that the firm's products do not breach any patent held by competitors.
The company was founded 10-some years ago to make LED lights for big-name contract buyers like Philips, according to Ma. Overcrowded competition in the traditional LED lighting market has turned manufacturing into practically profitless, which motivated Sengled to diversify into the smart lighting sector, which is much more profitable due to higher technical demands, said Ma. 
The company began developing smart household technologies around four years ago. An army of 200-some R&D engineers, according to Ma, is the core strength that enables the company to cross-over to the smart sector. "Our R&D engineers are now developing the function of pinpointing chosen routes for our smart lamps based on Google map navigation," he said.