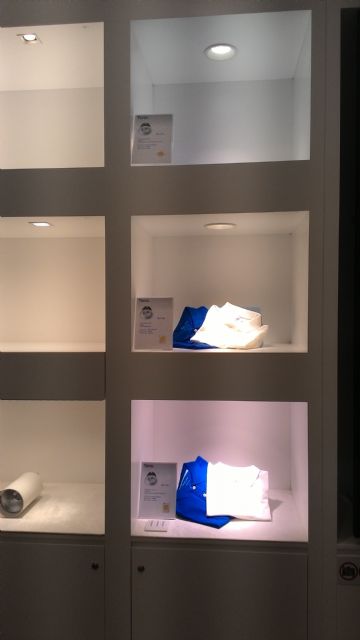 Tons' LED commercial lights are glare-free to illuminate merchandise with vivid effect.
Tons Lightology Inc. promoted LED commercial lighting fixtures featuring non-glare beam at the HKTDC Hong Kong International Lighting Fair (Autumn Edition), held Oct. 27-30. Among the products were the Micro Track System series showcase lights, DW-409R series recessed ceiling lights, DA-934R series recessed ceiling lights, and DW-303 series recessed lights. 
A winner of the iF Product Design Award 2013, Red Dot Award 2014, and Taiwan Excellence 2014, the company is reportedly Taiwan's sole lighting maker dedicated to products for commercial spaces and applications.
Scott Wang, the vice president of finance and accounting, points out that creating a comfortable lighting space is the foremost goal to be achieved with lamps, whose reflector and consequent beam angle are the key elements that help to meet such target.
At the company's booth, various types of the company's commercial lamps illuminated samples of merchandise like apparels, fake fruits and costume jewelry, which were lit with wide area beams and spot beams. Using different depths of reflectors depending on need enables the beam angle to go from narrow to wide, Wang said.
Instead of using high-power LED emitter encasing only one single chip, the company integrates its reflectors with chip-on-board (COB) emitter, whose array of miniature chips on one board creates a wider beam area. Besides, the eco-friendly COB LEDs achieves better energy efficiency and lower maintenance cost.
The lamps come with a transparent lens to protect the COB LEDs inside, with exteriors that are easy to clean. A unique bracket mechanism ensures smooth rotation to angles up to 355 degrees and tilt at angles up to 60 degrees. A swivel design enables illumination with wall-washer effect on surfaces.
These lamps, thanks to reflectors of various angles available for different applications, feature even light distribution that makes them ideal for commercial sites such as hotel lobbies, reception areas, restaurants, exhibition halls, showroom, and cinemas.
"Commercial lighting has become more and more customized because of increasingly specific luminous effect demanded by shops for every category of merchandise showcased," Wang stressed.
"We're benefiting from the trend because the more specific the lights ordered, the higher value our lamps command; while we are totally capable of making commercial lights for specific effect because we've been in the industry for over 20 years," he boasted.
Tons Lightology has been contracted to equip four of the six halls of the Southern Branch of the National Palace Museum, in southern Taiwan, with its lighting fixtures.