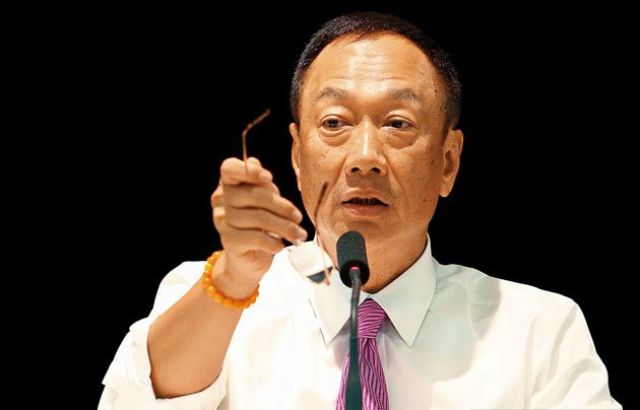 Hon Hai's chairman Terry Gou. (photo from UDN)
China Harmony Auto Holding Co., a major luxury-car dealer in China, recently announced a partnership with the Alibaba Group of China, an e-commerce giant that listed on the NYSE this year, to jointly develop automotive-related businesses. The two parties plan to open 300 service centers in 15 provinces in China over the next two years to provide automotive after-sales services, according to foreign newswire.
The news also indicates that Hon Hai Group of Taiwan, recognized as the largest private manufacturer on the island and one of the world's largest EMS (electronics manufacturing services) providers, stands to benefit further in its electric vehicle (EV)-related business development in China. 
In late 2014, Hon Hai/Foxconn invested in China Harmony to becone the second-largest shareholder in the auto dealer. Not very long afterwards, industry sources said that an EV production venture was set up by Hon Hai, Chinese Internet giant, Tencent Holdings, and China Harmony.
Recent news reports say that a new EV factory of the venture is expected to be completely constructed by 2016 or 2017, and will start mass production by 2018. The venture reportedly will try to become "Apple of the EV industry" to focus on developing and producing upscale EVs based on the "boutique concept". Its future business model will see Hon Hai supply electronics-related parts and systems for EVs, with Tencent to leverage its established strength in Internet platform, and China Harmony as the distributor by utilizing its expertise in automobile vending.
The EV venture will be headquartered in Zhengzhou, Henan Province of China. With participation by parties each with expertise and know-how in specialized fields, the venture is expected to design and produce smart EVs with uniqueness. The venture is initially capitalized at 1 billion renminbi (RMB, or Chinese yuan), with stakes held by China Harmony, Hon Hai and Tencent at 40 percent, 30 percent and 30 percent, respectively.
Industry sources say that the China Harmony-Alibaba tie-up in automotive  after-sales service enables Hon Hai to  basically complete its initial EV-business deployment, from EV manufacturing, leasing, software, to after-sales services.
In addition, several Hon Hai affiliates will also join the project to supply parts, including Foxconn Technology Co., Ltd. (system integration and mechanical parts), Innolux Corp. (Taiwan's largest maker of thin film transistor-liquid crystal display (TFT-LCD) panels), ESON Precision Engineering Co. Ltd. (precision tooling development and already a supplier to American premium EV maker Tesla), etc.
According to foreign newswire, a senior manager of China Harmony pointed out that profit margins of automotive after-sales services are often as high as 40 percent to 45 percent, hence the decision by his company and Alibaba to jointly tap the lucrative business. He also added that with the establishment of an increasing number of after-sales service centers, automotive  repair and maintenance business is expected to account for about 80 percent of China Harmony's overall profits in 2016, and the company may consider the possibility to spin off the business in the future for initial public offering (IPO).
The manager noted that China Harmony and Alibaba are expected to create a new business model in the automotive after-sales service segment. China Harmony, in fact, has utilized Alibaba's e-commerce platform to sell brand new, used luxury   cars, EVs, and promote its after-sales service business. The two parties are also jointly developing automobile financing services.
Industry experts say that the rising EV market has been drawing more and more players to jump onto the lucrative bandwagon. There are now many foreseeable business opportunities, they add, including EV charging infrastructure construction, after-sales service chain development, etc.