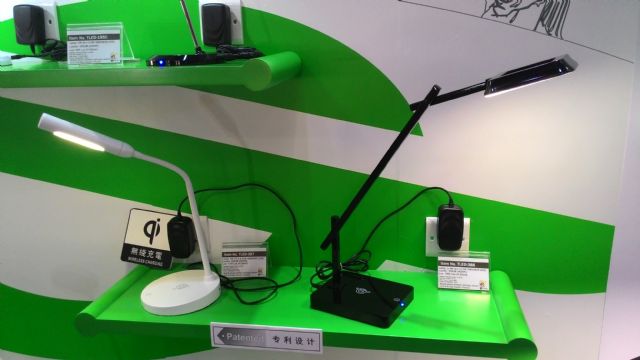 Wireless mobile-phone charging table lamps from Home Resource.
Among the most eye-catching exhibits at the 2015 Autumn edition of the Hong Kong International Lighting Fair, held October 27-30, was a series of table lamps equipped to wirelessly recharge mobile phones, displayed by the Home Resource Industrial Co., Ltd., established in 1988 in Taiwan.
The lamps incorporate the Qi inductive power standard developed by the Wireless Power Consortium to transfer inductive electricity over distances of up to 4 cm.
Mobile phones that can be recharged by the lamps include those carrying brand names Samsung, Nokia, HTC, Google LG, LG, Sharp, iPhone, Xiaomi, and Asus.
Among the lamps are the TLED-21BU and TLED-195C models, with the former integrated with 12 0.5W SMD5630 LEDs to generate 440 lumens of 4,000K white light and provide 1,200 lux of light on desktops.
The TLED-21BU has an ABS exterior for durability, comes with a 5V, 500mA USB slot, foldable arms, and comes in black and white colors.
The TLED-195C is integrated with six 0.5W SMD5630 LEDs to generate 200lm of 4,000K white light and provide 900 lux on desktops. This lamp has an ABS head and base and an arm of metal tubing, with a stepless dimming switch or rheostat and comes in in black, white and green colors.
All these unique, practical lights have been developed based on the company's adoption of the well-known "Blue Ocean" strategy, which states that companies can succeed not by battling competitors, but rather by creating ″blue oceans″ of uncontested market space, as well as create a leap in value for companies, buyers, and employees while unlocking new demand and making the competition irrelevant.
Over the past two decades, the company has won internationally known awards like Red Dot Design Award of Germany, Excellent Quality Award of Spain and Good Design Product of Taiwan, as well as around 40 patents in the European Union,10 in the United States and over 200 in mainland China.
Implementing management system in accordance with the ISO9001:2000 international standard and supplying products meeting GS/TUV, CE, ETL, cUL electrical safety standards, Home Resource in recent years has been working to evolve into an all-round lighting provider by also offering services as goods inspection, materials sourcing, payment, and business consolidation. 
In 1992, the company was the first lighting maker in Taiwan to migrate to mainland China to open a branch in Ningbo in the coastal province of Zhejiang, and then 12 years later set up a factory in Dongguan, Guangdong Province to make LED lighting fixtures, becoming the first of its kind to do so in the mainland, where it runs a showroom of some 4,500 square meters.
From its manufacturing base in Zhongshan, Guangdong Province, it ships products to over 80 customers in 50 countries.