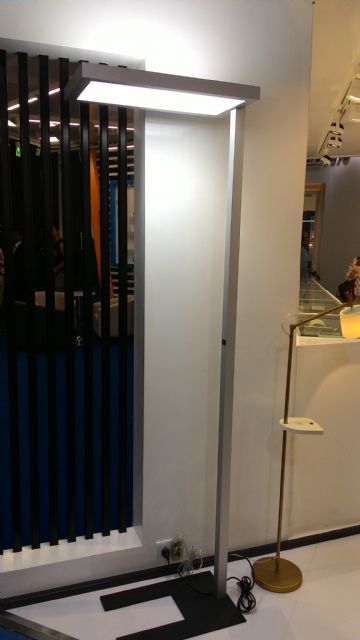 V-Tech Lighting's upward- and downward-projecting office floor lamp (left) and household floor lamp with wiresless recharging capacity.
At the 2015 Autumn edition of the Hong Kong International Lighting Fair, held October 27-30, V-Tech Lighting Corp. displayed a series of LED office lights and wireless charging floor lamps and desk lamps for household.
The office lighting series include floor lamps, pendants, ceiling lamps, and pendant system lamps.
The floor lamps, mostly including the 9101, 20100, and 20200 models, do not only project downward but also upward, with downward light rated at 60W while the upward light at 40W, with an arm-integrated switch enabling users to choose the direction of light projection.
All three models are dimmable with a step-less rheostat using the Digital Addressable Lighting Interface (DALI) driver, which enables the lamps to be adjusted from 1 volt to 10 volts.
Both the 9010 and 20100 come with a fixed lampshade, with the former's taking a net form and the latter's being linearly shaped; while the 20200's lampshade is adjustable to 15 degrees upward and downward.
The company's desk lamps and floor lamps are embedded with the Qi inductive charging technology, to mainly enable wireless recharging of smartphones and wearable devices.
V-Tech has managed to pare down production costs by using common thermal-dissipation modules in lamps of the same family. Making most of the cost efficiency, along with competent engineering strength and advanced manufacturing facilities, V-Tech has been able to come up with innovative, quality lighting products.
V-Tech pays much attention to interaction with customers, giving suggestions to the latter and taking feedback into account, in order to raise quality and cut cost. Such efforts are meant to create a win-win outcome for both parties.
Founded in 1979, V-Tech Lighting has evolved from a trading company into a dedicated manufacturer of commercial lighting, with well established division-of-labor operation on the two sides of the Taiwan Straits. Thanks to steady upgrading and transformation, the company has become a versatile lighting manufacturer.
In 1987, V-tech set up its first factory in Taiwan to make work lamps, halogen table lamps, floor lamps, wall lamps, and decorative lamps destined for the United States and Europe.
Ten years later, the company relocated its manufacturing facilities to Dongguan, mainland China while retaining headquarters in Taiwan. Its mainland Chinese factories, sitting on 200,000 square feet of land, are equipped with integrated manufacturing capability featuring streamlined production processes, as well as ISO14000-certified to be friendly to the environment.
In 2008, the company further diversified into LED lighting by rolling out a number of products including task lamps and projectors to show its ambition to be in tune to the trend of energy saving.