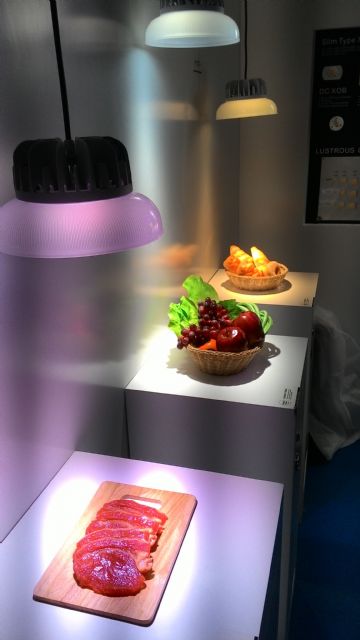 Lustrous's Bartender LED modules in lighting fixtures project vivid lighting effect on merchandise like food.
Lustrous Technology Ltd., a leading maker of high-power LED packages in Taiwan founded in 2004 that set up its own "LUSTROUS" brand the same year, promoted the Bartender series of system chip-on-board (XOB) modules, which has the phosphor mixture technology that enables the devices to emit lighting with vivid effect on merchandises like raw meat, vegetables and fruits.
The CIE1931 RGB module the maker calls the Bartender devices generate green light corresponding to the 560-580nm wavelength, which the company dubs Appletinin; yellow light corresponding to the 580-600nm wavelength dubbed Whisky Soda; orange light corresponding to the 600-620nm wavelength called Tequila Sunrise; red light corresponding to the 635-655nm wavelength dubbed Bloody Mary; purple light corresponding to undetermined  wavelength named Purple Dream; and blue light corresponding to the 460-475nm wavelength called Blue Lagoon.
Bartender modules are embedded with power driver and LED chips on the same printed circuit board (PCB), making them lighter and much easier to combine with the unique phosphor mixture than most competing types to produce better quality of tint and enable better control of color.
The company worked with the Taiwan government-backed Industrial Technology Research Institute (ITRI) to develop the phosphor formula based on studies of physiological response to color using statistical analysis method.
The Bartender modules come with an optical lens that is quite resistant to moisture and oxidization thanks to a unique molding technique developed by Lustrous itself.
The modules have been built into lighting fixtures by many lighting manufacturers including Yah Juang Enterprise Ltd. of Taiwan.
Lustrous supplies a wide range of high-power LED packages made with chip-on-board (COP) technology for to-order specifications from customers. The company is recognized as the world's first LED maker to adopt the packaging technology from the silicon-chip industry and has won many patents on LED COB packaging, which enables the maker to further simplify its process and downsize its modules while improving thermal dissipation in the packages.
Backed by advanced production equipment, experienced R&D team, well equipped laboratories and factories, the company has introduced LEDs protected by patents in the United States and Japan.
In recent years, the company has sharpened its capability in optical-lens design and phosphor formula development with a team specializing in electrical engineering, LED packaging and optics, enabling it to provide customers with optimized lighting solutions according to their specifications.
Lustrous's module designs focus on optimal light color, quality, energy conservation, and luminous efficacy, which have been achieved thanks to its close cooperation and communication with customers.
The company's products are now available on major world markets through its agents in mainland China, India, Serbia, England, Bulgaria, Germany, Spain, Russia, Brazil and Turkey.