Lamps with wireless charging capacity and wirelessly controlled music playing lamps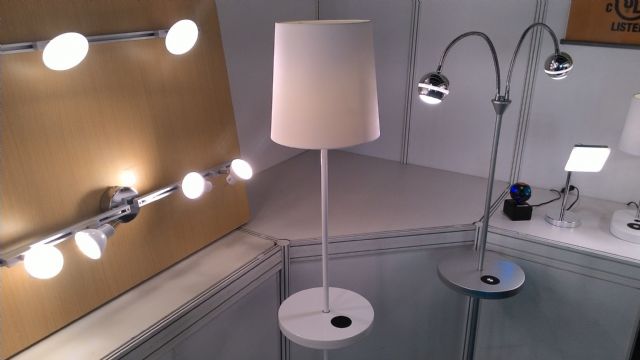 Floor lamp with wireless charging capacity and Bluetooth-connected soccer ball stage lights from Lipan.
At the 2015 autumn edition of the Hong Kong International Lighting Fair, staged October 27-30, the 1970-founded Lipan Industrial Co., Ltd. promoted a series of LED desk and floor lamps integrated with wireless charging capacity, as well as soccer ball, music-playing stage lights controlled by Bluetooth-enabled smartphones.
Also in the company's LED-light lineup are lava lamps, clamp-on lights, cabinet lights, and light strips.
The company has acquired most of the world's leading quality certificates including CE, TUV GS, RoHS, REACH, ISO9001, BSCI, and Intertek.
The maker has set up solid technical strength upheld by precision manufacturing equipment, stringent quality inspection, scientific management, and well trained R&D specialists, enabling it to provide customers with products featuring innovative designs that exactly meet customer requirements.
In order to provide customers with optimal products and services, the company persistently enhances its manufacturing capacity by adding new production software and hardware.
The company is also known for carrying out full inspection of every single product before shipping.
Lipan has the head office in Taiwan's capital city of Taipei and a manufacturing facility each in Taiwan and Guangdong, mainland China, as well as Suave Enterprise Co., Ltd., its subsidiary handling exports. The Taiwan factory stands on 5,000 square meters of land, around one- fifth the size of the Guangdong manufacturing site, with combined workforce of the two factories totaling approximately 500 workers.