The age-old belief in Taiwan that imported cars are better than locally-made has not changed over the years, partly due to the lack of a notable, established automotive industry on the island and the well-known symptom of import-worship among upscale Taiwanese consumers. While the introductions by the likes of Mercedes entry-level A-series that are more affordable has only intensified the trend in recent years, with consumers preferring "luxury-brand" models over locally-assembled, well-equipped cars, so all the top-three import brands, Mercedes-Benz, BMW and Lexus, have confirmed that they will achieve record annual sales in Taiwan in 2015.

Sales of upmarket imported cars have been immune to the relatively lackluster domestic economy in recent years. In the first 10 months, accumulated sales of imported luxury cars totaled about 58,000 units, up more than 10 percent from the same period of last year, translating into a record high market share of 16.9 percent. 

Top Luxury Brands in Taiwan
Coupled with the continuous introduction of new series and models, as well as clearly increasing sales of entry-level products, Mercedes-Benz Taiwan said it is expected to sell more than 20,000 new Mercedes on the island this year. Sales of Mercedes-Benz's A, B, CLA, CLA SB, and GLA series compact models, the local subsidiary of the Germany brand said, are expected to see a 67 percent growth over 2014.



A-class compact sedans have been the major driver of sales growth for Mercedes-Benz Taiwan in recent years.
Eckart Mayer, president and CEO of Mercedes-Benz Taiwan, stated that sales of compact Mercedes-Benz is the major driver of sales growth for the local subsidiary, accounting for more than 30 percent of the overall revenue in 2015, compared to about only 10 percent in 2012. To further consolidate its No. 1 position in the local luxury-car segment, Mercedes-Benz Taiwan recently introduced to the local market the newly restyled A-class compact sedan with the entry-level price of about US$46,562.
Pan German Motors Ltd., local agent of the German brand BMW, pointed out that it aims to challenge a record sales volume of some 19,000 units. Pan German just launched the new BMW 7-series limousine models, and decided to cut the price of the entry-level new 7-series models by about US$6,500, so as to attract potential buyers looking for full-sized sedans positioned between Mercedes-Benz and BMW.
Hotai Motor Co. Ltd., Taiwanese agent of Lexus, said sales have been accelerating since its introduction of the Lexus 200t turbo-charged sedan, in addition to smooth sales of the restyled RX-series sport utility vehicles (SUV). Less than one month since the debut of the new RX200t entry-level model, Hotai said that more than 1,200 units have been sold.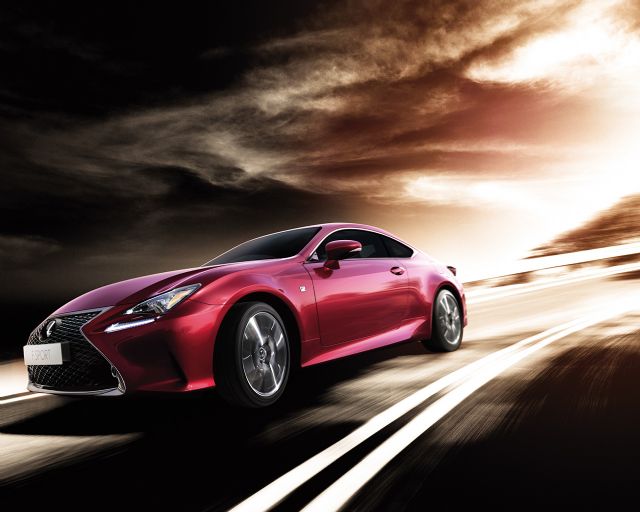 Hotai launches the RC coupe to further elevate sales in Taiwan.
The Lexus agent also said that it has sold out all its annual quota for the RX models, and is urgently asking Lexus Japan to allot a higher supply volume, so as to meet the flooding orders from buyers wanting new cars before the Chinese New Year holidays in February 2016. To attract more performance-oriented car buyers, Hotai also added the RC200t coupe and RC300h (hybrid) to its product mixture. The two new models are debatably the only two "super cars" priced sub-US$100,000, including the entry-level RC200t priced only about US$75,000. The agent anticipates to double the local sales volume of RC-series models to more than 200 units in 2016.   
J.Y. Wu, assistant vice president of Hotai, pointed out that the company's sales in the first half fell below original expectations, but finally caught up in the fourth quarter after announcement of several new models. In 2015, he added, Hotai is very confident to sell more than 14,000 new Lexus on the island.