Driven by the continuing development of the Internet of Things (IoT), demands from different segments including smart homes and autonomous cars have been increasing at accelerating speed. In addition to TVs and consumer-electronic products, automotive display is also becoming another area attracting intensifying focus.

The Industrial Economics & Knowledge Center (IEK) under the Industrial Technology Research Institute of Taiwan, recently forecasted that a new demand wave for automotive displays will peak by 2020, when the global automotive-display market is expected to grow to US$7.2 billion; while over the next few years automotive-application panels are set to be the new target for major thin film transistor-liquid crystal display (TFT-LCD) panel suppliers worldwide.

Once luxury equipment is only seen in many high-end vehicles as Mercedes, Lexus and BMW, the use of displays in automobiles is becoming more common among popularly priced cars as Toyota. Rapid developments in automotive infotainment and navigation systems, in tandem with the growing notion of a "connected vehicle," have driven displays to take center stage in automobile designs. Displays have been able to enhance and better facilitate the overall driving experience, by offering more information to drivers and eliminating the need for vehicle cluttered with switches and knobs, whose functions are replaced with touch panels. The growing trend of electric vehicles, and their need for diagnostic displays, has further propelled the demand for displays in automobiles. Information and analysis provider IHS pointed out that in 2014 the global automotive-display market expanded by 26 percent from a year earlier to reach US$848 million; while in 2015, the global demand volume is expected to increase by 33 percent to 87.3 million units.

IEK also forecasts that global demand for automotive panels will soon outstrip 100 million units per year between 2015 and 2020, with major applications in center consoles and instrument panels.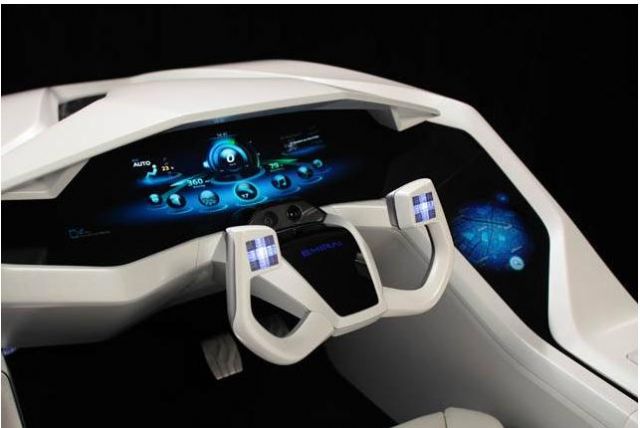 Once a luxury equipment seen only in high-end vehicles, display panels in automobiles is becoming increasingly common. (photo from Internet)
By 2020, IEK says, each vehicle will be equipped with an average of 1.2 automotive displays (0.6 in 2012), while automotive display panel will become standard equipment. More and more vehicles will have equipment integrated with displays, such as the head-up display (HUD), electronic center console, electronic instrument panel, rearview mirror with built-in display (for navigation, vehicle data recorder etc.), front- and rear-seat infotainment system etc. In addition, rapidly increasing IoT applications that connect cars to the Internet are also driving  demand for automotive panels.
Various TFT-LCD panel makers in Taiwan have been aggressively eyeing the automotive-panel business for years. Both the top-two, AU Optronics Corp. (AUO) and Innolux Corp., have tapped into the supply chains of international automakers in Europe, the U.S. and Japan, as well as having announced to further upgrade production of such products to pursue higher margins.
Chunghwa Picture Tubes, Ltd. (CPT), recognized as the third-largest TFT-LCD panel maker on the island, states that it aims to ship some 12 million automotive panels in 2015, to account for 35 percent of the firm's overall revenue. Currently, CPT is reportedly the world's fourth-largest automotive-panel supplier and has announced targeting automotive-panel sales to account for more than 50 percent of its revenue by 2018, when it is set to become the No. 3 in the international market.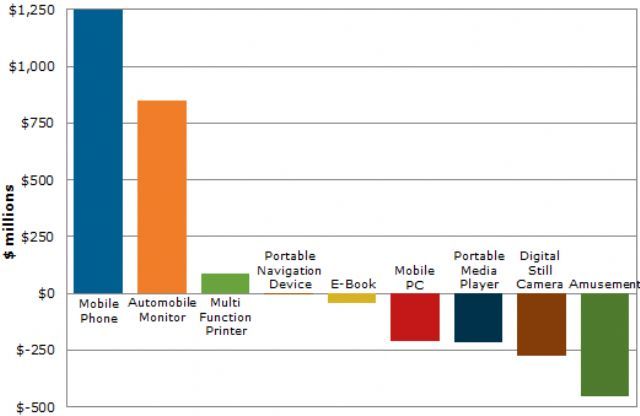 Small/Medium Display Revenue Fluctuation by Application 2013 vs. 2014. (Source: IHS Quarterly Small/Medium Shipment and Forecast Report)