After launching last year the functionally innovative circlip pliers that features  structure with hidden spring for improved durability and optimally engineered tips at the end of the jaws for firmer holding of rings, Daiken Tools Enterprise Co., Ltd., a pioneering pliers maker established in 1968 in Taichung City, central Taiwan, has been promoting its water pump pliers to further accentuate its consistent devotion to R&D.

Developed on the belief that "small improvements can result in big differences and value," the water pump pliers are designed with a quick-adjust button, which ensures not just easier, more precise adjustment of jaw opening but firmer locking of the jaws than competing models, mostly thanks to the precisely machined teeth along the inner sides of the hole where the button is held; while the gripping capacity is 50mm, larger than most comparable models on market for the moment.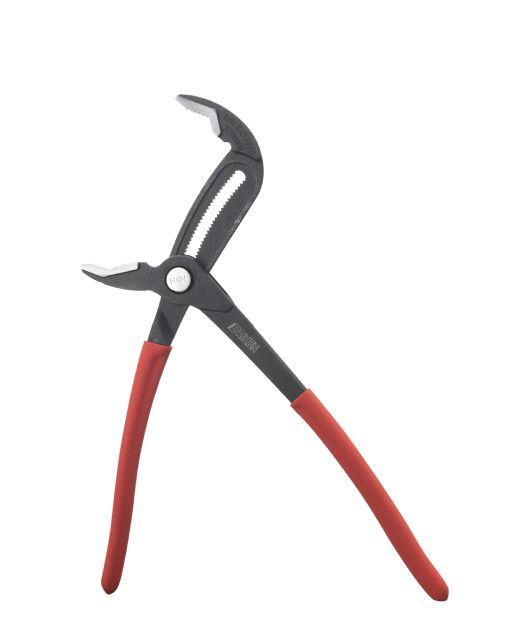 Daiken's water pump pliers has larger jaw opening than most comparable models on market, as well as a button for easy width adjustment.
Moreover, the backlash between the parts and the button is small enough to actually keep dust out of the inside of the mechanism when the button is pulled out for width adjustment, which undoubtedly shows the high machining accuracy that, in turn, helps prolong the lifespan of the water pump pliers, especially significant when such tools are usually used outside or in contaminated environments.
Also among the pliers' merits, the jaws have been designed for stronger clamping, mostly thanks to the small, precisely machined teeth along the upper and lower part, which have been notably hardened through high-frequency induction for better structural durability.
In fact, the development of the water pump pliers was financed by the government's SBIR (Small Business Innovation Research) projects, primarily because the design concepts for the product were regarded as showing promise, said Benny Chen, Daiken's assistant general manager. With lighter weight, stronger structure and better functionality, Chen added, the water pump pliers are designed to become an easier-to-use, more efficient tool that enables users to work with water pumps of wide-ranging sizes without the need for other support tools.
Presently, the water pump pliers come in a full range of sizes from 7 to 12 inches, and meet DIN ISO 8679 standards.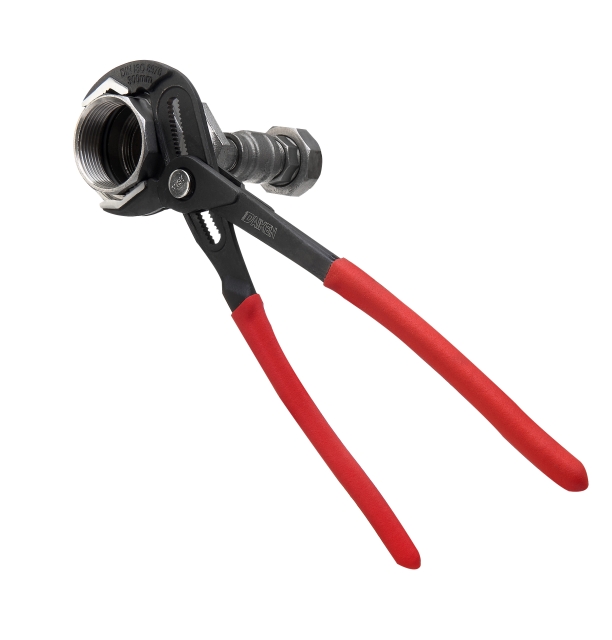 The water pump pliers has gripping capacity of 50mm.
Time-proven Pliers Maker
It is safe to say Daiken, who began business in the days when CNC machine tools were non-existent to have over 50 years of experience in the development and production of various pliers, is a time-tested, well-regarded maker of its kind in Taiwan, mostly due to its emphasis on product innovation and production capability upgrades.
With operational headquarters in Taiwan and two spacious manufacturing bases in Vietnam, the company is mainly engaged in OEM (original equipment manufacturing) and ODM (original design manufacturing), supplying a wide range of pliers, including linesman pliers, diagonal pliers, long-nose pliers, plastic cutting pliers, fence pliers, groove joint pliers, cutting pliers and custom pliers for special purposes, all of which are developed and made in compliance with international standards and have passed VDE, GS and DIN EN 60900 certifications.
The quality-driven company has steadily  invested in its QC capability by employing a full line of testing machines in-house, such as low temperature testing machine, 10,000-volt insulation resistance testing machine, Vickers hardness testing machine, salt spray testing machine, rubber hardness tester and so on.
With exceptional R&D capability, Daiken won the Taiwan Good Design Award in 2001 and has obtained numerous local and international patents for its innovations. Plus, the company has spent considerable efforts developing new, advanced materials in cooperation with China Steel Corp., recognized as Taiwan's largest steelmaker by size, in efforts to add value to its products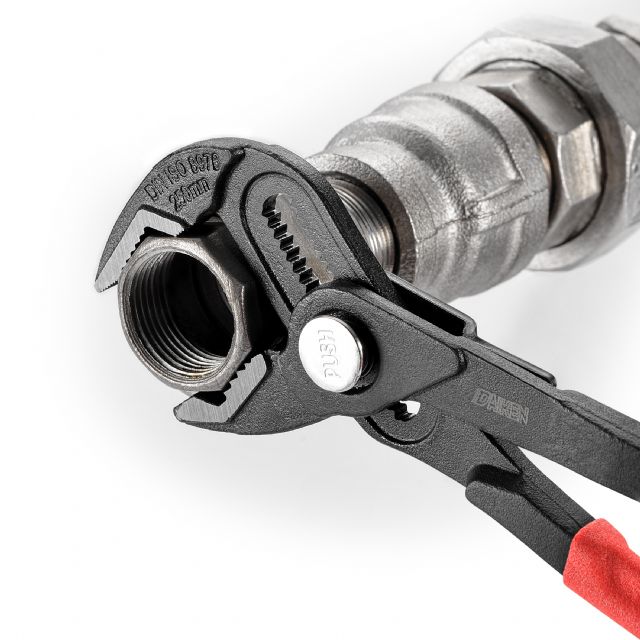 The jaws enable firmer clamping, thanks partly to precisely machined, small and sharp teeth along both upper and lower part.
Obviously well on its way to be a world-caliber enterprise, the firm, soon to expand its Taiwan headquarters, has just won the 14th Taichung Golden Hand Awards for Outstanding SMEs (small and medium-sized enterprises) around the end of 2015, which honors the seasoned maker's conscientious effort on making its daily operations from R&D, production, finance to marketing ever more efficient and sustainable. With this award as another feather in its cap, Chen stressed, Daiken, also D&B D-U-N-S registered and ISO-9001 certified, is proud to say it is a trustworthy, competent pliers maker who can supply buyers with truly competitive products to help build mutual profitability and growth prospects.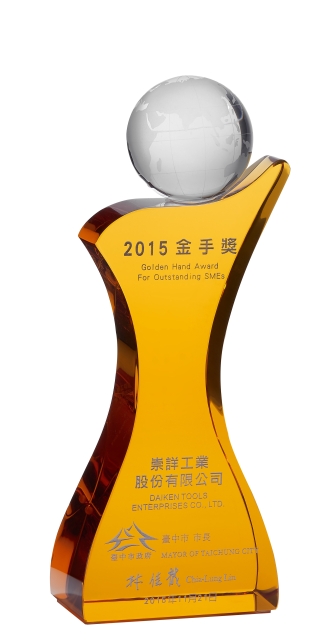 Daiken just won 2015 Golden Hand Award For Outstanding SEMs.
For more information on Daiken, please contact the company at:
No. 143, Houlai 1st St., Tali Dist., Taichung City 412, Taiwan
Tel: 886-4-2278-2825
Fax: 886-4-2278-0572
Email: sales@daikentools.com
Website: www.daikentools.com