Global sales of new cars are expected to grow slightly by about 0.7 percent to over 90 million units, driven by major growth momentum coming from Europe and the U.S., with sales growth slowing in China, the world's largest automobile market by sales volume, according to Industrial Economics & Knowledge Center (IEK) of Taiwan's Industrial Technology Research Institute.

Autonomous or self-driving vehicles, however, are attracting an increasing number of strong players, including even tech giant Google, to jump onto the bandwagon, and the new segment is expected to bring big changes to the global automotive industry. IEK points out that several heavyweight companies have launched autonomous vehicles, including Google, Apple, Audi and Toyota, while such vehicles will greatly fuel the demand for automotive-electronic systems and parts in the future.

In 2015, IEK says, the global production of automotive electronics is forecast to reach about US$238.8 billion, with the value expected to soar to some US$301.1 billion by 2019.

Taiwan
Taiwan's production of automotive electronics is expected to reach about NT$165 billion (US$5.16 billion) in 2015, IEK says, already close to that of assembled vehicles (including passenger cars, trucks and buses). Driven by higher demand, adoptions and robust introductions of more and more information and communication technologies (ICT) and products as automotive applications, companies in Taiwan engaged in related fields have been aggressively trying to explore new business opportunities.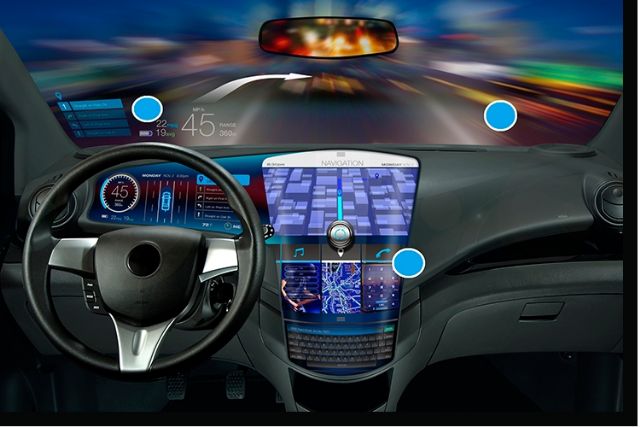 One of the rapidly expanding segments in automotive-electronics market is automotive display. (photo from Internet)
Taiwanese automotive-electronics makers have reported initial success in some segments, IEK says, including navigation systems, multimedia systems, imaging systems. Some of them have grown from makers of consumer-oriented products into developers of telematics solutions and services.
S.Y. Lin, analyst at IEK, points out the expanding automotive-electronics applications are drawing more and more suppliers who have both capability and willingness to tap the lucrative segment. Automotive display, a rapidly expanding application, is a very good example. Lin said that the global automotive-display market is expected to reach about US$5.5 billion in 2015, and the value is forecast to grow clearly to some US$7.2 billion by 2020. Taiwan's top-two thin film transistor-liquid crystal display (TFT-LCD) panel suppliers, Innolux Corp. and AU Optronics Corp. (AUO), have been aggressively developing business in the automotive-panel niche market for some years, as well as having become major subcontractors to the supply chains of  many international automakers such as Mercedes-Benz, BMW, Audi, Tesla, etc.
Global sales of new cars are forecast to reach about 85 million units in 2015, and the annual volume is expected to increase to outstrip 100 million units over the next few years, Lin says, creating a huge and continually-expanding application market for automotive displays. In 2012, she explains, each new car used an average of only a 0.6 automotive display onboard, compared to 0.8 in 2015. By 2020, Lin adds, each new car will adopt an average of 1.2 displays.