Realtek Semiconductor Corp. of Taiwan, an IC design company, reportedly has tapped into German automaker BMW's supply chain with shipment of IP cameras for reverse-parking fisheye camera system.

The Taiwanese company refused to comment on specific information related to the customer, but stressed that it has been making progress in the automotive-application business, which albeit will take some time to show measurable revenue gains for the company.

Institutional investors said that the rapidly expanding vehicular Advanced Driving Assistant System (ADAS) and telematics markets have created new and lucrative business opportunities for IC design companies, especially those who have gained solid foothold in Ethernet equipment for the consumer-electronics market like Realtek.

Industry insiders say that Realtek has been aggressively developing business in the automotive application market, offering related products such as IP camera, Ethernet, WiFi, tire pressure monitoring systems (TPMS), audio CODEC, Internet of Things related applications. Realtek, in fact, has already developed some relatively mature products that are easily adopted as automotive applications, such as the firm's newly announced Realtek BEE Bluetooth communication solution, which is an ideal solution for short-distance communication as applied to vehicular TPMS.

Realtek is applying to be certified by the ISO/TS 16949 and AECQ100 automotive-related standards, and expects to acquire these certificates in early 2016. The company is reportedly to kick off delivering IP cameras to a parts supplier of a BMW model scheduled for launch by 2018 or 2019.

Industry sources say that data-transmission volume on future vehicles will be very big, so BMW has decided to adopt the Ethernet architecture on its future cars. In addition, a "smarter" BMW is expected to be equipped with over 16 IP cameras onboard, creating huge demand for related automotive-application IC chips, whose prices are much higher than typical counterparts used in consumer-electronics products.

Higher Margin
Many IC design companies have been eyeing rapidly expanding automotive applications as their future "blue ocean", as the market segment comes with much higher profit margins, albeit also calling for meeting the highest safety and durability standards, longer product certification etc. As most Taiwanese players in the related fields are relative newcomers who stand to gain the latest technologies as they are developed, industry sources say, they are expected to have chances to gradually replace original European and American suppliers after 2018 or 2019.

With more and more consumer-electronics segments having entered into the decaying or plateau period amid earlier prediction of the obsolescence of the desktop PC, coupled with sagging sales growths of personal computers (PC), cellphones, tablet PCs, etc., many IC design companies and electronic-parts suppliers focusing on the automotive market see this emerging segment as the next new, major battlefield, in which the ADAS is one of the most promising prizes.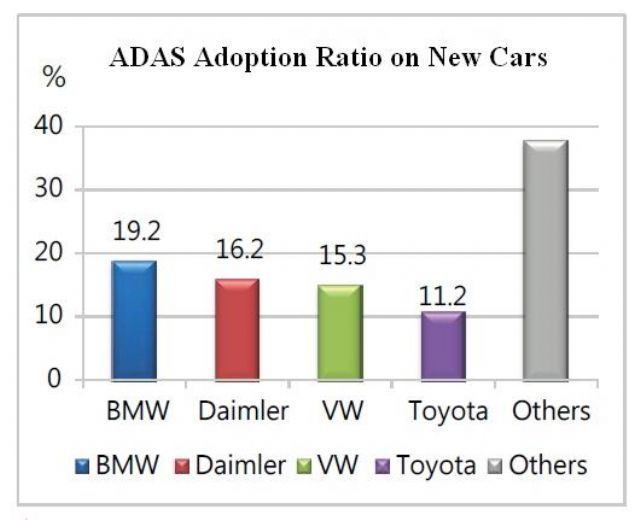 ADAS Adoption Ratio on New Cars (Source: ARTC, Frost & Sullivan).
As many high-end equipment that were exclusively installed on luxury cars gradually become standard equipment on many makes and models, coupled with different nations' compulsory safety regulations or consumer preference, ADAS is becoming one of the most requested equipment among customers for new cars all over the world, hence making ADAS one of the fastest-growing segments in automotive electronics.
ADAS are systems developed to automate, adapt, or/and enhance vehicle systems for safety and more efficient driving. Basically, ADAS technology can be based upon visual/camera systems, sensor technology, car data networks, vehicle-to-vehicle (V2V), or vehicle-to-infrastructure (V2I) systems. The next-generation ADAS will increasingly tap wireless network connectivity to offer improved functionality and value by using car-to-car and car-to-infrastructure data.
Frost and Sullivan, an international automotive market research firm, forecasts that prices for ADAS will slide by some 15 percent to 20 percent by 2018, when about 40 percent of new cars sold worldwide will be equipped with ADAS. In conjunction with the increasing popularity of ADAS, each new car is expected to adopt an average of 2,000 IC chips by 2020, compared to less than in 2000.