Global sales of new electric vehicles (EVs), including plug-in hybrid electric vehicles (PHEVs) and battery electric vehicles (BEVs), in the first three quarters increased by 31 percent from the same period of last year to reach about 330,000 units, driven by strong demand from China and Europe, according to Topology Research Institute (TRi), a market research firm under TrendForce.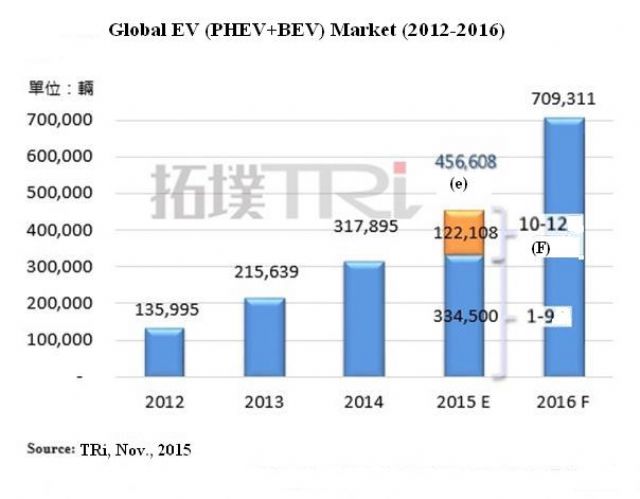 Global EV (PHEV+BEV) Market 2012-2016. (Source: TRi, Nov. 2015)
Global EV sales for 2015 are expected to top 450,000 units, with the annual volume forecast to challenge some 700,000 units in 2016, the research firm says.
S.P. Chang, analyst of automotive electronics at TRi, points out that the global EV market is still firmly on the rapid-expansion track, and smooth sales in Europe and China have been seeding market development. He attributes such encouraging EV sales worldwide to subsidy policies adopted by various national governments, with China set to become the world's largest EV market in 2015 by investing aggressively various resources.
Amid continual growth of the global EV market, TRi highlights the following trends. First, replacement of internal combustion engine (ICE) vehicles by EVs is a necessary and irreversible trend, in which sales of EVs will continue to increase quickly. TRi says that increasingly stringent vehicle emission standards worldwide, as well as the hazardous air pollution such as smog that mimics fog in China's major cities, will continue to accelerate such replacement.
In addition, the research firm adds, the emergence of Smart EVs is of appropriate timing, adding a new growth momentum to global EV sales.
Second, government subsidiy policies are playing and will continue to play a vital role to promote global EV sales. Fact is that most EVs, as the Tesla, are retail priced relatively higher than gasoline-engine counterparts but come with shortcomings as shorter range and lack of extensive refueling infrastructure, so need government subsidies to motivate buyer willingness. Such subsidy programs adopted by governments include direct cash subsidy, tax reduction and/or breaks, preferential purchase terms, etc. In addition, TRi says, some innovative business models, such as the option to buy vehicle and battery pack individually, are making EVs more affordable and easier to own for consumers. These subsidy policies and new business models are expected to further stimulate consumer's purchase willingness.
Third, the electric vehicle equipment supply (EVES) sector is catching up to the development of the assembled-EV market, as more and more parts developers and makers jump into the EV segment widely seen as having promising potential. In conjunction with increasing global EV sales volume, TRi says, demand for EV-related auxiliary equipment is also increasing rapidly, especially charging units, charging-station solutions, and related energy-storage equipment.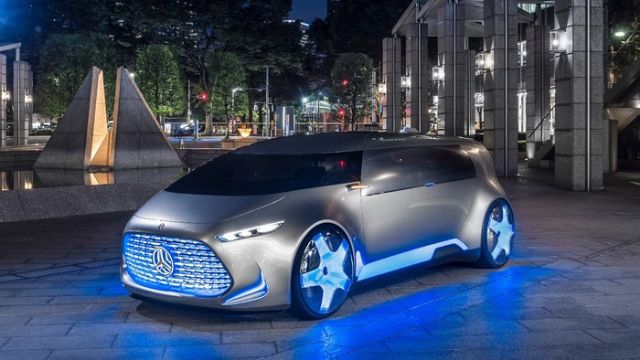 Mercedes-Benz's self-driving EV, the "Generation Z" self-driving BEV, unveiled recently. (photo from Internet)
Fourth, EV industry development is expected to mesh with that of autonomous vehicle technology. Such integrated development is, TRi says, especially suitable for autonomous EVs running along fixed routes or closed-circuit zones designated as clean air zones, which can also be easily equipped with recharging stations. TRi points out that autonomous, low-speed EVs have been proven ideal as public transportation with very low accident rates, with such vehicles also being perfect shuttles for retirement communities to carry elderly passengers and drivers in our graying society.