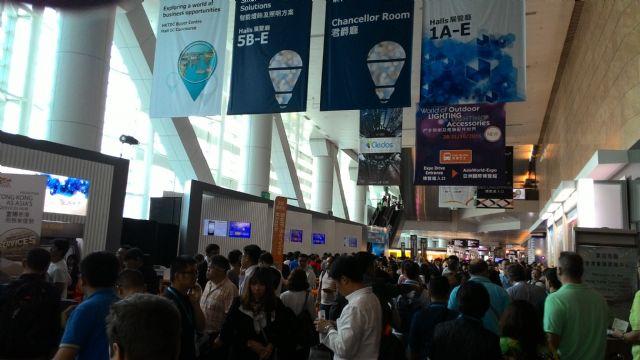 HKTDC creates the world's biggest lighting marketplace with two-in-one event.
A total of 2,727 exhibitors form countries drew nearly 50,000 buyers to the 17th Autumn Edition of the Hong Kong International Lighting Fair (LFAE) and the inaugural World of Outdoor Lighting & Lighting Accessories (WOLLA), making the two-in-one trade event the world's biggest lighting marketplace, according to the organizer, the semi-official Hong Kong Trade and Development Council (HKTDC).
Staged October 27-30, 2015, the LFAE alone attracted 38,097 buyers from 138 countries to source products displayed by 2,555 exhibitors (including first-time exhibitors from Chile, Cyprus, Saudi Arabia, Seychelles, and the UAE) from 35 countries, compared with 2,492 exhibitors and 36,952 buyers at the 2014 edition of this show.
Taiwanese exhibitors were also at the two-in-one event, totaling 114 firms that included Adata Technology Co., Ltd., Aeon Lighting Technology Inc., Buckingham Industrial Corp., Edison Opto Corp., Hep Tech Co., Ltd., Home Resource Industrial Co., Ltd., Kingtec Lighting Co., Ltd., Ledlink Optics Inc., Lextar Electronics Corp., Lustrous Technology Co., Ltd., Paul-Yu Industrial Co., Ltd., and Prolight Opto Technology Corp.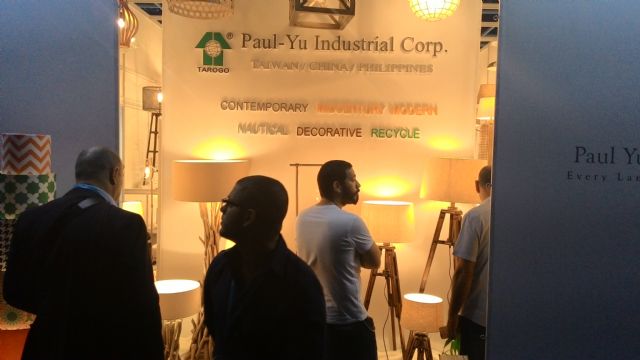 Among the exhibitors were 114 Taiwanese manufacturers including Paul-Yu.
To differentiate and add specialization to the lighting event as well as highlight exhibitors' exposure, HKTDC separated the outdoor lighting, lighting accessories and parts and components product zone from LFAE to inaugurate WOLLA (Oct. 28-31) at Asia World-Expo to mostly host exhibitors of streetlight, architectural lights, stadium lights, and high-bay lights, among others.
Synergy Expected
The new event was held alongside the HKTDC-organized International Building and Hardware Fair and Eco Expo Asia at Asia World-Expo during October 28-31, which appropriately positions such lighting products among other products and technologies related to architectural design. This new arrangement was expected to generate synergy and create cross-sector collaboration opportunities for both lighting and building-materials industries.
The LFAE is widely recognized as an ideal platform for high-quality lighting products, solutions and services, not to mention a prominent forum for global lighting buyers and exhibitors to exchange views on global lighting trends, to discuss business and network.
The 2015 LFAE venue featured highlighted zones of Hall of Aurora, LED & Green Lighting, Commercial Lighting, Smart Lighting & Solutions, Household Lighting and Small-Order Zone, which offer innovative, functional, and customized lighting designs and solutions.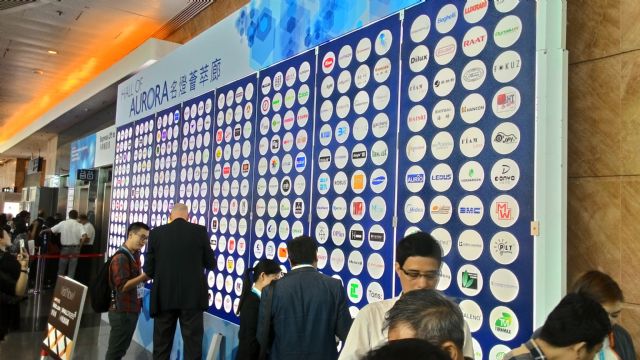 Hall of Aurora hosts 520 global lighting brands at LFAE 2015.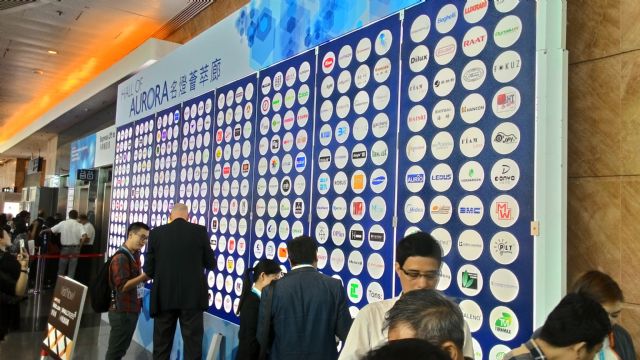 Hall of Aurora hosts 520 global lighting brands at LFAE 2015.
The Hall of Aurora hosted some 520 world-leading lighting brands, including BJB, Citizen, EGLO, Ford, Lumileds, Neo-Neon, Ledus and Megaman.
The Smart Lighting & Solution Zone reflected the trend forecast by 645 attendees polled at LFAE and WOLLA on their perspectives toward the lighting market. Over 80 percent of the respondents believe that lighting systems that are compatible with or can be controlled by smartphones or tablet PCs to save energy would have the most significant impact on the lighting industry over the next two years.
Smart Lighting
Amid keen competition in markets and steadily growing development of Internet-of-Things and smart home technologies that enable remote-control via handheld devices residential functions as lighting, air-conditioning and home appliances, a new generation of lighting products are capitalizing on such smart technologies to find market breakthroughs.
For instance, the German exhibitor, Vossloh-Schwabe Deutschland GmbH, displayed the LiCSLight Management System, which is developed to string multiple light controllers together via TCP/IP to form a network that is centrally accessible by a server. The foremost advantage of the system is its almost unlimited capacity to be integrated with control devices such as PCS, laptops, tablets and smartphones, which can be easily configured to control luminaries.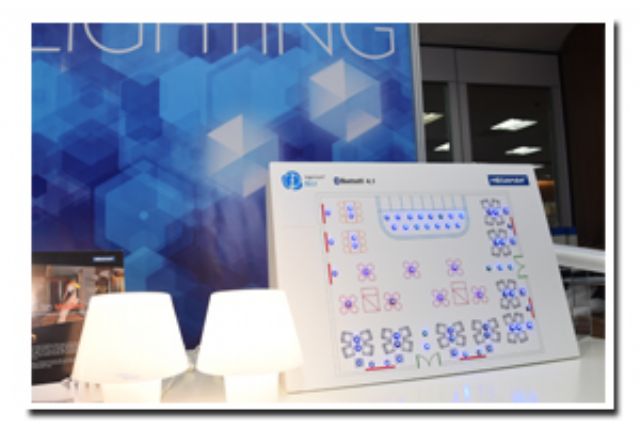 Neonlite's INGENIUM BLU features the smart lighting trend.
Neonlite Electronic & Lighting (HK) Ltd., the owner of the brand Megaman, launched the INGENIUM BLU Smart Lighting Solution Series, a brand new series of LED lamps integrated with the Bluetooth 4.0 technology. The lamps emit light up to a diameter of 10 meters, coupled with value-added functions including dimming, programmable scene setting, time preset and easier control of grouped lamps. A user can control the lamps simply on smart digital devices downloaded with the INGENIUM BLU App.
Neonlite General Manager Matthew Chu pointed out that smart lighting will bring immense changes to the lighting industry and, as smart lighting products constitute only about two percent of the global market, there will be lots of business opportunities to be tapped.
Energy-efficiency
With energy efficiency still one of the world's exigent issues amid concerns of global warming, exhibitors race to come up with the newest energy-conservation designs every year at the Hong Kong lighting fair.
At the 2015 autumn lighting fair, AZE-Lite (HK) Ltd. presented the Mono LED Lamp, which is dimmable with one touch and removable from its base. It doubles as a mood light for indoor spaces and a table lamp for romantic al fresco dining. Rated for lifespan of up to 25,000 hours, the lamp has built-in Qi wireless charging technology to enable users to charge Qi-installed smartphones simply by placing digital devices on the lamp base.
Nokero International Ltd. exhibited the N222 solar light bulb equipped with phone charger, which is particularly designed for developing economies. It is ideal for off-grid lighting and can charge both clam-shell or flip and bar phones widely used in developing economies. The bulb also comes with a yellow lens that filters light wavelengths visible to insects and a red lens that transmits light visible to humans in the dark.
WOLLA mostly housed exhibitors from Hong Kong, mainland China and Taiwan, which together showcased some notable products.
New World Dynamics Ltd. of Hong Kong promoted its cutting edge outdoor lighting designs and technologies, including the Artistoni–Giunto series of wall washers comprising a network of lighting blocks, each of which with its own control unit to allow users ample room for set-up or design flexibility. Customizable projection distance makes the light suitable for a variety of LED applications.
Suzhou Wisdom Technology Co., Ltd. of China demonstrated a unique LED mining lamp, thinner and lighter than conventional ones, which can also double as a solar street lamp to meet different needs.
Alder Optomechanical Corp. of Taiwan presented the 330W LED High Bay Light 300, which is suitable for a wide variety of applications, including illumination of buildings, as well as airport and stadium lighting. The product achieves 70 percent energy saving and has passed ETL and DLC certification.
Top Hi-Tech Co., Ltd. of Taiwan promoted its explosion-proof and water-proof LED lighting and lighting accessories, which are designed in Taiwan and have been certified in seven countries.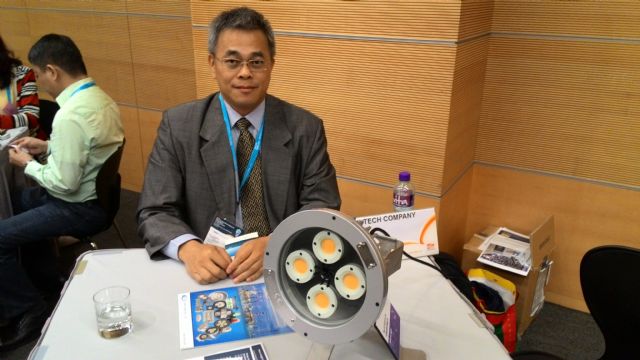 Top Hi-Tech's Chan.
Educational Seminars
To help attendees stay updated with current market developments, WOLLA hosted a series of industry seminars on LED development, smart lighting control and outdoor lighting advancement.
In a seminar on advances in outdoor lighting, panelist Laurence Ku, technical general manager of Dongguan Kingsu Optoelectronic Co., Ltd., commented that over the next five to 10 years, LED streetlights will increasingly replace traditional counterparts, with smart controls to be used more frequently. Streetlights will no longer be used solely as illuminator, but also as a carrier of many applications, such as security system, as well as charger of electric cars, 4G emitter and GPS, he said.
Regarding smart lighting control, Dr. Scott Wade, Technical Manager of the DALI Working Party, commented that such control systems achieve higher cost savings and increased comfort, and that costs are reduced due to energy savings as well as more efficient maintenance.
Wade added that after a slow start, the demand for lighting control systems integrated with Digital Addressable Lighting Interface (DALI) communication protocol is starting to grow rapidly in North America. "This is largely driven by regulations, but also because organizations are realizing they can make substantial savings on their energy bill as well as the environmental benefits this brings," he emphasized.
Media Exposure for Newcomers
The two-in-one lighting event was an ideal platform for relatively new lighting makers to build exposure of their products in media. At a meeting set up by the HKTDC for journalists and selected exhibitors on the sideline, exhibitor representatives including Vice President Jim Hardaway of Matrix Lighting Inc. of America and Special Assistant to GM John Chan of Top Hi-Tech Co., Ltd. of Taiwan were interviewed at length.
Matrix Lighting, the owner of the brand Viribright and a subsidiary of the 1979-founded Matrix Holdings Ltd., is a well-known contract toy maker in the United States with long partnership with fast-food restaurant chain McDonald's. "We got into lighting business about nine years ago. Part of the reason is because our core competence is plastic-injection molding and die-casting in the toy business. Both technologies are applicable to LED bulb production and design. So we hired engineers and talents in the toy business to develop LED lighting programs," said Hardaway.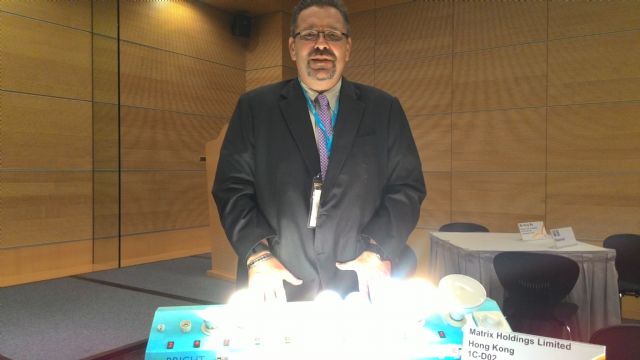 Matrix Lighting VP Jim Hardaway.
Matrix Lighting, according to Hardaway, has focused its efforts on remote phosphor technology, which it believes is the most efficient way to produce white light.
At the press conference, Hardaway demonstrated the company's third-generation LED light bulbs, proudly announcing the bulbs generate color rendering index as high as 95 and 96 with efficacy of over 90 lumens per watt. "We produce a more comprehensive color-quality factor than others and we do so more efficiently," he reported.
The company's third-generation technology, according to Hardaway, uses the patent-pending multi-layer remote phosphor to convert violet LED into "accurate" white light, successfully boosting the CRI of its bulbs to 95 and 96 from 83 to 85 in its first- and second-generation bulbs, which use remote phosphor to convert blue LED bundled with red LED to enhance CRI.
Also, the company simplifies driver design to make its bulbs compatible with most of the dimmers available on the market. Now, it even develops its own dimmers. Its first- and second-generation universal dimmers have only 120W capacity, but its latest dimmer reportedly has 300W capacity to enable handling 20 to 30 light bulbs on one circuit. "In most cases, you can put only six, seven or eight bulbs on one circuit with one dimmer," Hardaway reported.
Size Matters
The Viribright VP is very confident of the company's competitive edge regardless of the increasing number of substandard makers entering the market. He noted that consumers in North America want to buy from large companies because of safety and quality issues. "Because the United States is a very litigious market, so if something goes wrong with safety or quality, customers have recourse when dealing with large companies," he said.
"But when customers deal with substandard companies, it's easy for them to shut down the operation and disappear. And they go back to remarket the products under different brands without being liable or accountable. We're there with guaranteed products and take care of warranty issues. I think this gives customers the desire to do business with us. As long as they and our company can make money and we offer support, that's a win-win," he added.
Hardaway stressed that the company has built up good distribution base by successfully breaking into a lot of major electrical wholesalers and even third-tier hardware retailers. "So, we believe we have great launching platform for our new products. We're definitely able to penetrate the market as a latecomer."
Currently the company is offering light bulbs that have 25,000 hours of life expectancy. In the future it will offer more economical products with shorter lifespan in tune with market trend. He noted the trend in North America to be retailers moving away from 25,000-hour bulbs to start supporting 5,000-hour or 10,000-hour bulbs because people realize that the LED industry overspecifies LEDs. "In some instance, like high bay illumination, you want to have a 50,000-hour spec. But do you really need a staple light bulb that lasts 25,000 hours? To make something that supposedly lasts 25,000 hours or 50,000 hours simply undermines potential for repeat purchase," he said.
Top Hi-Tech introduced to the press its internationally certified explosion-proof LED lamps, which make the most of the company's waterproof know-how for making the RJ-45 marine connectors.
First in Taiwan
According to Chan, the company is Taiwan's first explosion-proof lamp maker to win the International Electrotechnical Commission (IEC/IECEx) certificate. Other certificates the company has won include ABS (the United States), TS (Taiwan), cULus (North America), ATEX (Europe), GB (mainland China), KOSHA (South Korea), NOM (Mexico) and CE.
Also, the company's lamps are the first of their kinds in Taiwan to pass the tests carried out by the Taiwan Accreditation Foundation (TAF), authorized by U.S. Environmental Protection Agency (EPA), to the LM-80 standard, which requires lamps being tested must maintain specified lumen after 6,000 hours of non-stop operation in high temperature.
Such test has shown the company offers lamps that maintain high luminosity for up to 40,000 hours in temperature of 105C.
Instead of integrating direct-current (DC) LEDs into its lamps, the company uses alternating-current (AC) LEDs in order to rid the potential danger of overheating caused by electrolytic capacitors on DC LEDs.
Chan said that his company had commanded around 33 percent of the world market for RJ45 marine connectors for over 10 years before 2011, when it completely shifted to the explosion-proof lighting sector. "Since our waterproof connectors were all IP68 rated, we did not have much difficulty entering the explosion-proof lighting segment," Chan said.
The 8-millimeter glass covering the company's lamps can withstand seven joules of explosive impact and has outstanding acid resistance, according to Chan.
The company's 80W lamps produce 100 lumens per watt and are designed to replace 250W high-pressure sodium lamps. To date, they have been installed at Taiwan's heavyweight corporations, including Formosa Plastics Corp., China Petroleum Corp. (CPC), China Airlines, and EVA Airways, hence making the company Taiwan's No.1 maker of explosion-proof lamps in terms of market share.
Overseas, the company's lamps have been installed at petrochemical plants in Singapore, Malaysia and Brunei as well as glass factories in Mexico.
Excellence Rewarded
To inspire further innovation by rewarding excellent design by lighting makers, HKTDC organized the "My Favorite Lighting Products 2015" competition, which was divided into architectural/ commercial lighting, outdoor lighting, and decorative household lighting categories.
The winning products of the architectural/commercial lighting category were the PAR30/PAR38 Waterproof Fixture Combo from Aeon Lighting, the Lotus LED Bay Light from Sheenly Lighting Co., Ltd., and the LED Rope Light from Wide Loyal Industries Ltd.
Winners in the outdoor lighting category were the Theseus-series anti-explosive lamp from Aeon Lighting, the Grow garden light from Lorefar, S.L., and the camping lamp embedded with Bluetooth speaker from Highstar Industrial Co., Ltd.
In the category of decorative household lighting, the winners were the AZE Mono LED table lamp from AZE-lite, the 89667-1 series of decorative light from Hong Kong Dick Po Lighting Co., Ltd., and the ARMS series of LED ceiling lamp, table lamp and floor lamp from Zhongshan Jumei Lighting Co., Ltd.
All the winning products were displayed on the sideline of the LFAE.
Restocking Venue
Besides being a platform of innovative lighting, the LFAE and WOLLA are widely regarded by global buyers as a crucial venue for regular restocking.  
The United Arab Emirates-based Garden Lights L.L.C. is a vendor of outdoor lighting products in Saudi Arabia, Qatar and the U.A.E. The managing director & CEO, Mohamed Fayaz, has visited LFAE for more than 10 years, and said he was glad to visit the inaugural WOLLA for its offering of more exhibitors of outdoor lighting.
"Street lighting, airport lighting and lighting for industrial and commercial uses are on our radar. The demand for outdoor lighting in the Middle East has been strong, as there are many construction projects in progress, from the building of shopping malls, hospitals, public parks to roads. The recovery of post-war Iraq and the upcoming World Expo 2020 in Dubai may be the further stimuli to the segment of outdoor lighting," Fayaz said.
Dipal Madlani, manager of the India-based Madlani Assoicates, said both exhibitions together offer him a wider range of home lighting and factory lighting. He attended some buyer-supplier matching sessions at the LFAE and has decided to set up a joint venture after the show with an Indian exhibitor he had met who turns out to be the right partner, he said.
Madlani pointed out that the new liberal policies of Narendra Modi, current Prime Minister of India, have created favorable climate for his business by drawing more overseas investors to the country. "He also encourages 'Made in India', which may drive Indian demand for outdoor lighting for factories because it is expected to motivate more factories to be set up in the upcoming years," he said.
The Taiwan-based Hung Shin Electronics Co., Ltd. runs import and export business. Its founder, Alice Huang, visited the two-in-one event to source LED lights. She said that although there are many homegrown brands of LED lighting in Taiwan, exported products must be sourced at international fairs like the WOLLA. "We are greatly impressed with the LED light bulbs of cone-shape from several mainland Chinese manufacturers. Thanks to their technical improvement, the cone-shaped bulbs are more durable now," she said.
Jörg Fey, founder of the Germany-based Jörg Fey Industrieanlagenmontage, mostly sourced LED streetlights at the two-in-one lighting fair. He said that European governments plan to replace traditional streetlights with LED models and schools funded by the governments will be among the major buyers of street lighting. "So there will be a correlation between government spending and demand for outdoor lighting," he added.
Fey pointed out that Germany's economy is likely to be affected by the scandal over Volkswagen's emission test cheating, but the impact may be offset by the growing popularity of electric motors. "Building more recharge stations for electric motors may help boost the outdoor lighting market across Europe. Strolling through the fairground really gives me new ideas and inspiration on energy saving and environmental protection," he said.
India-based D.S. Lighting Technology mainly provides electricians, construction companies and architectural firms both indoor and outdoor LED lighting fixtures. The company's managing director, Chetan S. Thakkar, visited both fairs in search of new concepts, new ideas and new technologies of lighting. He said that he found at WOLLA some samples of streetlights, underground lights, decorative lights for building facade and parking lights. "In the next ten years, India will kick start a number of construction projects for railway and road infrastructure, so highway lights are on the buyers' list," he stressed.
Hank Guo is sales director of the mainland China-based Greencity Tech Co., Ltd., which provides solutions based on its power management systems and smart control systems for commercial, office, outdoor and residential lighting in cooperation with lighting distributors. He visited LFAE and WOLLA to observe market trends and find new designs. "Linear lighting fixtures for shelves are getting hot, as their illumination of targeted areas is more accurate. High-bay lights in circular shape are also attractive to consumers," he commented.
Decomaster of Russia is a department store selling a full array of LED lighting products. Its manager, Alexander Mikhaylovich Konstantinov, came to the shows to establish contacts with LED suppliers in preparation for the company's plan to open a new store soon. "At the autumn lighting fair, we see powerful LED strips with high luminous flux up to 2,250 lm because they can be used for jewelry showcases. Outdoor and commercial lighting fixtures will be on offer at our new department store too," he said.
Sourcing Affordable Lighting
Tianjin Suzubenikano Business Consulting Co., Ltd. of Japan is a manufacturer and exporter of stack carports with production base in Tianjin of mainland China. Its sales representative, Suzuki Shuichi, looked for solar-powered LED lights at the fairground. "Each compartment of our carports is equipped with outdoor LED lighting powered by solar panels on the carports' rooftop. Right now high-grade models from Japan are used but they're costly. In the future, we'd like to include on purchasing list some good quality models offered at attractive price by non-Japanese manufacturers. Though, we will make no compromise on quality," he stressed.
Robust orders from world buyers have made Hong Kong a world leading exporter of lighting products. The city shipped HK$5.9 billion (US$76.12 million) of such products in the Jan.-July period of 2015 alone, with the shipments increasing 12.1 percent year on year to the United States and 8.9 percent year on year to mainland China, which are the two biggest export destinations for the city's lighting products. In the meantime, its shipments to India have risen at annual rate of 53.5 percent.
The top-five markets for the city's lighting products are the USA, mainland China, Japan, Germany and France, with the top- three together absorbing more than 50 percent of its shipments.