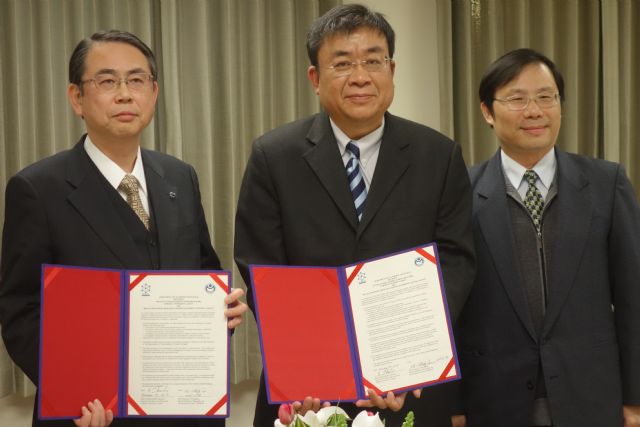 From left, Dr. K. Takanashi, director of IMR; H.C. Fu, MIRDC CEO; and C.N. Lin, director-general of Bureau of Energy under Taiwan's Ministry of Economic Affairs at MOU signing ceremony in mid-December 2015 (photo courtesy of MIRDC).
To keep upgrading Taiwan's metal industry, the Metal Industries Research & Development Centre (MIRDC), a government-funded R&D body on the island, is joining hands with the Institute for Materials Research (IMR) of Tohoku University of Japan on the development of additive manufacturing technology and related metallic materials.
In mid-December 2015, the CEO H.C. Fu of MIRDC and Dr. K. Takanashi, director of IMR, formally signed a memorandum of understanding on the said cooperation in Sendai, northeastern Japan, which was witnessed by C.N. Lin, director-general of the Bureau of Energy under Taiwan's Ministry of Economic Affairs. In the future, the both parties will reportedly also work together on key technologies applied in the energy industry.
IMR and MIRDC possess unique technological advantages that are complementary and will help to drive symbiosis. The MIRDC reports that Tohoku University is the world's best university in research of metallic materials, with IMR being the longest-established among the university's institutes, with two Nobel Prize winners among its faculty members. The institute is globally renowned for its achievements in research and theoretical postulations on material science and technology and related applications, particularly in the fields of additive manufacturing technology, magnetic materials, biocompatible materials and functional materials
The Taiwanese R&D institute has ample knowledge of the engineering of nickel-titanium alloys and metallurgy, as well as EBM (electron beam melting) additive manufacturing technology. It is also notable for succeeding in working out nickel-titanium alloy powder for additive manufacturing, and setting up Taiwan's first EBM additive manufacturing laboratory, which has helped Taiwanese medical equipment makers to move upmarket.
The MIRDC notes that the newly formed partnership will work on research and development of additive manufacturing equipment, related processes and melting technology, and set up a joint laboratory to share R&D resources in the near future. Also, the both parties have longer term plans to enhance the exchange of researchers and expand research into key materials applied in energy, to target  pumping sustained R&D momentum into metallic industries of Taiwan and Japan.