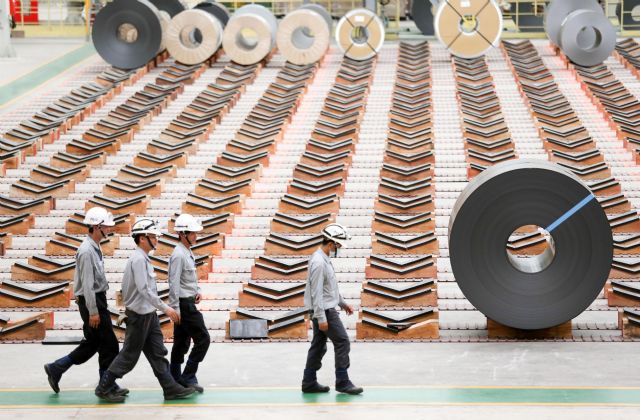 CSC expects its January-February order book to exceed 2.43 million tonnes, mostly thanks to a significant turnaround on prices (photo courtesy of UDN.com).
With steel prices having begun rallying in China recently to spur market demand, Taiwan-based China Steel Corp., the largest steelmaker by size on the island, expects its orders placed by customers at home and abroad to exceed 2.43 million tonnes for the January-February period.
CSC executives indicate that the steel market has actually turned around mainly on the strong rebound of steel prices seen in China. Since the end of last November, prices of hot-rolled and cold-rolled steel plates and silicon steels have increased by 6.38 percent, 17.11 percent and 7.29 percent, respectively (as of the end of 2015), as reported in the Shanghai Steel Exchange Center. Meanwhile, prices of hot-rolled steels, cold-rolled steels and silicon steels in China's Steel Exchange Center in Guangzhou have also soared 5.05 percent, 8.71 percent and 7.24 percent, respectively. The price hikes are essentially due to two main factors: reduced output by Chinese steelmakers and falling inventory levels.
Under such scenario, CSC executives confirm that the firm has seen its booked orders significantly increase recently, and hence is relatively optimistic that its order book for the January-February period will likely reach, or even exceed, 2.43 million tonnes, compared to its original goal of 2.6 million tonnes for the whole first quarter of this year.
To fill a flood of orders, CSC has decided to keep all its four blast furnaces running and reduce days off for employees at its steel mills during the upcoming Chinese New Year holidays, to be February 6 through 14. If all goes well, the firm will report encouraging performance for the first quarter to reverse the steady downturn that was seen last year.
Suffering from the bearish steel market, CSC reported consolidated revenue of NT$20.302 billion (about US$624.67 million) for November, 2015, sharply down 29.58 percent yearly to a four-year nadir for the single month, even though the fourth quarter is typically a high season. For the first 11 months of the year, the firm's cumulative consolidated revenue showed a 21.67 percent drop to only NT$263.488 billion (US$8.1 billion) compared to the same period of 2014.