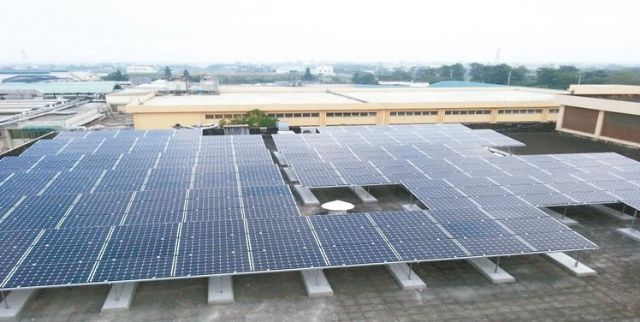 Liberalized bidding policy is predicted to boost solar equipment installations in Taiwan in 2016.
Taiwan's Bureau of Energy of the Ministry of Economic Affairs (MOEA) has further loosened the limits on non-bidding contracts for solar-equipment installations in an effort to boost such installations throughout Taiwan to 500 megawatts as planned for 2016.
In the new year, non-bidding contracts of the installations on the island are applicable to 100-kilowatt projects, which has been raised from the 50-kilowatt scale. Also the bureau will designate 150 megawatts of the targeted 500 megawatt installations to qualify for non-bidding contracts.
Based on a resolution approved by the Taiwan Cabinet or executive ministry in July 2015, solar equipment installations on Taiwan will be raised to 500 megawatts in 2016 and 2017, with the goal to increase to 6.2 gigawatts by 2030.
Also to encourage installers to use quality equipment, non-bidding right is also granted to installers using high-efficiency solar modules or cells that have received the ministry's Taiwan Excellent PV Award. In 2015, the award winners were TSEC Corp., AU Optronics Corp. (AUO), Win Win Precision Technology Co., Ltd., and Neo Solar Power Corp.
For contractors who plan to bid, the bureau will divide the 500MW installations into eight projects, with the invitation to the first project application set to close on January 5.
The bureau's senior officials point out that to enable installers to maintain return-on- investment at the rate of 5.25 percent, the bureau has set the state-run Taiwan Power Co., Ltd.'s bulk purchasing of solar power from installers of 10-500kW at NT$4.8 kilowatt per hour, from installers of 500kW-plus at NT$4.67 kilowatt per hour, and installers of sub-20kW at NT$6.48 kilowatt per hour.
Based on such rates, they estimate that an installer of 10-kilowatt equipment can generate revenue of around NT$81,000 (US$2,454) a year from wholesale business with Taipower.
The ministry estimates that the 2016 installation projects to draw investment of at least NT$45 billion (US$1.36 billion) from the private sector based on the estimate that solar PV equipment is typically priced between NT$70,000 (US$2,121) and NT$90,000 (US$2,727) per system.
The ministry has since 2010 encouraged the private sector to install solar power equipment by asking Taipower to purchase such power from the local installers at preferential rates. Solar power installations have increased from 70MW to 500MW by the end of 2015 in Taiwan.