A total of 41,821 new cars were sold in Taiwan in December, 2015, up a miniscule 0.1 percent year-on-year (YoY), but a clear 20 percent increase from the previous month, or month-on-month (MoM), which could be attributable to consumers sprucing up presentation ahead of the Chinese New Year or spending of year-end bonuses, according to statistics compiled by the Ministry of Transportation and Communications (MOTC)

Thanks to positive sales growth in the last two months, cumulative new-car sales volume in 2015 reached 420,780 units, down 0.7 percent from the previous year, as shown by MOTC's statistics.

Industry experts say that the December new-car sales hit the six-year monthly high were mostly driven by exceptional sales of Toyotas, more than 15,000 units of which were licensed in the month, compared to about 4,100 units of the No. 2 brand Nissan.

Leader for 15th Year
Hotai Motor Co. Ltd., Taiwanese agent of Toyota and Lexus, unsurprisingly, retained its lead as auto distributor in December and 2015 again by selling 15,013 units and 132,419 units in the said time spans, respectively. Hotai led the local car market in 2015 by winning market share of 31.5 percent, to secure its top position for the 14th consecutive year, albeit with total annual sales volume down by 4.9 percent.

The vendor provided unprecedented preferential terms to promote sales volume in December. Among its model lineup, sales of the mid-sized Toyota Altis sedan, the most popular model in Taiwan for many years for affordability and the proven reliability of Toyotas, hit 5,350 units; while Hotai also sold about 2,200 imported RAV4s, to be the most popular sport utility vehicle (SUV) on the island for the single month.


Top-6 Automobile Vendors* in Taiwan (2015)

Ranking

Vendor

Brand

Dec. Volume

Jan.-Dec.

Market Share

YoY

1

Hotai Motor

Toyota, Lexus

15,013

132,419

31.5%

-4.9%

2

CMC

Mitsubishi, CMC

4,114

43,416

10.3%

-9.1%

3

Yulon Nissan

Nissan, Infiniti

3,348

42,134

10.0%

-3.2%

4

Honda Taiwan

Honda

3,109

27,639

6.6%

12.4%

5

Ford Lio Ho

Ford

2,202

21,942

5.2%

-11.2%

6

M-Benz Taiwan

Mercedes-
Benz

2,023

21,542

5.1%

11.6%

Overall Market

41,821

420,780

100.0%

%

* Including both locally-assembled and imports.
Source: MOTC

Nearly all the top-5 auto vendors saw YoY sales volume decline in 2015, except the No. 5 Honda Taiwan Motor Co., which sold a total of 27,639 units last year for a 12.4 percent growth and a market share of 6.6 percent. Honda Taiwan's sales were mostly made up of the locally-assembled CR-V SUVs. Honda incidentally had established its reputation in Taiwan as early as in the 1980s with its sub-compact Civic that was very popular for reliability, fuel economy, conservative styling, comfort and affordability.        
Yulon Nissan Motor Co., Taiwanese agent of Nissan and Infiniti, sold 4,114 new vehicles in December, and a total of 43,416 units in 2015 (down 9.1 percent YoY), for an annual market share of 10.3 percent.
Yulon Nissan pulled ahead of its affiliate China Motor Corp. (CMC), Taiwanese assembler and agent of Mitsubishi and its own CMC lineup, to be the No. 2 auto vendor in Taiwan in 2015 that led with a minor gap of some 1,300 units.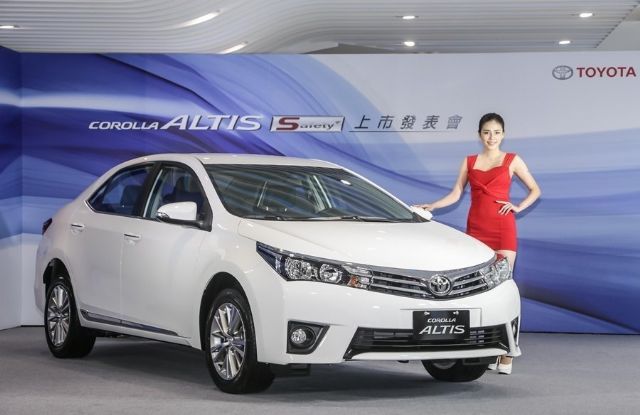 Toyota Corolla Altis again takes best-seller in Taiwan in 2015, with its vendor Hotai also leading as auto vendor on the island for the 15th consecutive year. (photo from UDN)
CMC, however, sold 3,348 new cars in December, and 42,143 units in 2015 (down 3.2 percent YoY), winning annual market share of 10.0 percent. CMC, in fact and typically similar to most Taiwanese carmakers or assemblers, has yet been able to develop competitive passenger cars in-house for years, instead to rely on its Japanese partner's product-development programs. Notwithstanding, it managed to launch the CMC Zinger commercial/recreational van in September to have won considerable market response.
Ford Lio Ho Motor Co., Taiwanese subsidiary of Ford Motor Company of the U.S., sold 2,202 new cars in December, and 21,942 units in 2015 (down 11.2 percent YoY), wining market share of 5.2 percent. Ford has been trying to broaden its product lineup in Taiwan, with such effort being partly in vain to boost sales volume as its brand image is regarded to have relatively low vehicle residual value, or simply that Fords depreciate faster than other makes. 
Mercedes-Benz Taiwan, Taiwanese subsidiary of the German carmaker, ranked No. 6 with sub-200 units in sales volume to trail Ford Lio Ho. In December, Mercedes-Benz Taiwan sold 2,023 new vehicles; while in 2015 its annual volume hit the record high of 21,542 units, an 11.6-percent YoY growth, for market share of 5.1 percent.
Import Sales Up 
Sales of imported cars in Taiwan have steadily increased in recent years, while the market share of imported models has climbed to hit record highs of nearly 40 percent of the overall market on the island. Such trend is attributable to a combination of factors, not least of which being the seemingly idol status of many upscale imported makes as Benz, Porsche, BMW, Audi, and Lexus, whose quality, style, prestige, structural safety and advanced features continue to elude duplication by Taiwanese carmakers. More and more international brands have succeeded to enter the top-10 auto-vendor ranking, such as Mazda, Mercedes-Benz, BMW, etc., outperforming auto brands with production in Taiwan.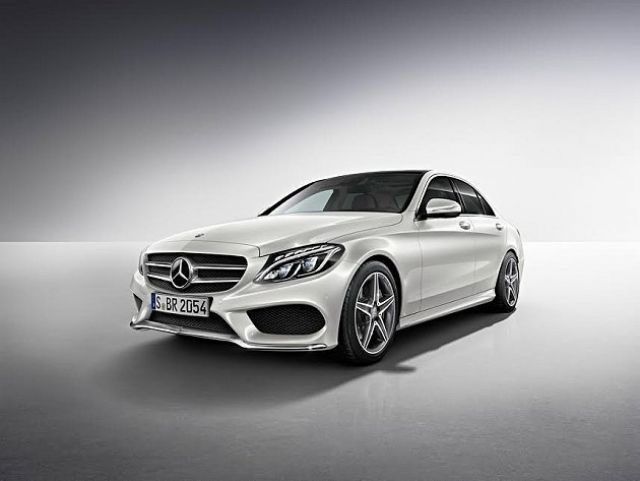 Mercedes-Benz C-class is the most popular model in Taiwan's luxury imported-car segment. (photo from UDN)
A total of 154,685 units of imported cars were sold in Taiwan in 2015, a 13.7 percent increase from the previous year, for market share of 36.8 percent, a new annual record. Continued market-share gains by imported cars in Taiwan in recent years, according to industry experts, seem unstoppable in 2016, to further encroach on market share of locally-assembled models.
Thanks to exceptional sales of the imported RAV4 SUVs (including 2,729 units sold in December), Toyota (distributed by Hotai in Taiwan) finally pulled ahead of Mercedes-Benz (long-term No. 1 in Taiwan's imported-car segment) to take the top position in 2015. Hotai sold a total of 24,206 imported Toyotas in 2015, up 5 percent from the previous year, albeit still lagging Mercedes-Benz's 11.6 percent growth.
The No. 3 import brand BMW (distributed by Pan German Motors Ltd.) sold 19,533 units in 2015, less than that of major rival Mercedes-Benz but achieving an eye-catching YoY growth of 15.4 percent.
However, according to industry insiders, many BMWs and Mercedes-Benzs are imported by local auto traders to be so-called "parallel imports", whose volume has not been accounted for in MOTC's new-car sales figures. So they added, the actual annual sales volume of new Mercedes-Benzs and BMWs likely far exceed the official figures, with the gap between the two German makes being much narrower. Parallel imports likely offer the main advantage of relatively lower retail price as importers are small-scale entrepreneurs with little or no formal training in auto distributorship, auto mechanics or repair and maintenance. They merely import cars as a commodity without investing in presentable dealerships nor factory-authorized after-sales service, so can offer lower retail prices.    
One major change in Taiwan's imported-car segment worthy of note is the 333.5 percent annual volume growth achieved by Mazda, which shifted to an imported brand (with only one model being locally assembled) in 2015, and immediately jumped to be the No. 4 imported brand by selling 17,693 new cars, for a market share of 11.4 percent in the segment. That, undoubtedly, is a record for the nameplate in Taiwan; while its sales are expected to continue increasing driven by the hot sales of the Mazda 3, Mazda CX5, Mazda 6 etc. models.
In addition to the above-mentioned brands, other imported nameplates also saw clear volume gains in 2015. Lexus and Subaru, for examples, reported YoY volume growths in December 2015 of 42.3 and 73.4 percent, respectively, while Volkswagen saw a 42 percent YoY increase in the same period.
Sales of Imported Cars in Taiwan (2015)
Rank
Brand
Volume
YoY
Share
Distance*
1
Toyota

24,026

105.0%

15.5%



2
Mercedes-Benz

21,542

111.6%

13.9%

2,484

3
BMW

19,533

115.4%

12.6%

4,493

4
Mazda

17,693

335.5%

11.4%

6,333

5
Lexus

12,448

93.5%

8.0%

11,578

6
Volkswagen

10,837

80.4%

7.0%

13,189

Overall

154,685

113.7%

36.8%



*: Volume from No. 1 brand.
Source: MOTC, U-Car News