Auto and motorcycle parts, optical and optoelectronic parts, precision parts processing
ELEM Technology Co., Ltd., established in 1988 in Changhua County, central Taiwan, is a world-caliber manufacturer of precision parts and components for wide ranging applications, as well as an assembler and precision-processing service provider, whose superior production techniques and troubleshooting capability that facilitate R&D for new products, as ordered by customers and carried on in-house, are well recognized by internationally prestigious firms.

The versatile company is capable of making metallic parts, optical instrument parts, bicycle parts, auto parts, motorcycle parts, lens parts, camera parts and electronic parts and high-precision parts for the aerospace industry. Also, this manufacturer handles orders on an OEM (original equipment manufacturing) basis. While ELEM's products are mostly exported to Southeast Asia and North America, the firm's manufacturing service is also widely accepted by such globally known firms as Taiwan's Asia Optical and Japan's Olympus.

ELEM's current achievements in the contract manufacturing sector owe mainly to its outstanding production capability, achieved by decades-long dedication to continuous improvements. Through the steady efforts on R&D of manufacturing technology and techniques, the firm has ample know-how about problem solving, which is aptly used to not just enhance production efficiency, but help customers with troubleshooting when developing new products.

Also contributing to ELEM's high-efficiency manufacturing capability is its full line of production equipment employed in-house, including CNC machining centers, CNC turning machines, milling and grinding machines, all of which are periodically maintained and calibrated to ensure original condition and performance.

Moreover, ELEM is remarkable for its insistence on offering customers reliable quality. To that end, the manufacturer carries out rigorous quality control throughout production at its factory, also adopting a full line of quality inspection instruments such as 3D and 2D projectors, an advanced internal diameter measuring system, surface roughness testers, micrometers and many others, in its QC laboratory. The steady investment in QC lays the foundation for the maker to stand out in the increasingly competitive market.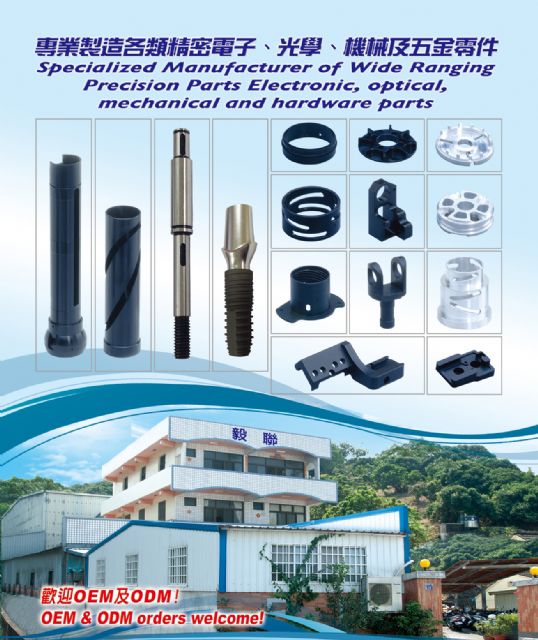 ELEM specializes in making a broad array of metallic parts and components for wide ranging applications.
ELEM Technology Co., Ltd.
No. 10, Lane 262, Zhangnan Rd., Sec. 2, Dazhu Borough, Changhua City, Changhua County 500, Taiwan
Tel: 886-4-732-4859; 737-3069
Fax: 886-4-737-3611
Email: e1732.ch4859@msa.hinet.net
Website: www.elemtw.com.tw