Taiwan's Furniture Makers Brainstorm Ways to Cope with Demand for Greener Products
One maker's furniture of paper-based honeycomb boards finds many buyers in Japan

2016/01/25 | By Ken Liu
Taiwan's furniture making sector, as many other manufacturing industries globally, has had to cope with increasingly strict eco-protection rules and stay with the global trend to become earth-friendly amid more convincing evidence of global warming and the disastrous consequences of extreme weather as seen in recent years. Buyers whose main markets are in Europe and North America generally demand Taiwanese suppliers to deliver eco-friendly furnishings to meet tighter rules regarding toxic raw materials, pollutants during production and less wastage.
With different standards, traditions, regulations and philosophies existing in the furniture making industry that have to be modified to meet current eco-regulations and market trends, Taiwanese makers say, surprisingly, as harsher eco-rules have been introduced worldwide to regulate furniture making, more buyers are asking for furnishings that physically contact users daily to be made not of wood and natural materials, which typically require toxic chemicals as surface finish, but instead manmade materials that call for less secondary processing with hazardous substances. As example and part of the U.S. Guide to Furniture Compliance Requirements, the Consumer Product Safety Improvement Act of 2008 (CPSIA) establishes new lead content limits for children's products (for most children's products the limit is 100 parts per million (ppm) and a lower lead limit for paint and surface coatings on furniture and children's products).
Technically, making such eco-friendly products is not a challenge to Taiwan's furniture makers; instead, the bottom-line is the primary concern. Buyers who specify products that meet tighter European and American eco-rules also saddle Taiwanese makers' production cost, which inevitably are raised to possibly drive away customers to seek cheaper makers in mainland China, Vietnam and elsewhere. However, many of them remain confident that Taiwan-made quality will ultimately retain loyal customers who may temporarily switch to lower cost sources.
M.S. Printing Co., Ltd.
M.S. Printing Co., Ltd. specializes in printing surface patterns or grains of various natural materials such as wood, stone and leather. In line with the global trend of making eco-friendly furniture, M.S. Printing Co., Ltd. has migrated to a toxic-free process by using ink without volatile organic compounds (VOC) on eco-friendly materials including paper, polyvinyl chloride (PVC), PVC transfer film, melamine, and polypropylene (PP) polyethylene terephthalate (PETG).
M.S. Printing uses toxic-free paints to achieve natural-grains on various surfaces.
The company's eco-friendly raw materials have been proven to comply with RoHS (Restriction of Hazardous Substances) by the certifying and testing organization SGS.
According to its export manager, Benedict Wu, the company had begun using non-lead ink since 15 years ago as one of a handful of Taiwanese surface grain printers advancing to non-toxic process.
"However, we have received countless complaints from customers, who were dissatisfied with the low color saturation that is inherent in non-toxic materials. But now they are more enthusiastic than us to have our products meet international standards since they export to overseas markets [where tighter eco-rules apply]," he says.
The company's primary customers are furniture makers and makers of interior decor materials.
Wu points out that PP and PETG will increasingly be used at the company to replace PVC thanks to their plasticizer-free content. "Also, we're developing water-based paints with our ink suppliers to make our products greener," he says.
Wu concedes that his industry has only embraced non-toxic printing materials in the last six or seven years as more evidence mounts to show that traditional printing materials contain hazardous substances that had not been found before. 
In spite of the unforgiving reality that non-toxic materials call for higher R&D cost than toxic materials, surface grain printer like M.S. Printing fight a losing battle to convince customers to share such cost by accepting higher pricing. "They simply show no empathy and don't care about costly R&D. All they want is good quality, competitively priced service. Otherwise, they shift supply sources without hesitation," Wu laments. Alternatives to Taiwan's suppliers, he notes, are mostly in mainland China and Vietnam.
Besides having to invest in new materials, Wu says his company has spent tens of millions of NT dollars on printing machines and surface grain engraved cylinders. Exorbitant investment and bottom-line-dictated customer demand explain why there are not many manufacturers in this line in Taiwan, he notes in an evangelistic tone.
M.S. Printing was founded 40-plus years ago and is known for being equipped with advanced printing machines and engraved cylinders to ensure unmatched quality.
Tai Yi Furniture
Tai Yi Furniture Enterprise Co., Ltd. makes eco-friendly wooden furniture by reducing the use of wooden materials, with an innovative technology revolving around the adoption of a proven structural engineering principle: the amazing strength of the honeycomb structure and in this case made of paper carton.
Tai Yi builds paper-carton honeycombs into wooden boards for various furniture applications.
By building the honeycomb structure as cores of wooden boards completed with jointed particle-wood panels, the company realizes wooden boards that are light, yet as hard and strong as solid wood.
According to its general manager, M.Y. Lin, a medium 900mm x 450mm board the company makes can carry as much as 40 kilograms, with the largest board offered being 1,600mm x 900mm. Its products have been ordered by many Japanese furniture vendors.
Before introducing the honeycomb boards 18 years ago or so, the company had been a maker of solid wood furniture. "At that time, we started to feel the pressure of tighter supplies of woods from major global sources due to the campaigns against deforestation," Lin recalls.
To cope with strained supplies of wood, his company began using composite materials including metals and plastics in production before developing the honeycomb structure in cooperation with its subcontractors.
"For a long time, Taiwan's furniture makers had been single-mindedly making products out of only wood. Literally being one-trick ponies, wooden-furniture makers only turned out wooden products and metal-furniture makers only rolled out metallic items. Such phenomenon reflected only one reality of the sector that wooden furniture makers simply lacked the expertise to diversify into production of metallic products. However the wood supply shortage gradually pressured local makers to begin crossing over to survive," Lin says.
He feels using different materials in one single piece of furniture does provide makers more flexibility in design than before. "When you had only one category of material to use, you can hardly make furniture that display flavors inherent in other types of materials," he notes. "Woods generally are seen by makers and consumers to evoke softer, homier aesthetic than metallic and plastic counterparts."  
Tai Yi was founded in 1994 and now mostly makes knock-down types of furniture, including OA (office automation) furniture, tables, chairs, stands and racks for contract buyers.
With a strong R&D team and experienced workers, the company expertly develops molds to turn out products of different patterns, sizes, and functions. For instance, its stylish occasional tables are stylish and practical, available in different patterns, colors and functions.
The company ships products mainly to the U.S., Europe, the Middle East and Southeast Asia.
AXURU Technology
A manufacturer of power cables integrated with universal series bus (USB) charger and sockets for furniture, electronic parts and components, AXURU Technology Co., Ltd. has recently released several energy-efficient chargers for office and residential desks.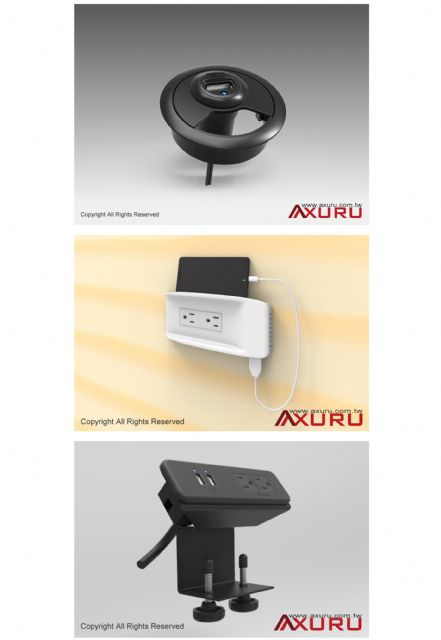 Axuru Technology designs USB chargers that are integrated and attached to desks.
Among the latest products are the AX-a01 and the AC-5V2A-W chargers, as well as a wooden-base charger. Inside these chargers is an intelligent IC chip, which identifies the amperage flow to the mobile device being recharged to assure the proper current. "Usually the competing products come with only one current rate, which makes recharging very inefficient when the device calls for a higher amount of amperage than the recharging rate," says company president Jack Shih.
The AX-a01 is made up of a charger set and a clamp, with the latter holding the charger and securing it to the edge of a desk; while the AC-5V2A-W is plugged into a wall outlet. The wooden-base charger is patented in Taiwan for its solid-wood charger base.
The company's products are certified by UL of the U.S. and PSE of Japan thanks to the company's strict quality control of all its products before delivery.
Although the company was set up only five years ago, its management team has 25 years of experience on average in the electrical cable industry, which is a major asset for the company to further build expertise.
"Our current expertise enables our company to shorten lead time, to manage manufacturing and technical support, and to meet tailored customer need," Shih boasts.
Taiwan Order Furniture Corp.
Taiwan Order Furniture Corp. Chairman Jackie Yang, former head of the Taiwan Green Building Materials Council (TGBMC), proudly says his company is the only furniture maker in Taiwan, who has all its products carry the Green Building Material label, given the rating system endorsed by the government and administered by the non-profit Taiwan Architecture & Building Center.
The company makes eco-friendly furniture out of German-made, toxic-free materials, such as melamine faced chipboard (MFC), which are made only of trees that are farmed and not wild. Using such materials enables the company to tweak its manufacturing process to limit wastage within 5 percent of output, compared with 20 percent for traditional manufacturers. 
The company's eco-awareness was sparked some 10 years ago by the MFC boards the company imported from Germany. Yang believes his company's embrace of the MFC boards has influenced Taiwan's furniture makers and consumers. "After all, demand is a powerful force of attrition as over the past few years I've seen many substandard manufacturers shutter their operations to move offshore," he says.
Idealistically urging Taiwan to emulate Germany, Yang says Germany regulates material suppliers, not homebuilders, to be green, with the result that all German suppliers are eco-qualified as are all buildings in that nation. 
Taiwan Order Furniture uses German-made toxic-free melamine- faced-chipboard in its furniture.