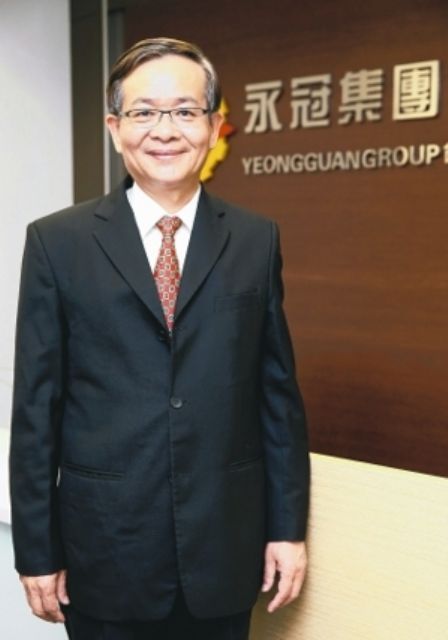 YGG Chairman Chang Xianming.
The Yeong Guang Group (YGG), a publicly held Taiwanese foundry manufacturer headquartered in Ninbo, mainland China, has announced the acquisition of Shanghai No.1 Machine Tool Foundry (Suzhou) Co., Ltd. for its plan to expand into the wind power equipment industry.
The takeover, including retooling the acquired asset, costs the group less than RMB220 million (US$33.84 million), but it will help the group to achieve a significant additional production capacity of 10,000-15,000 tons a year, helping to realize the goal to boost total capacity to 180,000 tons a year and expand into the manufacturing of large components for wind turbines.
YGG holds a controlling 90 percent stake in the Shanghai foundry factory, with its parent, a Hong Kong-based holding company, holding the remaining share.
YGG executives point out that Shanghai No.1 Machine Tool Foundry will take five to six months to retool for production of large wind turbine components, whose production is set to start up by this July.
They say the company's profitability for the final quarter of last year significantly improved mostly thanks to enhanced production efficiency, minimized defect output, lower commodity prices, and advantageous NT-dollar-to-greenback rate.
In the first 20 days of this January, the company has shipped over 10,000 metric tons of merchandise to inspire itself to forecast its shipments for this January to hit a new high.
The company expects its profitability, including gross margin, for this year to further climb from 2015 in anticipation of increased orders for its power-plant products, which command higher margins than other product categories in its lineup.
The group is recognized as a leading manufacturer of power-plant equipment and foundry parts, generating total revenue of NT$8.12 billion (US$246.12 million), rising 12.7 percent years on year, from shipments of 150,000 metric tons of equipment in 2015. Both the revenue and shipment results represent new highs.
Industry executives estimate the group to earn a record NT$11.36 per share from 2015 operations. With added production capacity, the group is projected to make NT$12.28 per share on revenue of around NT$9.33 billion (US$282.87 million) by the end of 2016.
The group, having opened its first mainland Chinese foundry in 1995 in Dongguan, Guangdong, now operates five foundry factories, two precision-processing manufacturing sites, one structural-steel facility and a steel-recycling factory on the mainland to boast integrated capability for secondary metal processing.
The group's parent company was founded in 1971 in Taipei, northern Taiwan, to make foundry parts. It now supplies parts for power plants, plastic-injection industry, automotive industry and medical-equipment industry.