ParaPara Corporation is a Taiwanese firm specializing in height-adjustable desks, electric or motorized height-adjustable workstations and crank-mechanism height- adjustable desks for homes and offices

Bolstered by technical cooperation with European counterparts, the firm is fully capable of developing electrically and crank-driven height-adjustable frames for workstations, desks, tables and stand-to-work desks. Through continuous improvement of mechanical engineering and production skills, the firm has worked out its 5th-generation height-adjustable frame, which has gained high regard from buyers for totally quiet and smooth operation, achieved by optimally engineered mechanism coupled with precisely matched parts.

In addition to designing into products functionality, the firm also takes into account ergonomics and color scheme in tune with market trends when developing new products, in an effort to make desks and workstations not just pieces of furniture, but aides that enhance work efficiency, reduce fatigue, and more importantly help buyers build business and reputation as distributors of user-friendly, ergonomic work-space furniture.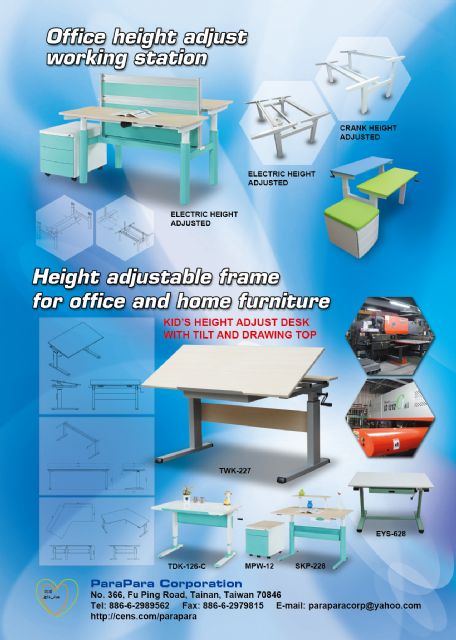 User-friendly functions, ergonomic, minimalistic exterior and eye-catching chromatic design are attractions of ParaPara's height-adjustable desks and workstations.
ParaPara Corporation
No. 366, Fuping Rd., Tainan City, Taiwan 70846
Tel: 886-6-298-9562
Fax: 886-6-297-9815
Email: paraparacorp@yahoo.com
Website: https://www.cens.com/parapara