Two Taiwan Stock Exchange (TWSE)-listed auto-parts makers, Tong Yang Industrial Co., Ltd. and Iron Force Industrial Co., Ltd., posted record revenues for 2015, driven mainly by encouraging new-car sales in the U.S. last year.

Tong Yang is widely reported as the world's largest maker of aftermarket (AM) plastic car-body parts, a major original equipment (OE) parts supplier to international automakers, and a TWSE-listed company with the highest annual revenue of its kind in 2015.

To further strengthen its business deployments in China, the Taiwanese auto-parts maker said one of its Chinese subsidiaries, Changsha GACC Tong Yang Automobile Co., Ltd. and also a joint venture with Guangzhou Automobile Group (GAC), just signed a cooperation agreement with Suiryo Plastics Co., Ltd. of Japan to introduce advanced in-mold vacuum one-piece-forming production technology, and tie up with GAC Mitsubishi Motors Co., Ltd. to jointly develop the instrument cluster for the new Mitsubishi Outlander sport utility vehicle (SUV). The new instrument cluster, Tong Yang said, features higher visual impact and product added-value.

Through the tie-up with Suiryo Plastics, Tong Yang said, Changsha GACC Tong Yang will tap into GAC Mitsubishi's supply chain as a Tier-1 parts supplier. In the future, the Chinese subsidiary is expected to introduce more new, advanced technologies to land increasing orders from the GAC group affiliates.

Driven by the Chinese central government's subsidies program targeting sub-1,600cc passenger cars, new-car sales in China surged from October through the whole fourth quarter of 2015. Last year, some 24.5 million new cars were sold in China to have benefited many Taiwanese auto-parts makers with operations in China.

Tong Yang registered consolidated revenue of NT$2.17 billion (US$65.4 million) in December 2015, up 14 percent from the same period of the previous year, or year-on-year (YoY); as well as whole-year consolidated revenue of NT$3.95 billion (US$119 million), a six percent YoY increase. Both the said figures hit record highs in the company's history.

Crispin Wu, Tong Yang's president, pointed out that both the OE and AM business divisions of his company reported upbeat sales results in December, 2015, thanks to increased orders from customers. He added that in conjunction with simmering new-car sales in China and the U.S., robust demand for OE auto parts is expected to last throughout at least the end of the first quarter of 2016.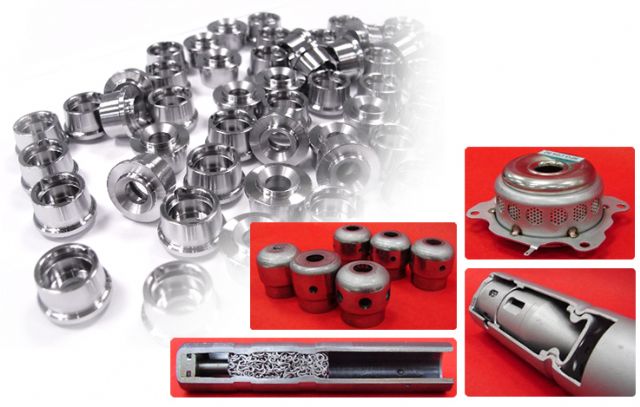 Iron Force, a TWSE-listed auto-parts supplier of high-precision airbag parts, achieved record-high annual revenue in 2015. (photo from Iron Force)
Iron Force Industrial Co., Ltd., an OE supplier of airbag inflators and precision metallic parts for automotive safety systems, had consolidated December revenue of NT$357 million (US$10.8 million), up 21.5 percent YoY, with whole-year consolidated revenue of NT$3.95 billion (US$119 million) in 2015, up 12.7 percent. Both were record highs for the maker.
Iron Force pointed out that some 17.5 million new cars were sold in the U.S. in 2015, resulting in strong demand for airbag inflators, seatbelt pretentioning system parts, and electric steering system components, all being the company's major product categories. The parts maker is very optimistic about its 2016 operation, as it has won many urgent orders after the Takata airbag recalls worldwide. The Japanese maker's defective inflator and propellent devices have been found to occasionally deploy improperly in crashes. Iron Force has had to raise its shipments of such items as result.
Hota Industrial Manufacturing Co., Ltd., an OE transmission gear and torque converter supplier to international automakers and Tier-1s, said that it attained record monthly revenue in December, 2015 of NT$483 million (US$14.6 million). The TWSE-listed auto-parts supplier had 2015 consolidated revenue of NT$5.3 billion (US$159.5 million).