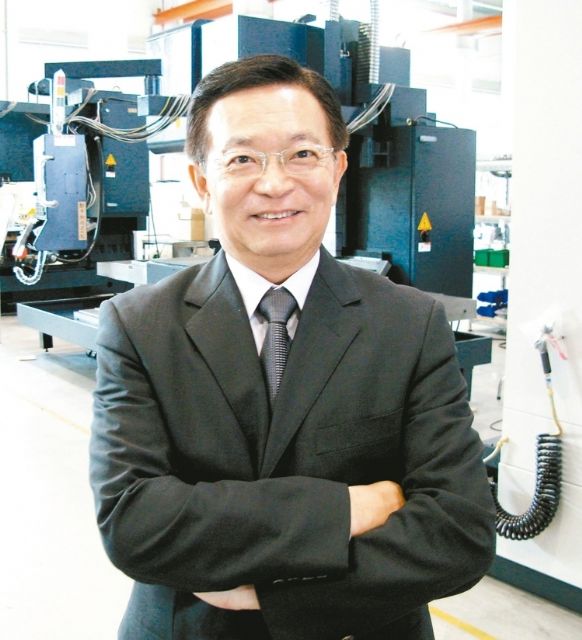 Auto-parts OEM Hota (Chairman David Shen as shown) hits record Dec. 2015 revenue. (photo from UDN)
Among the Taiwan Stock Exchange (TWSE)-listed companies who have announced 2015 operational results, some auto-parts companies are expected to report record highs and express optimism towards continued growth in 2016, according to institutional investors.
Hota Industrial Manufacturing Co., Ltd., an original equipment manufacturer (OEM) of transmission system parts to international automakers and tier-1s, reported consolidated December revenue of NT$479 million (US$14.4 million), up 27.6 percent from the same period of last year, or year-on-year (YoY), which is a record high for the month and the second-highest monthly record in company history.
In the fourth quarter of 2015, Hota registered consolidated revenue of NT$1.43 billion (US$43.1 million), a quarterly record, with 2015 consolidated revenue  hitting a new record of NT$5.29 billion (US$159.4 million), up 24.8 percent from the previous year.
The auto-parts maker attributes the impressive December results to increased new-car sales in both the U.S. and China; while most of the firm's major customers such as BorgWarner, Tesla, Punch, etc. stocked up on more items to meet strong demand. As a result, Hota's production lines have been working round-the-clock to meet such demand.
David Shen, chairman of Hota, pointed out that his company will kick off delivery of 2016 products from the second quarter of 2016, so the company's monthly revenue is expected to outstrip NT$500 million(US$15.1 million) starting April. Hota's new factory in central Taiwan's Chiayi is scheduled to kick off mass production in the third quarter, with the new facility estimate to add annual production value of about NT$400 million (US$12.1 million) in 2016. Institutional investors forecast that Hota's 2016 revenue might outstrip NT$6 billion (US$180.7 million), to generate earnings per share (EPS) of about NT$5.5 (US$0.17) or higher.
Tung Thih Electronic Co., Ltd. (TTE), recognized as a major OE automotive-electronics supplier to local and international automakers and reportedly one of the world's leading suppliers of automotive parking sensors, saw a 65.4 percent YoY increase in December consolidated revenue to NT$868 million (US$26.1 million), hitting record monthly high for the third consecutive month. TTE registered consolidated fourth-quarter revenue of NT$2.34 billion (US$70.5 million) and 2015 consolidated revenue of NT$7.04 billion (US$212 million), both record highs in company history.
The tier-1 automotive-electronic system and parts supplier pointed out that Chinese government's subsidies program for passenger cars with engine displacements under 1,600cc significantly stimulated new-car sales in China starting October, to have created sizable demand for automotive-electronic parts from especially independent Chinese auto brands. In addition, TTE has also tapped into the supply chains of many carmaking joint ventures in China, where the increasing new-car sales have greatly benefited its shipments to these customers.
As China's new-car sales are forecast to continue increasing in 2016, albeit at rates relatively lower to those of the past 10 years, TTE said that demand for automotive-electronic equipment from independent Chinese automakers (without technical partnerships with foreign brands) is expected to continue rising. On the other hand, TTE is scheduled to kick off shipments of parts and systems for new-car models based on General Motors' (GM) D2XX platform in 2016. Some institutional investors estimate that TTE's monthly revenue will exceed NT$800 million (US$24.1 million), and the firm's EPS will reach at least NT$11 (US$0.33).