CUB Elecparts Inc. of Taiwan, a Taiwan Stock Exchange (TWSE)-listed automotive-electronic parts supplier and recognized as a leading supplier in the global tire pressure monitoring systems (TPMS) market, recently announced its move to acquire 50 to 52 percent share of domestic Harbinger Technology Corp., a communication system integrator, with the deal to allow CUB to participate in Harbinger's operations.

To grow its business to meet market trends, CUB plans to develop business deployments in the telematics market by integrating Harbinger's wireless communication technologies as well its own automotive-application sensing technology. The firm said that new products of the future are expected to create new revenue growth drivers. Founded in 1993, Harbinger specializes in niche products as RF communication and traffic-control system integration.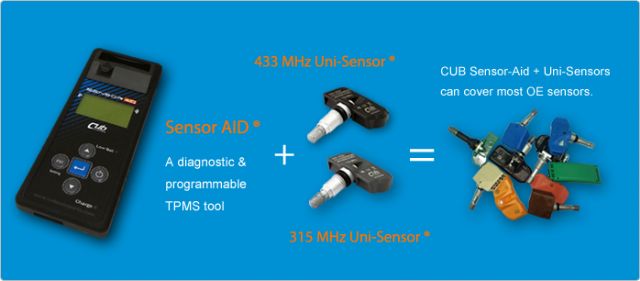 One of CUB's innovative, award-winning items: the CUB PUR TPMS that is developed for the global market. (photo from CUB)
Yu Shan-chuan, chairman and general manager of CUB, pointed out that Harbinger has been a major supplier of traffic control and defense systems in Taiwan with industry leading R&D capability, and the firm has accumulated abundant experience and know-how in related fields. For example, Yu added, Harbinger's R&D team controls advanced technologies such as the military-grade optical fiber gyroscope, high-resolution image algorithm, 77GHz radar, etc., making it one of a few same-class players with excellent potential. As CUB and Harbinger both offer highly reliable and integrated niche products to customers worldwide, Yu explained, his company is very confident to make the most of business potential to be realized via Harbinger's becoming a new member of CUB.
In the future, Yu added, CUB and Harbinger will integrate their businesses and R&D works, as well as leverage CUB's advantages in supplying auto parts and Harbinger's in fleet management and telematics to develop more Advanced Driving Assistant System (ADAS) products. The tie-up between the two companies, the chairman and general manager said, is expected to command various key technologies to tap potentially lucrative opportunities as automotive safety-systems become compulsory by law. Accordingly, CUB's board resolved to pour NT$500 million (US$15 million), the firm's investment maximum, to acquire Harbinger's shares.
CUB has been dedicated to the manufacture of auto-electromechanical replacement parts since 1989, now distributing more than 3,000 types of products to customers all over the world. The firm is a frequent winner of many global awards. One of the firm's innovative and award-winning items, for example, is the CUB PUR TPMS--a solution developed for such global market. PUR stands for programmable, universal and replacement.
The CUB PUR TPMS is composed of two major parts: the Sensor-AID, a device capable of detecting and diagnosing all original equipment (OE) sensors, whereby a user diagnoses OE sensor ID for auto or manual programming of Uni-Sensors, with such function to be suitable for repair shops and distributors; and Uni-Sensor, a blank and reprogrammable tire-pressure sensor developed by CUB for the TPMS market, which is designed to be compatible with carmakers' codes to replace most OE sensors. Such design helps to ease redundant inventorying of both OE and aftermarket parts for importers, distributors, wholesalers as well as small tire shops.