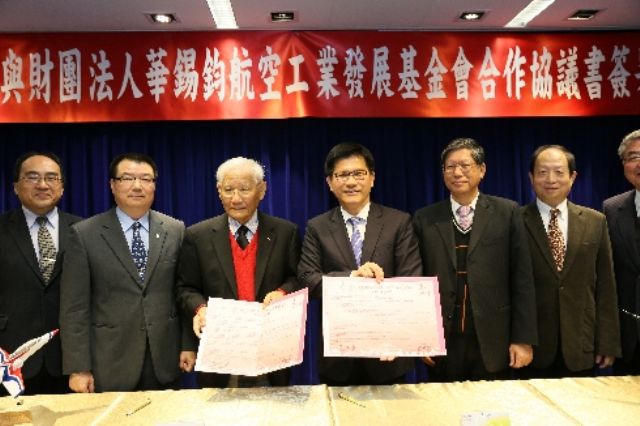 Taichung City Mayor Lin Chia-lung (4th from right) with Hwa Hsih-jun (third from right), founder of H.H.J. Aerospace Industry Development Foundation, after signing strategic cooperation agreement. (photo from Taichung City Government).
To develop Taichung City, central Taiwan, into a cluster for the local aerospace industry, Taichung City Government signed a strategic cooperation agreement with H.H.J. Aerospace Industry Development Foundation. The two parties aim to promote the city as an aerospace industrial product center on the island with potential to gradually expand its operational scale. 
Taichung City Mayor Lin Chia-lung signed the agreement with Hwa Hsih-jun, founder of the H.H.J. Aerospace Foundation. Hwa, a retired general of Taiwan's Air Force, pointed out Taiwan lags far behind many industrially advanced nations in aerospace industry development, and he looks to playing a part to enhance the island's annual aerospace production value to NT$500 billion (US$15.1 billion) over the next few years, with help from Taichung City and his foundation. 
One of the directors of the Aero Industry Development Center, formerly an organization under the Ministry of National Defense and later reorganized into a privatized company named Aerospace Industrial Development Corp. (AIDC) to become Taiwan's largest airplane builder, Hwa set up the aerospace foundation with a personal donation in late 2015. The foundation has been recruiting industry heavyweights to help grow the local development of the industry, providing help in strategic planning for industrial development, resource integration etc.
Lin pointed out that Taichung is the production citadel of Taiwan's aerospace industry. By leveraging the foundation's "think tank" role, he earnestly recommends integrating all available resources from local industry, government and academia to jointly strive to foster a better future for the local aerospace line.
Over 50 representatives from the government, private companies and related research institutes attended the signing ceremony, including those from the Industrial Development Bureau (IDB) of the Ministry of Economic Affairs (MOEA), AIDC, Taichung City Government, and many private aerospace manufacturers in Taiwan.
The Taichung City government has set aside 40 hectares near the Shuinan Economic Zone and another 30 hectares adjacent as the land to house a comprehensive aerospace supply chain. The dedicated zone is expected to attract local and foreign aerospace companies to set up production factories or branch offices.
Aerospace 4.0 Industrial Cluster
Another major effort by the government and the private sector to jointly promote aerospace industrial development in central Taiwan is the planned "Aerospace 4.0 Industrial Cluster". The IDB, Taichung City Government and San-Kang Industrial Association (SKIA) recently announced that they will set up the cluster, an industrial hub to specifically develop aerospace business opportunities in the Taichung City Precision Machinery Innovation Technology Park in central Taiwan.
J.H. Huang, secretary general of the Industry 4.0 Promotion Office under the MOEA, pointed out that MOEA's industry innovation platform will provide a budget of NT$150 million (US$4.69 million) to help aerospace equipment makers "intelligentize" production lines to set up supply chains using Big Data, online controls, robotics, etc. Huang stressed that his office will help SKIA and the M-Team machinery makers alliance set up an advanced testing and measurement center, which will help local companies gain AS 9100 certification that is essential in aerospace manufacturing.
Two leading aerospace companies in Taiwan, the AIDC and Evergreen Aviation Precision Corp. (EGAP, an affiliate of Taiwan's Evergreen Group that manufactures aerospace parts), signed a cooperation agreement with the M-Team and the Industrial Technology Research Institute (ITRI) to set up the A-I-M Alliance.
Y.D. Huang, chairman of SKIA, emphasized the strategic location of central Taiwan, the production hub of precision machinery, and added that his association aims to set up Industry 4.0-compatible supply chains by working with related industries such as bicycle, hand tool, auto and motorcycle parts etc. SKIA has more than 230 member companies, including virtually all the major precision machinery developers and manufacturers in central Taiwan, whose annual production value already outstrips NT$100 billion. (US$3.1 billion).