Global annual auto sales increased to 88.7 million units in 2015, up 2.0 percent from about 8.52 million in 2014; with sales performances in different regional markets being mixed, like a 6.3 percent year-on-year (YoY) increase in North America but a slowdown in Europe, according to U-Car News, from U-Car.com.tw, a Taiwan-based, Chinese-language website offering mainly automotive-related products and services as used-car sales.


Regional Auto Sales in 2015 (Source: WardsAuto, U-Car)
In the first half of 2015, U-Car says, global auto sales saw only a 0.2 percent growth; but such trend changed in the following months of the year. In September and October, the discovery of Volkswagen's cars using a device to cheat emissions tests to deceive official agencies and consumers suddenly dragged down the overall market modestly, and then market demand recovered in the last two months to result in 3.5 million more new cars sold over the previous year.
According to analysts at IHS (whose website says the NYSE-listed firm has been offering since 1959 news and expertise related to industry, markets and technology to organizations in 180 nations), 2015 was characterized as a good year in the mature car markets, though it was largely offset by a very poor year for many of the world's emerging markets. Quoting data released by WardsAuto.com, U-Car says global new-car sales rebounded by 9 percent YoY in November and 6 percent in December, respectively.
Regional Markets
Sales of new autos in the Asia Pacific saw a 2.6 percent increase in 2015, to some 42.9 million units, accounting for 48 percent of the global total. One notable development was that in December regional auto sales saw a 51.9 percent YoY jump (16.5 YoY increase in China). China retained its global No. 1 automobile market position, with sales increasing by about 7.5 percent in 2015 to about 24.6 million units. China's passenger-car sales in 2015 reached a new high but growth slowed and demand in the world's largest auto market is expected to cool further this year. Vehicle vendors sold 21.1 million passenger cars—sedans, sport-utility vehicles and minivans—last year in China, up 7.3 percent from a year earlier, according to the government-backed China Association of Automobile Manufacturers. Such growth is obviously weaker compared to a 10 percent rise in 2014 and a 16 percent gain in 2013.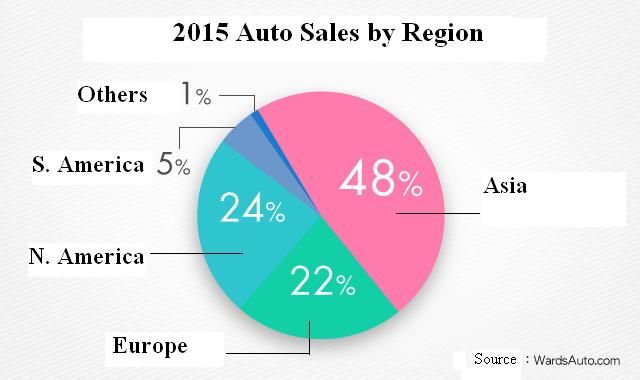 World Vehicle Sales (2015) (Source: WardsAuto, U-Car)
Auto sales in North America saw a 6.3 percent growth in 2015, to about 21.2 million units (including 17.5 million cars), making up 24 percent of the global overall.
European auto sales totaled 19.3 million units, up 3.5 percent from the previous year, accounting for about 22 percent of the global total. Regional sales were dragged down by a clear volume decrease in Russia, which in December saw a 44.2 percent YoY decline to only some 157,000 units. Such drastically dropping sales was due to Russia's economy being battered by lower crude oil prices, the anemic ruble and international sanctions that have sapped private consumption.    
U-Car says that the emissions-cheating stunt by Volkswagen and Audi and extensive economic slowdown in many nations, due mostly to the panic wrought by falling crude oil prices and weaker growth in China which saw a stock market sell-off in January, especially emerging, markets, slowed global auto sales in 2015, with such sales growth in 2014 being seven percent. 
2016 Outlook
Most global automotive market research firms are optimistic about a continued, though minor, growth in global auto sales in 2016. IHS Global Outlook for Automotive Sales, for example, forecasts the continued momentum in North America and Europe could put the industry within reach of 90 million units in 2016. "Despite ongoing political and partial economic troubles in the European Union, West Europe, together with the U.S., will build the fundamentals for solid global demand growth in 2016," IHS says.
IHS Automotive—affiliate of IHS and a leading source of critical information and insight to the global automotive industry—says the sales outlook for 2016 is likely to be defined by smaller gains, but also less pain than in 2015.
Incremental volume growth in the U.S. and Europe is forecast to be solid but less spectacular, while on the other side of the balance sheet, further downside from Russia, South America and some big Association of Southeast Asian Nations (ASEAN) car markets will be less of a drag on global volumes as their impact lessens, having already suffered severe market contractions. This, combined with the new autos launched to drive momentum in China, is likely to provide a mild uptick in global sales growth of 2.7 percent, IHS Automotive forecasts. 
The 2016 global forecast from IHS puts sales at 89.8 million units—just shy of the possibility of the global automotive light-vehicle market reaching 90 million units.
The U.S. auto market has been powered by a combination of low interest rates and recently low gas prices, allowing for market momentum to remain strong. IHS estimates there is still strong upside potential as a strengthening U.S. economy and stronger employment will likely help the U.S. to achieve sales of some 18 million units over the next two years or so.
In West Europe, momentum is also strong, even after the recovery last year being well above expectations. The current forecast for a 2.5 percent to 3 percent uplift in sales in Europe could turn out to be even stronger. However, some northern European markets are peaking. In Spain, some payback is expected after eight consecutive scrapping incentives in recent years come to an end.
Optimism for sales activity in the Chinese market has increased dramatically since the government announced measures to reduce the vehicle purchase tax on smaller cars (with sub-1,600c.c. engine displacements). However, continued stock market volatility and slowing economic growth may intimidate some buyers. Despite a slowing economy, IHS Automotive now expects light vehicle sales growth to increase 5 to 6 percent in 2016, enough to add more than 1.3 million units of additional sales.