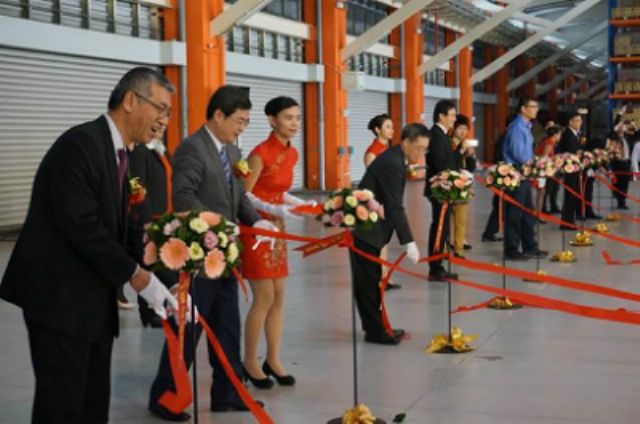 AAP, a leading aftermarket auto-parts supplier in the U.S., inaugurates its second Asian cargo consolidation center in southern Taiwan's Kaohsiung. (photo from Internet)
Advance Auto Parts (AAP) of the U.S., a NYSE-listed firm founded in 1929 and headquartered in Roanoke, Virginia, which operates through its subsidiaries as a specialty retailer of automotive replacement parts, accessories, batteries, and maintenance items, recently decided to shutter its operational center on the U.S. west coast and move it to Taiwan. The auto-parts supplier will tie up with Taiwan's OEC Group, a major logistics-service provider, to set up its second Asian cargo consolidation center in southern Taiwan's Port of Kaohsiung, after the first in Shanghai, China.
Estimates are that AAP will cut 10 percent to 15 percent of logistic cost by shipping an average of 100 twenty-foot equivalent units (TEUs) per month from Kaohsiung Port to the U.S. and Canada. AAP's cargo consolidation center is located in the public warehouse of the Kaohsiung Free Trade Zone, which is to be the parts supplier's logistic center for Asia and North America.
The inauguration ceremony for AAP's cargo-consolidation center at Kaohsiung Port saw attendance by representatives from the Ministry of Transportation and Communications (MOTC), Ministry of Finance (MOF), Taiwan International Ports Corporation, Ltd. (TIPC), APP and OEC Group.
P.I. Lai, managing director Asia, AAP, pointed out that his company is a specialized auto-parts supplier operating more than 7,000 stores (including 6,000 directly-operated and more than 1,000 franchised). To meet customers' requirements, he added, AAP purchases more than 260,000 pieces of parts from Asia, and ships them to North America via marine freighters. APP's products, Lai stressed, have high cost/performance (C/P) ratio.
Under APP's strategic considerations, the American parts supplier chose to set up its first Asian cargo consolidation center in Shanghai. Thanks to the strong competitiveness of auto-parts makers in Taiwan, he explained, the island has become APP's major procurement center and shipment hub. As a result, APP decided to change its original operational mode—conducting cargo consolidation at U.S. western ports—and chose Kaohsiung as its second Asian consolidation center. APP has also set up a wholly-owned Taiwanese subsidiary to handle sourcing works in Taiwan.
Lai pointed out that APP will concentrate auto parts procured from Vietnam and other Asian countries to Taiwan's Kaohsiung Port, and ship them to AAP's over 50 warehouses in North America. In the initial stage, AAP is expected to export about 100 TEUs and import about 20 TEUs per month, and Lai stressed that "is just a start".
A senior executive of OEC Group said that his group will provide all logistic services to AAP's cargo consolidation center at Kaohsiung Port, including cargo transportation, collection, consolidation, shipping, etc. The operational cost in Taiwan is lower than that in the U.S., so it will effectively cut cost for AAP, he added.
TIPC's president T.H. Lee pointed out that multi-national cargo consolidation (MCC) is a core operational service across free trade zones on the island. APP's new center is expected to start a new era at Kaohsiung Port's free trade zone.
APP is reportedly the largest automotive aftermarket parts provider in North America, serving both professional installer and do-it-yourself (DIY) customers. AAP operates over 5,200 stores, over 100 Worldpac branches and serves approximately 1,300 independently owned Carquest branded stores in the U.S., Puerto Rico, the U.S. Virgin Islands and Canada. The auto-parts supplier employs approximately 74,000 team members.