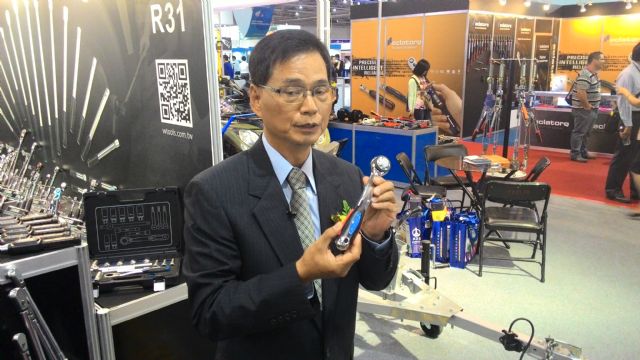 William Chiang and the company's full-turning ratchet wrench.
Founded in 1999 in central Taiwan, William Tools Co., Ltd. has recently released several practical torque wrenches, including the 36451-coded patented dual-way torque wrench featuring consistent torque performance and a ratchet wrench boasting unlimited turning angle.
To enable different users to easily achieve consistent torque, William Tools builds an ergonomic channel around the grip of the 36451 so that users naturally sink the middle finger into the said channel to turn the tool at the same length of lever arm, which therefore results in the same torque.
Over-torquing on the 36451 is prevented by the ratchet drive inside the tool's head, which stops additional turning when a fastener being worked is wrenched to the exact tension.  
Tests prove the 36451's consistent torque that is shown on a tension meter, which displays on a computer monitor a smooth horizontal line composed of dots that represent consistent, exact tension points that the tool achieves on a fastener.
The 36451 grip has a digital torque meter to enable users to measure the tension of a fastener that is being tightened. The meter is shock resistant. On the tool's bottom there is a manually-operated torque scale, which enables users to preset the exact torque.
"We build our wrenches with torque error within only plus and minus three percent, which is stricter than the plus and minus four percent set by ISO," reports company president, William Chiang.
William's series 36451 dual-way torque wrench being tested.
The torque wrench, like the company's other torque wrenches designed for industrial applications, comes with a warranty of 50,000-cycle lifetime.
The full-turning ratchet wrench is equipped with a 360-degree grip which is wrapped with some anti-slip material. Such full-circle rotatability enables users to wrench at all angles regardless of narrow working space. Moreover, the high degree of precision in the tool leaves no gap between the wrench socket and the ratchet lock, to enable maximum turning and work efficiency without slack. Chang boasts that such unique feature is not found in competing products.
A graduate of mechanical engineering of the National Taipei Institute of Technology, Chiang stresses that the company's designs place importance on streamlined design, ergonomic grip, and safety. The streamlined feature was inspired by Chiang's seeing a side-by-side comparison on TV of a streamlined shaver against a poorly-designed one. 
Since its establishment, the company has been dedicated to developing and making ratchet handles, torque amplifiers and torque wrenches as one of the best known makers in Taiwan. The company makes these products either in standard or customized specifications, with their torque capacity and durability meeting or exceeding ANSI, DIN and ISO standards.
A strong in-house R&D unit plays a key role in its new product projects, with products from which being stringently examined by the company's quality control unit when subjected to field testing. The products typically are marketed with a one-year warranty.
Quality manufacturing and customer services have won the company sizable orders from international hand-tool heavyweights including Snap-On and FACOM. The company's customer service includes quality verification at the company's well-equipped laboratory.