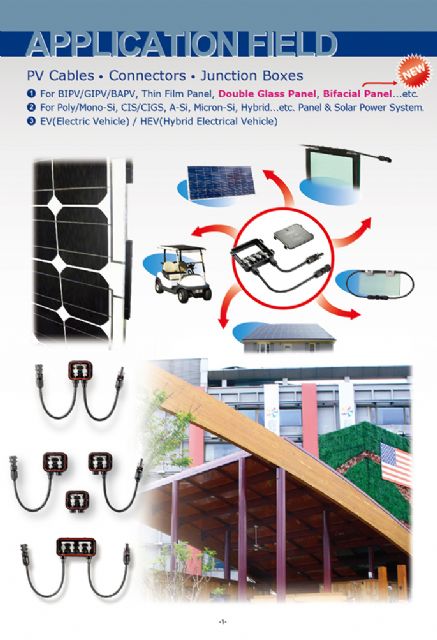 K.S. Terminals promotes wiring accessories for green energy applications.
K.S. Terminals Inc., recognized as Taiwan's No.1 maker of insulated quick-disconnect terminals, is stepping up production of wiring accessories for green-energy applications, including solar-energy equipment and electric vehicles, in line with the global trend of reducing carbon dioxide gas emission and other greenhouse gases by using renewable energy.
The 1973-founded company now focuses mostly on copper-based electric wiring accessories for use in cars, motorbikes and PTWs taking advantage of its specialization and expertise accumulated in its first years of operation when it mainly engaged in manufacturing wiring terminals and hardware forming or pressing services.
The company, which went public in the year 2000 in Taiwan, makes seven categories of wiring products: nylon cable ties, fasteners, markers and pipes, wire ducts or raceways, cable clamps and clips, PVC tubes, and stainless steel cable ties.
The company ships over 80 percent of its total output to cable-wire makers worldwide, with American and European customers mostly ordering products specified for high-power applications and mainland Chinese buyers increasing purchases in anticipation of rising demand driven by Beijing's "One Belt, One Road" initiative.
K.S. Terminal has been pursuing the goal of becoming a world-leading maker of electrical terminals, connectors for all electronic devices, optical communication components and precision connectors.
Its capability to achieve the ambitious goal is supported by the company's solid R&D capacity, well equipped production lines and inspection laboratory, as well as industry recognized specialization in material science and applications.
In addition to a team of well trained specialists, the company's R&D unit is equipped with advanced tools, including Auto CAD, Pro-Engineer, and Uni-Graphic CAD/CAM system.
The company has equipped its three manufacturing sites in Taiwan and a facility in mainland China with automated storage and retrieval systems (ASRS), management information systems (MIS), enterprise resource planning (ERP) and enterprise information portal (EIP) systems, advanced inspection equipment, and automated assembly lines to offer customers expected quality and quick time-to-market manufacturing service. Most of the automated lines are designed by the company's in-house staff. Also the company tools the molds for its products independently.
Industry-standard equipment enables the company's laboratory to conduct temperature, heat cycle testing, RoHS analytics, constant temperature & humidity testing, salt-spraying testing, oil-resistance testing, flame-resistance testing, aging testing, environmental testing, tension testing, thermal shock testing, complex vibration with thermo-humidity testing, plating thickness X-Ray testing, dielectric voltage resistance testing, and insertion/withdrawal testing. The laboratory is ISO/IEC17025 certified.
Its factories have won ISO9002 certification from SGS, JIS, QS9000, ISO14001, ISO TS16949, IECQ QC08000 HSPM (Hazardous Substances Process Management), and TIPS (Taiwan Intellectual Property Management System) certificates, not to mention UL, C-UL, CSA, and DNV.
The company has developed over 20,000 different materials for production in cooperation with its suppliers.
K.S. Terminals is Taiwan's first wiring-terminal maker to introduce reel-type terminals, non-insulated and pre-insulated copper wire terminals, and European-standard terminals.
In 2005, the maker set up the joint venture Green Point Precision Components Co., Ltd. with Taiwan Green Point Enterprise Co., Ltd. to develop IT/IA/IO connectors, taking further step to broaden its product range.