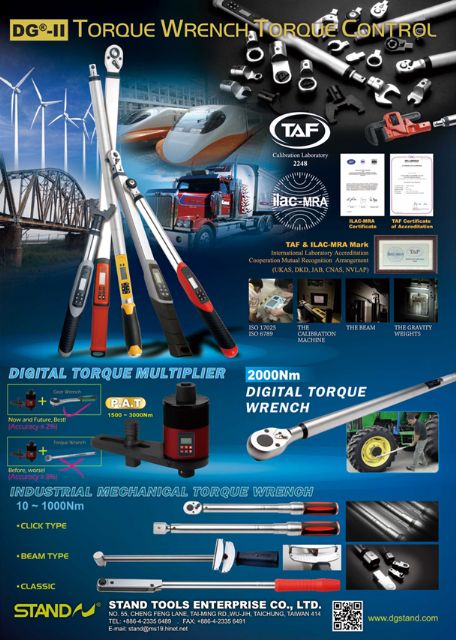 Stand Tools is renowned for making wide ranging torque wrenches to meet different needs.
Although already a well known maker in Taiwan of torque wrenches that takes advantage of electronic technology to measure the maximum torque on fasteners they are designed to work on and calibrate the torque to different tension levels, Stand Tools Enterprise Co., Ltd. is aggressively promoting traditional wrenches that come with fixed torque.
The company is mostly promoting such simply designed wrenches to employers whose factories generally hire inexperienced, lowly-educated workers without knowledge of how to use electronic technology to measure and calibrate torque.
Company executives point out that without such knowledge and capacity to learn, workers tend to damage fasteners by over twisting. They say buyers of the company's fixed-torque wrenches are mostly mainland Chinese and Southeast Asian proprietors, who employ more workers from rural areas without knowledge of torque calibration.
Contrasting the market for the company's unadjustable torque wrenches, export destinations for the company's electronic-calibrated wrenches are in the West. Company executives point out that the company's calibrated wrenches are sought-after by manufacturers who emphasize safety while its unadjustable wrenches target manufacturers who avoid tool calibration to boost production efficiency.
Stand Tools was set up in 1988 to make a broad line of hand tools, including high-torque ratchet screws, drivers and rack sets; automatic magnetic pick-up trays; screwdrivers; long-pole magnetic finders; ratchet screwdrivers; ratchet box wrenches; strain gages; not to mention torque wrenches. 
The company's quality is proven by the CE Certificate of Europe and the Certificate of Taiwan's Small & Medium Enterprise Innovation Award for its torque wrench with digital calibration, the Golden Pin Design Award of Taiwan, and a spot on mainland China's Top-20 listing of hardware and hand tool brands.
Behind the company's quality achievements is the company's strong R&D team, laboratory certified by Taiwan Accreditation Foundation (TAF) and TAF's international partners on the International Laboratory Accreditation Cooperation Mutual Recognition Agreement (ILAC-MRA).
Driven by diligent R&D as well as the company's long involvement in the hand-tool industry and solid mold-development capability, the company has won at least 130 patents worldwide.
Stand Tools' R&D team has an innovative mindset, having released the DG-II digital torque wrench in 2008 by integrating microelectromechanical system (MEMS) into the wrench.
The DG-II is among the company's most enviable product. The tool has a liquid-crystal display (LCD) displaying accurate usage data including torque force to guide users. The meter begins buzzing as a warning when the wrenching force approaches the preset torque level, coupled with a vibrating warning to complement the audible warning in noisy work settings. 
The DG-II can store up to 32 sets of torque values for later check-up on the meter. Torque measurements can be shown in four unit systems: Nm, lbf-ft, lbf-in, and kgf-m.
This wrench is an ideal tool for repairing automobiles, motorcycles, aircrafts, machines, engines and electronic equipment.
The maker is also known as a major supplier of ratchet screwdrivers. Stand Tools accounts for over 80 percent of Taiwan's total exports of such screwdrivers, having developed over 5,600 standardized parts that it can swiftly assemble into nearly infinite variety of screwdriver models to meet customer's need in functionality and price point.
While shipping most of its products to major international tool brands in the U.S., Europe, Japan and other countries, mainly on an original design manufacturer (ODM) basis, Stand Tools continues to explore opportunities among big retail stores in the U.S. with its own-brand products.