To further develop its automotive-related business, China Steel Corporation (CSC), reportedly the largest steel maker in Taiwan, recently signed a cooperation agreement with domestic auto-parts makers Engley Auto Parts Co., Ltd. and Honley Auto Parts Co., Ltd. to set up an automotive steel laboratory.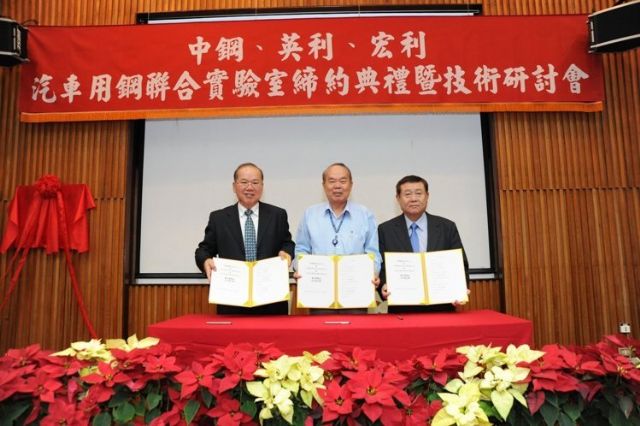 Honley chairman Yun Fu-tsai (from left), CSC chairman Song Chih-yu, and Engley chairman Lin Chi-pin at the signing of the joint-lab cooperation agreement. (photo from UDN)
The signing ceremony was attended by CSC chairman Song Chih-yu, Engley chairman Lin Chi-pin, and Honley chairman Yun Fu-tsai, as well as senior executives of many local auto and motorcycle parts companies.
Engley is an A-class original equipment (OE) auto-parts supplier in China, supplying about 75 percent of seatbelts used by FAW Group, reportedly China's largest automaker. The Taiwanese-financed company has strong technical capability and has won German automaker Audi's order for automotive structural parts. Honley is a joint venture between CSC, Engley and K.S. Terminals.
During his speech at the signing, Song said that CSC has been striving to continuously develop various types of newer and better steel materials for Taiwan's automotive industry, as well as provide differentiated technical services by setting up joint labs with customers. By offering such extended range of services from material options, processing-technique development to product performance certification, Song explained, CSC continues offering total solutions to customers and helping them build their own technical capabilities in various new steel materials and applications. That, the chairman stressed, is quite important for local auto-parts makers' business expansion.
To further leverage its position as the leading supplier of automotive steel materials, CSC tied up with local partner Engley, KS Terminals Inc. and Chang Yee Steel Co., Ltd. in early 2015 to set up two joint ventures, including Honley in Taiwan and CECK Auto Parts Co., Ltd. in China. The two joint ventures aim to rapidly tap into the hot-stamping supply chains of automakers on the both sides of the Taiwan Strait.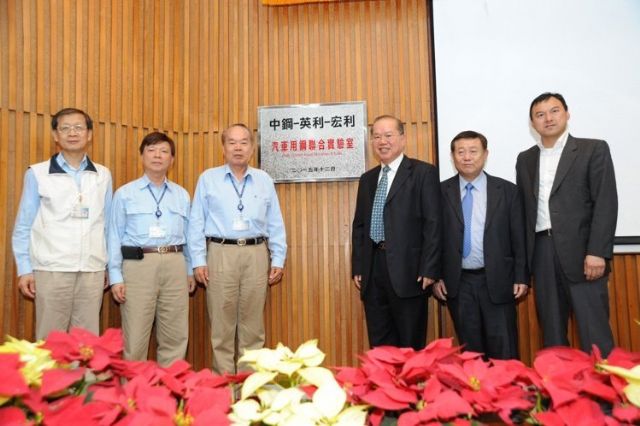 Representatives from CSC, Honley and Engley jointly unveil the joint automotive steel laboratory. (photo from UDN)
Engley's chairman Lin pointed out that his company has been targeting to achieve greater reduction in vehicular mass for more than 20 years, through improving product structural design and adopting advanced materials. To extend the technical lead ahead of its rivals, he added, Engley will invest more resources into the development of high-strength, weight-reducing body parts by applying high-strength steel, aluminum-magnesium alloy, and PP or PA plastic materials.
By signing the cooperation agreement with CSC and Honley, Lin added, Engley looks to build increasingly closer partnerships with the two companies based on mutual-trust, with the partnership to contribute to a brighter future for Taiwan's auto-parts industry.
Honley chairman Yun expressed gratitude to CSC because the upstream steelmaker provides necessary help to downstream makers in new technical development. As the No. 1 and sole hot-stamped auto-parts maker in Taiwan, he added, Honley is shouldering an important mission to be the pioneer in the local auto-parts industry's transformation from cold-stamping to hot-stamping. Through the establishment of the joint lab, Yun said, Honley looks to build the necessary R&D capacity to help all auto and motorcycle parts manufacturers on the island to tap homegrown hot-stamping technologies that match world-class counterparts.