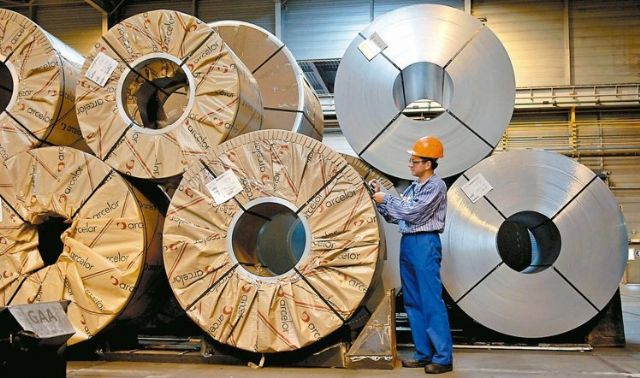 CSC posts pretax profit of NT$0.6 for 2015, the second lowest in its history (photo courtesy of UDN.com).
Dampened by the sagging steel market, caused mainly by China's supply glut, Taiwan-based China Steel Corp. (CSC), the island's largest steelmaker by size, finished 2015 with lackluster performance.
According to CSC's latest financial statement, the firm's annual consolidated revenue sharply shrank by 22.2 percent year on year (YoY) to NT$285 billion (about US$8.64 billion), with operating profits of NT$8.116 billion (US$245.93 million). The most disappointing result among other figures that CSC reported is its pretax profits, which plunged to only NT$9.506 billion (US$288.06 million), or about NT$0.6 per share, the second-lowest in company history.
Based on the results released, institutional investors generally estimate the company's EPS (earnings per share) for 2015 at sub-NT$0.5, the worst result since the Taiwanese steelmaker posted its all-time nadir of NT$0.38 in EPS in the aftermath of global financial turmoil in 2012.
Amid persistent market doldrums, CSC's performance actually witnessed a bleak end to 2015. For December, CSC reported consolidated revenue of NT$21.593 billion (US$654.33 million) for a steep drop of 28.4 percent compared to a year ago, and operating loss of NT$2.777 billion (US$84.15 million), down from NT$2.69 billion (US$81.51 million) it suffered a month earlier.
Despite generating revenue from disposal of shares it held in Taiwan Stock Exchange-listed companies, including Taiwan Semiconductor Manufacturing Co., recognized as among the world's technologically leading semiconductor foundries, the firm still saw its pretax loss for last December significantly rise to NT$1.983 billion (US$60.09 million) from NT$523 million (US$15.85 million) tallied last November.
The firm ascribes the disastrous December performance partly to continued drop of nominal prices of its steels sold to local downstream manufacturers, and partly to considerable loss on inventory value it wrote off on its balance sheet.
For the final quarter of last year, the firm posted consolidated revenue of NT$63.021 billion (US$1.91 billion) and pretax loss of NT$2.396 billion (US$72.61 million), or NT$0.15 per share, to experience its first unprofitable season after 14 consecutive quarters of profitability.
After trudging through a disappointing end in 2015, the Taiwanese steelmaker has begun to see a positive sign of recovery for the time being, primarily because widespread output cut by global steel mills has gradually stabilized steel prices. In response, CSC has raised its nominal prices for March by 2.3 percent compared to those applied during the period of January and February. Institutional investors opine that the firm's nominal prices will likely continue to rise between April and May, to inject growth momentum into its performance in the first half of this year.
CSC's Performance by Year
Year

2011

2012

2013

2014

2015

Net Profits

NT$19.494

NT$5.811

NT$15.982

NT$22.160

NT$9.506

EPS

NT$1.34

NT$0.38

NT$1.03

NT$1.43

NT$0.60

Note: figures for 2015 are pretax.
Source: Market Observation Post System