Some 47,477 new cars (including light commercial vehicles as paneled vans) were sold in Taiwan in the first month of 2016, up 13.5 percent from the previous month, or month-on-month (MoM), but a 1.1 percent decline from the same period of last year, or year-on-year (YoY), according to statistics compiled by Taiwan's Ministry of Transportation and Communications (MOTC).

Industry experts pointed to the lack of new launches in 2016 as the indication of the ho-hum nature of Taiwan's car market, with only one new model, Toyota Prius hybrid, being introduced by the vendor in January, and none in February. 


Top-6 Automobile Vendors* in Taiwan (Jan., 2016)



Ranking

Vendor

Brand

January Volume

MoM

YoY

Market Share



1

Hotai Motor

Toyota, Lexus

15,582

3.8%

1.5%

32.8%



2

CMC

Mitsubishi, CMC

5,115

52.8%

-0.2%

10.8%



3

Yulon Nissan

Nissan, Infiniti

5,025

22.1%

-5.7%

10.6%



4

Honda Taiwan

Honda

3,387

12.2%

6.5%

7.1%



5

M-Benz Taiwan

Mercedes-
Benz

2,555

26.2%

22%

5.4%



6

Ford Lio Ho

 Ford

2,146

-2.6%

-11.6%

4.5%



Overall Market

47,477

13.5%

-1.1%

100.0%





* Including both locally-assembled and imports.
Source: MOTC, U-Car News



Hotai Motor Co. Ltd., Taiwanese agent of Toyota and Lexus and the No. 1 auto vendor on the island in the past 14 years by market share in a row, continued to lead as auto distributor in January again by selling 15,582 units, up 3.8 percent MoM and 1.5 percent YoY, for a market share of 32.8 percent.
China Motor Corp. (CMC), Taiwanese assembler, agent of Mitsubishi and vendor of its own CMC lineup, was the No. 2 vendor in January by selling 5,115 units, a 52.8 percent MoM increase but a 0.2 MoM decrease, representing a market share of 10.8 percent. 
Yulon Nissan Motor Co., Taiwanese agent of Nissan and Infiniti and the No. 2 auto vendor with only a minor lead over CMC in 2015 (No. 3 in 2014), sold 5,025 new vehicles in January, up 22.1 percent MoM but down 5.7 percent YoY, leading to 10.6 percent market share (10.3 percent in 2015).
Honda Taiwan Motor Co., wholly-owned local subsidiary of Honda Japan, sold 3,387 new cars to report a 12.2 percent MoM and 6.5 percent YoY volume growth, and market share of 7.1 percent. The firm attributes its enviable sales in January to hot sales of the imported Odyssey multi-purpose van (MPV) and other models with upgraded equipment.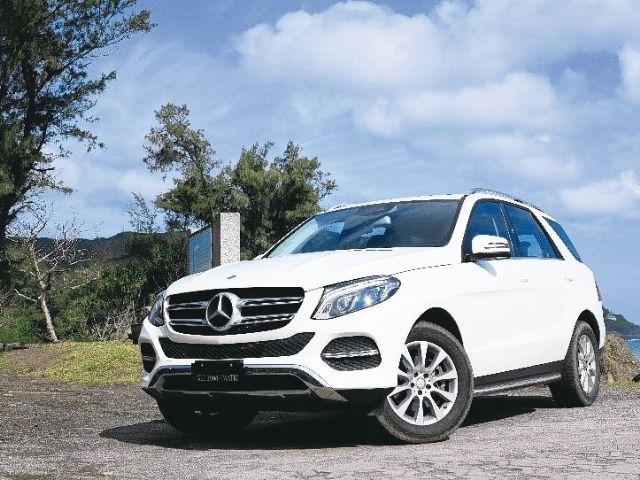 Mercedes-Benz Taiwan sold more than 350 Mercedes-Benz GLE SUVs on the island in January, while became the No. 5 automobile vendor by defeating many brands with local assemblers. (photo from UDN)
Mercedes-Benz Taiwan, the local subsidiary of the German brand, again outshined other imported brands, and even locally-assembled nameplates, in January to be the No. 5 vendor, by selling 2,555 units, a 26.2 percent MoM and 22.0 percent YoY increase. Mercedes-Benz Taiwan delivered more than 350 new GLC-class SUVs and more than 300 GLE/GLE coupes in January, posting clear sales gain during the month. And the local subsidiary is very confident to achieve continually improving monthly sales in the following months. The vendor's January market share was 5.4 percent.
January's No. 6 vendor was Ford Lio Ho Motor Co., Taiwanese subsidiary of Ford Motor Company of the U.S., which sold 2,146 new cars, winning market share of 4.5 percent. Ford's sales saw a 2.6 percent MoM and 11.6 percent YoY decline.
The No. 7 through No. 10 auto brands were Mazda (import), BMW (import), Luxgen (locally-assembled and own-brand of local Yulon Group) and Hyundai (locally- assembled and imported) by Sanyang Motor Co., Ltd., which sold 2,078, 2,048, 2,017 and 1,296 units, respectively.
Luxgen saw intriguing performance in January: its volume declined 22.8 percent YoY, but rose 72.8 percent MoM. Industry insiders explained that the brand is accustomed to seeing relatively higher monthly growth in January as its sales division often accumulates the vehicles ordered late in the year to be delivered next year, mainly to satisfy prudent buyers of Luxgens who tend to be more careful about the licensing date to achieve higher residual or resale value.
Imports
The imported car market share in Taiwan has been rising rapidly in recent years, contrasting the trend even in 2015 when the island's overall new-car market saw a 0.7 percent drop from the previous year, with the total imported-car sales volume still posting an eye-catching YoY increase of 13.7 percent.
In January, imported car sales continued to enjoy a 5 percent YoY growth, compared to the 1.1 percent YoY drop in the overall market, with the total sales volume being 16,161 units to represent market share of 34 percent.
Sales of Imported Cars in Taiwan (Jan. 2016)



Rank

Brand

Volume

MoM

YoY

Share



1

Mercedes-Benz

2,555

126.2%

122.0%

15.8%



2

BMW

2,048

119.0%

100.4%

12.7%



3

Toyota

2,011

73.7%

81.3%

12.4%



4

Mazda

1,697

91.3%

86.1%

10.5%



5

Lexus

1,379

84.3%

175.2%

8.5%



6

Volkswagen

1,000

125.3%

90.3%

6.2%



Overall

16,161

101.7%

105.0%

34.0%



Source: MOTC, U-Car News