Wide ranging hose clamps, automotive clamps, hardware clamps, industrial clamps, etc.
Founded in 1975, Auto Clamp Co., Ltd. is an experienced company specializing in developing and manufacturing various kinds of hose clamps for a wide variety of applications.

The clamp maker says that one of its core advantages lies in the in-house integrated production and processing, which helps to assure the highest production efficiency and qualitative consistency, while accelerating product development and cutting costs, by eliminating outsourcing to potentially under-qualified, shoddy subcontractors.

The maker's newly developed S4 Series Ball-Rolling Type Stainless Steel Cable Tie is equipped with a unique ball lock that enables quick and easy installation of ties. Only 304 stainless steel is used to make this item to achieve excellent durability and toughness for use virtually anywhere, including indoor, outdoor, underground etc. The difference between this product and others is that the new dimpled pattern on the band achieves increased friction with the ball roller, thus further upgrading the clamping power of the cable tie.

In addition to typically larger packed orders, small-volume packs are also available. Auto Clamp provides blister packing for this item, of which currently two band widths of two different lengths are available: 259mm and 300mm, coupled with band widths of 4.6mm and 7.9mm. The maker also delivers in different sized blister packs according to customers' requirements. The cable tie is multi-nationally patent-pending for its structural design, exterior design, and overall design.

The maker says that it has full confidence in providing high-caliber products, prompt delivery, reasonable prices, and satisfactory services.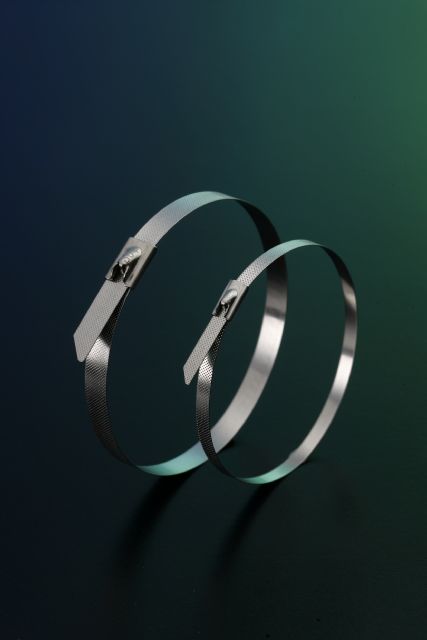 Samples of Auto Clamp's hose clamp with ball lock.
Auto Clamp Co., Ltd.
1F., No. 646, Zhongqing Rd., North Dist., Taichung City, Taiwan 40462
Tel: 886-4-2299-1109
Fax: 886-4-2299-4187
E-Mail: zutie.mika@msa.hinet.net
Website: www.auto-clamp.com