Product & Mold Design and Manufacture, OEM, processing service, CNC milling, CNC lathing, precision parts & components, electronic parts, mechanical parts, etc.
Founded in 1979, Yosin Ind. Co., Ltd. is a veteran company specializing in OEM/ODM manufacturing with integrated capability from product and mold/die development, manufacturing, processing, surface treatment, assembly to packaging. The firm is known for always sticking to the highest quality-control (QC) standards and delivering total customer satisfaction.

The versatile maker is noted for being dedicated to developing and upgrading advanced design skills backed by cutting-edge 3D computerized graphics, helping global customers with product and mold/die design, development and manufacturing.

With in-house manufacturing of computer numeric control (CNC) milling and CNC lathing, Yosin offers precision parts and components for wide-ranging applications, such as building hardware, bathroom hardware, auto and motorcycle parts, electronic parts, furniture hardware, industrial hardware, hand tool accessories, parts for gardening shears, mechanical parts, specialty metallic valves, and many others.

It specializes in processing various types of metallic materials, including aluminum alloy, steel alloy, copper alloy, titanium alloy, stainless steel, SCM440-grade engineering plastic, SCM430-grade chrome-molybdenum steel, etc.

For continued business growth, Yosin carried out a corporate restructuring in 2007 to upgrade operations to world standards with installation of advanced equipment, improved customer services, expanded versatility, and new management concepts. The company then introduced high-end machinery from industrially advanced nations, such as Japan, Germany, etc., to effectively become a top-notch player of its kind in Taiwan.

Yosin says that it welcomes global customers to place OEM/ODM orders, and is very confident in providing integrated or individual services from product design and development, to assembly and delivery.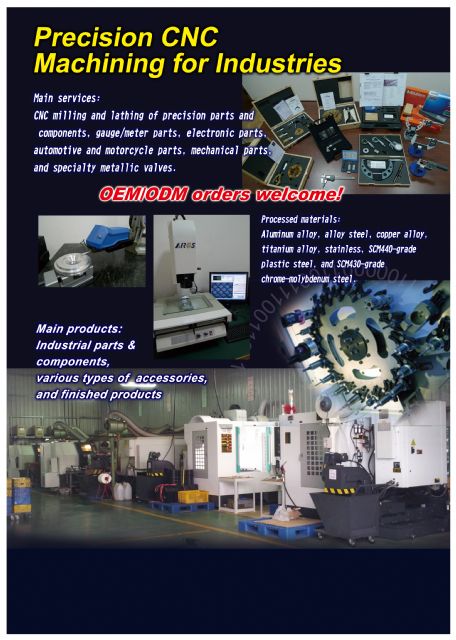 Yousing Precision Industry Co., Ltd.
No. 100-3, Changtsao Rd., Sce. 3, Homei Town, Changhua Hsien, Taiwan 508
Tel: 886-4-761-4228
Fax: 886-4-761-2999
E-Mail: you.sing@msa.hinet.net
Website: www.yspi.com.tw