Han King Plastic Machinery Co., widely recognized as a leading Taiwanese maker of multilayer blow-film machines, has released a series of products with improved  productivity to compete with its western rivals, particularly from Germany and Italy.

Among the feature-packed machines is a 3-layer heavy-duty (FFS) blow-film machine coupled with in-line embossing, gusseting and printing units. This system aims to help the company further tap opportunities in increasingly robust market for packaging worldwide, driven by steadily growing middle-class consumers in China, Indonesia, the Philippines, Thailand and other emerging nations with rising disposable income, which typically result in shopping in higher standard retailers that offer merchandise in relatively more upscale packaging and in greater volume.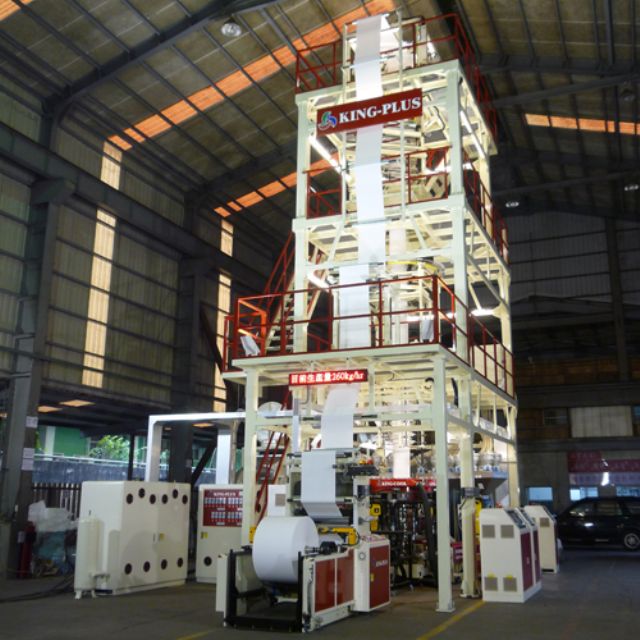 Han King`s 3-layer blow-film machine.
The 3-layer heavy-duty blow-film machine is able to achieve output of 350 kilograms per hour to match competing models made in Germany and Italy mostly thanks to the integration with the in-line units and the company's high-performance screws, gearbox, air rings and other high-quality components.
This system is especially attractive to bag-making operators in nations with labor shortage, rising wages who demand higher levels of integrated production to reduce number of operators, with such capability  achieved by the effective synchronization of all its subsystems through Han King's improved electric control system and independently-developed software that  ensure maximized performance, easy operation and safety.
Company executives stress that this machine has proven to be a hot-seller since being displayed at ChinaPlas 2014, reportedly the world's No. 2 plastics and rubber technology trade show that was held in Shanghai in April 2014, partly because of the growing concern of eco-friendly, innovative packaging worldwide.
Popularity due to Recyclability
They say that heavy-duty PE bags are increasingly applied in industrial packaging to replace woven bags, partly because polyethylene is recyclable, and partly because conventional woven PP bag-making machines generate more waste materials and call for more peripherals and manpower to operate. Besides, woven PP  bags also need to be laminated that demand more energy input to be relatively less eco-friendly.
Besides the 3-layer heavy-duty blow-film machine, Han King's major products also include 5-layer co-extrusion lines upgraded from small, single-layer ones it had developed in the very early days of its business, as well as slip-proof and bi-convex embossing devices, heavy-duty blow-film machines, HDPE (high-density polyethylene) super-high-speed blow-film machines, LDPE (low-density PE) super- high-speed blow-film machines, blow-film machines for agricultural and industrial films, blow-film machines for stretch film etc.
The 5-layer co-extrusion lines come with five sets of extrusion screws in diameter of 55mm to put out 420 kilograms of film 1900mm wide, 0.11mm thick per hour out of LDPE, LLDPE (linear low density polyethylene), MLLDPE (metallocene LLPDE), HDPE, PP (polypropylene), EVA (ethylene vinyl acetate), PA (polyamide), and EVOH (ethylene vinyl alcohol) materials.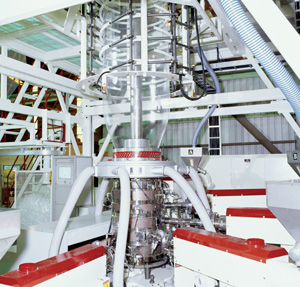 5-layer co-extrusion machine is Han King`s other highly popular machine.
The 5-layer machines are ideal tools for manufacturers of stand-up pouches, soft tubes, beverage packs, laminated film, protective film, stretch film, and heat- shrink film.
Its agricultural/industrial blow-film extrusion machines are equipped with a 125mm-diameter screw, to enable output of 600 kilograms of film 3048mm wide, 1.016mm thick per hour. The machines are applicable to making plastic film used in greenhouse; aquacultural pond, reservoir, and various other ponds; leakage prevention in construction, tunnels, irrigation, canals; subterranean disposal of toxic wastes and garbage; and mineral industry.
These machines are widely sought-after by all kinds of industrial operators who demand uncompromising engineering and technology in film-making machines. 
For instance, the company's superior technological advantage is reflected in its in-house designed screws, which are developed with advanced mechanical engineering technology, and repeatedly improved based on real-world feedback for several months till they are perfected to help maximize performance of the machines. Such effort enables the firm to state unequivocally that the screws feature higher precision, better quality and longer lifespan than competing models. Furthermore, this maker is also adept at  developing gearboxes and other key components.
Mostly Export
Presently, over 95 percent of the company's machines are shipped worldwide under its "King Plus" brand, with major export destinations being mainland China, East Europe, U.S., Egypt, the Middle East, the United Arab Emirate, Southeast Asia, and New Zealand.
The Chinese mainland is its biggest market by absorbing approximately 30 percent of  exports, leaving 20 percent each to Southeast Asia and Latin America, and 10 percent each to East Europe and the Middle East.
The company plans to tap into the Mexican market this year and the South African market next year. This year, the company plans to devote its marketing efforts on mainland China, where it will attend the ChinaPlas 2016 that is scheduled from April 25 through 28 in Shanghai.
Any street-smart buyer of film-making machines would not overlook a key merit of the company's products, which are well recognized for being more cost-competitive on average than similar models  made in Germany and Italy, albeit with comparable quality. In fact it is regarded as a strong contender against German suppliers in the mainland Chinese market, where sales have significantly surged to contribute around 30-35 percent to the maker's annual turnover over the past few years. Such trend speaks loudly of the maker's competitiveness that is especially meaningful when Chinese manufacturing activity slows to motivate plant operators to cut cost by sourcing lower-priced machinery but without sacrificing efficiency and quality.    
Notable for Steady Growth
Known for dedication to supplying the world the best blow-film machines, the company is one of a handful in Taiwan's blow-film machinery makers still developing sustainably amid growing rivalry from the mainland's competitors
With over 20 years of experience in development and manufacturing the company has accumulated ample know-how to enhance design of optimally-functioning products that not only help raise output but also build sustainable business.
The company, backed by a seasoned in-house R&D team, has built a solid reputation in the global market for its long-term dedication to developing reliable, price-competitive products. Since its inception, the company has not only prioritized needs of customers, but also has been offering innovative products that sometime exceed even buyer expectations. All the company's products are designed to help customers reduce production costs.
Each of the company's machines is built under stringent quality control conducted in accordance with ISO9001 standards. Its quality control specialists inspect every single machine before shipping.
The maker has built solid capability to steadily introduce innovative products due to its well trained R&D specialists, along with precision manufacturing equipment, stringent quality inspection and scientific management.
The company believes the key to success in the industry is investing in innovation. Following such belief, the company has never failed to convert new ideas into tangible designs. Providing customers with optimal products and services being the corporate goal, the company continues to persistently enhance manufacturing capability by adding new production software and hardware.