2-in-1 event to host over 200 exhibitors from nine countries during its 4-day run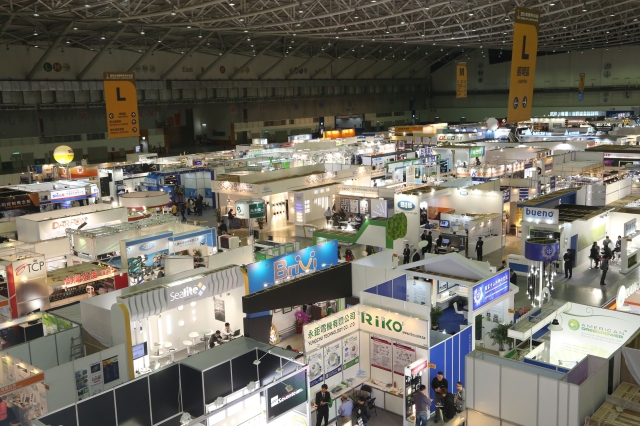 Taiwan International Lighting Show (TILS) will be held alongside LED Taiwan 2016 to provide global buyers complete range of lighting products including LED processing equipment and materials.
This year, the Taiwan International Lighting Show (TILS), to take place April 13-16, will be staged alongside LED Taiwan 2016 to offer a more complete sourcing platform that enhances convenience, enabling global lighting buyers to browse under one roof virtually everything related to LED lighting, from processing equipment and materials to application products.
Together, the 2-in-1 trade show will host 234 exhibitors from nine countries manning 675 booths at the Taipei Nangang Exhibition Center, which opened a few years ago in suburban Taipei to complement as well as enlarge the existing exhibition halls at the TWTC in eastern Taipei. This lighting trade fair is set to be the biggest of its kind in Taiwan on record.
According to online articles of March 2016 by LEDinside, a division of Trendforce (a global provider of market intelligence on the technology industries, with membership base of 410,000 subscribers) in Taiwan, LED sales in 2015 increased 50 percent YoY to 60 million LED bulbs, compared to 40 million LED bulbs in 2014, said John Manoppo, Chairman of the Indonesian Electrical Lighting Industry Association.
Most of U.S.'s mayors rank energy-efficiency LED lighting as the most promising technology for city managers to reduce their energy use and carbon emissions over the coming two years, according to a survey held at the United States Conference of Mayors (USCM) in Washington DC earlier this year.
NICHIA Corporation, the pioneer and the leader in LED technology and Future Lighting Solutions (FLS), the world-class leader and innovator in demand creation, marketing and distribution of solid-state lighting technologies, announced a new distribution agreement covering the Americas and Europe.
The above excerpts show the seemingly unperturbed growth and promise of the LED lighting market globally, despite manufacturing slowdown in China and the recently reported decline in housing starts in the U.S., to bring added business potential to the upcoming 2-in-1 show.    
TILS is organized by the Bureau of Foreign Trade, the Ministry of Economic Affairs (MOEA), and co-administered by the semi-official export promoter Taiwan External Trade Development Council (TAITRA) and the private trade group Taiwan Lighting Fixture Export Association (TLFEA).
At TILS, exhibitors will demonstrate their technological prowess in lighting design that has been likely adopted in the LED array street lamps widely installed in Taipei, an innovation that is not too common even in many developed nations. The organizer will set up a booth in cooperation with the Taiwan Intelligent Lighting Association to promote LED commercial lighting applications.
The MOEA-supervised Industrial Technology Research Institute (ITRI) and the Ministry of Defense-regulated National Chung-Shan Institute of Science and Technology will promote ergonomic smart-lighting technologies, organic light emitting diode (OLED) lighting technologies, and horticultural (greenhouse) lighting technologies at the show.
The LED Taiwan 2016 will primarily host exhibitors of LED devices, LED process equipment and materials, technologies, and lighting applications.
More than just a product exhibition, the 2-in-1 platform will also host educational events on the sideline with lighting designers to chair forums related to trendy lighting designs.
The TILS is also known for sparking the innovative spirit with its "Innovative Product Award" that recognizes and honors brainstorming efforts that result in cutting-edge, practical, improved lighting designs. Jurors from the private sector, government organizations, and academic circle will choose four winners among 11 entries from Nanya Photonics Inc., Igloo System Co., Ltd., Nextech International Lighting Co., Ltd., Intelink Technology Co., Ltd., Aeon Lighting Technology Co., Ltd., Epoch Co., Ltd., Microstone Co., Ltd., Green Lighting Technology Corp., Anteya Technology Corp., and Mean Well Enterprise Co., Ltd.
This year's entries include multifunctional outdoor security lighting system, smart streetlight, square recessed light, smart ceiling light, Internet of Things-connected dimmer, and waterproof power supply for smart lighting. The submissions will be displayed on the sideline of the lighting fair and the four winning products will be announced at the April 13 opening ceremony.
The organizer points out that increasingly more solutions have been developed for architectural lighting, sculptural light planning, indoor mood lighting design, and other lighting designs for commercial premises mostly driven by intensive rollouts of new lighting technologies in recent years. Such trend is partly attributable to major sports events as the 2016 summer Olympics in Rio, Brazil that will result in urban renewal to create demand for lighting, the makeover of the Bhendi Bazaar in Mumbai, India that is said, according to the Financial Times weekend article of March 12-13, to be the biggest urban renewal project globally, and other upscale high-rises and skyscrapers worldwide, as the Burj Khalifa Tower in Dubai, the Gherkin in London, the Taipei 101, One World Trade Center in New York that inspire one-upmanship to create demand for innovative lighting and motivate designers to keep plying their trade.