Kenda Rubber Ind. Co., Ltd., a Taiwan Stock Exchange (TWSE)-listed tire maker headquartered in Taiwan and with production bases worldwide, recently announced that sales of automotive spare tires and electric two-wheeler tires have been increasing to help steady the momentum behind the maker's operations, albeit with demand from the Chinese market slowing to reflect the widely reported structural shift in the nation's economy from manufacturing to one driven by services and private consumption.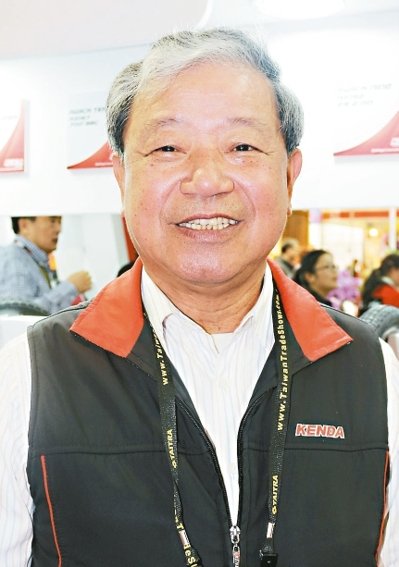 Yang Yin-ming, chairman of Kenda, a major tire maker headquartered in Taiwan. (photo from UDN)
Yang Yin-ming, chairman of Kenda, says that his company is striving to achieve double-digit sales growth this year, while anticipating explosive growth by 2017, when the new factories in Vietnam and Indonesia will kick off mass production.
Kenda reported accumulated after-tax net profits of NT$2.68 billion (US$81.3 million) in the first three quarters of 2015, for EPS (earning per share) of NT$3.13 (US$0.09), with fourth quarter sales also being steady. Some institutional investors predict the company's 2015 EPS will exceed NT$4 (US$0.12), due to raw-material prices having been hovering at relatively low levels in the wake of 13-year lows in prices of crude oil, derivatives of which are key ingredients for tire making. 
In the Chinese tire market, there were both excessive supply and falling tire prices in 2015, Yang says, due to the U.S. trade sanction on China-made tires that forced makers of tires originally for export to resell products in the domestic market. To confront such market change, Kenda moved production of automotive tires to Taiwan last year, to maintain exports to the U.S., as well as cushion impact from the overall oversupply in the Chinese market.
Yang said that last year Kenda focused on selling spare tires to global automakers, while its shipments of electric two-wheeler tires increased by 50 percent, both of which effectively kept the company's sales respectable in 2015.
Amid widely reported downbeat news of a slowing global economy, coupled with downgraded forecasts of global economic growth, recently announced plummeting Chinese exports and imports in February, and shrinking international trade as cited in a letter to the editor to the Financial Times, Yang says his company will put more efforts in the original equipment (OE) tire market by promoting products to Japanese, European and Chinese automakers, as well as continuing to try to drive spare-tire and electric two-wheeler tire sales.   
The chairman also announced business deployments in Association of Southeast Asian Nations (ASEAN), including a new factory in Indonesia and another in Vietnam, with Kenda planning to invest US$100 million to build an Indonesian factory that is scheduled for equipment installation to be followed by trial-production by the end of this year.
The decision to set up the Indonesian factory is based on the country's rapid economic development, massive domestic demand driven by an estimated 55 million people by 2015, and low production costs compared to those in China, Taiwan and other SE Asian nations, especially after the sharp depreciation of the rupiah, Yang says. With trial-production scheduled to begin in the fourth quarter of 2016, the new facility will initially focus on bicycle and motorcycle tires, but may expand into passenger car radial (PCR) tires, says Yang. The initial daily production capacity at the new factory will total 20,000 bicycle and 10,000 motorcycle tires.
The Taiwanese tire maker is also scheduled to kick off capacity expansion in Vietnam by constructing the second Vietnamese factory. The second Vietnamese facility is expected to be completed by 2017 to be ready for mass production of PCR tires with daily capacity of about 5,000 units, Yang says.
With the two new facilities, Yang says, Kenda is expected to effectively meet increasing demand from the ASEAN market, as well as set up more capacity to export tires to the U.S. and European markets, which will help Kenda to be ready to deal with explosive growth.
Kenda's Operational Results (2010-2015*)



2010

2011

2012

2013

2014

2015
(Jan.-Sept.)

Revenue

NT$23.73 billion

NT$27.79 billion

NT$29.34 billion

NT$32.45 billion

NT$33.29 billion

NT$23.9 billion

EPS

NT$2.49

NT$4.12

NT$3.6

NT$4.12

NT$4.5

NT$3.13

*: January to September, 2015
Source: Market Observation Post System (MOPS), TWSE.