Automotive ratchets, tie-downs, knit straps, fasteners, buckles, pulley fittings, OEM parts
Yang Light Engineering Co., established in 2005 in Changhua County, central Taiwan, is a specialized manufacturer of metallic products and parts for wide ranging applications, with two manufacturing bases totally taking up 13,000 square meters.

The versatile maker turns out a broad spectrum of hardware products and industrial parts, including automotive ratchets, tie-downs, woven straps, fasteners, zinc buckles, shackles, pulley fittings, hardware parts and components, medical equipment, telecommunications parts, motorcycle parts, auto hardware, punched, lathed and pressed products, hand tools, strap-holders for planters, overcenter buckles, truck anchor points, cam buckles, anchor points, tool bags, tail nets, ratchet tie-downs, etc., all of which are compliant with international standards as CE and UL.

The company's products are well-received by customers across as many sectors as the number of its product offering, with satisfied buyers of military vehicles, watercrafts, automotive products, agricultural equipment, leisure and sports equipment, furniture, construction and climbing equipment. Over 80 percent of the firm's output goes to Europe, North America and Japan. Some globally famous enterprises in the automotive and electronic sectors also outsource production of parts from the company either directly or indirectly, indicative of this maker's proven reputation as a world-caliber OEM (original equipment manufacturer).

To secure sustainable development and avoid the vicious cycle of underselling competition against rivals from emerging countries, the company has developed R&D technology that is not easily duplicated and production skills to shore up its ODM (original design manufacturing) business, so as to move upmarket with potentially higher margins.

The company is also notable for its extensive know-how about materials. Understanding that the quality of output is often determined to large degree by proper adjustment in production processes according to material used, the company researches and studies characteristics of various materials, hence having accumulated ample knowledge about different production techniques that suit copper, zinc alloy, tin, aluminum, stainless steel of grades ranging from 300, 400 and 500 series to 600 and 700 high-end series, special high-hardness metals, engineering plastic and high-density yarn.

Excellent production efficiency and flexibility are also the firm's core competency, achieved partly by a full slate of advanced production equipment employed in-house, including CNC machining centers, punching, forging, and die-casting machinery and large-sized electric overhead cranes, and in no small degree by many subcontractors who possess specialized technique and know-how in different fields.

Unremitting effort paid to develop strong mold developing capability helps build Yang Light's current success as well, which is key to cutting cost and raising quality and quantity of output, not to mention shortening lead-time by advancing schedule of volume production. To that end, this manufacturer dedicates most of its R&D resources to develop computer-aided 3D mold designing and rapid prototyping technologies, also updating its knowledge about mold development and mechanical engineering through periodical meetings with foreign experts. The efforts have paid off, as the company is able to develop over 200 sets of new molds per month independently and continues adding new products to its lineup.

With strong commitment to quality, Yang Light adheres to by-the-book quality control measures, such as digital quality archiving and hourly spot-checks, in compliance with the ISO and TS16949 systems. Also, the company has set up a full line of precision testing devices, including 3D projectors and hardness, impact and tension testing machines, some of which, like the newest horizontal 200t tension tester, are developed in-house for special tests and more thorough pre-delivery inspection. Noteworthy is that each independently developed testing device has been approved by SGS, thanks to the company's R&D capability.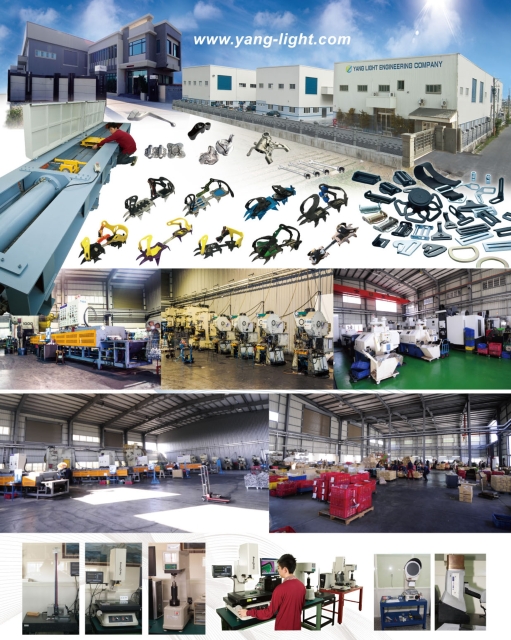 Yang Light supplies varieties of hardware products and industrial parts, some on OEM and ODM basis.
Yang Light Engineering Co.
No. 3-289, Fanjin Rd., Taiping Village, Puyan Township, Changhua County, Taiwan 516
Tel: 886-4-866-1396
Fax: 886-4-866-1399
Email: sales@yang-light.com.tw
Website: www.yang-light.com