Over 100 seminars to be staged with keynote speeches and discussions revolving around design, market and technology during four-day run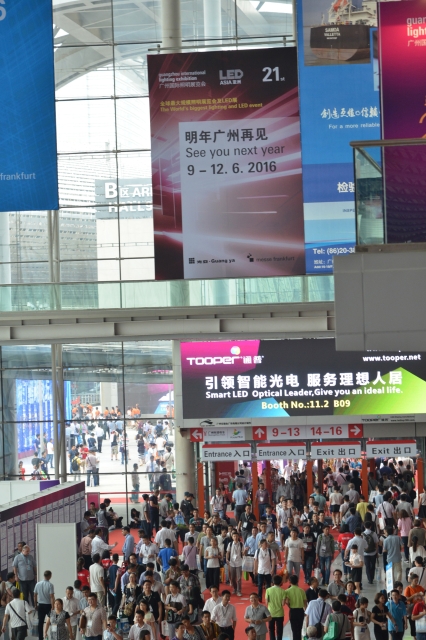 GILE 2016 is set to open on June 9 at the China Import and Export Fair Complex, to provide participants a close look at new trends in the lighting and LED market (photo courtesy of GILE organizer).
Asia's most influential and comprehensive lighting and LED event, the Guangzhou International Lighting Exhibition (GILE), which continues to work towards exposing the market's untapped potential, will celebrate its 21 anniversary from June 9 to 12, 2016 at the China Import and Export Fair Complex with many must-see features, including an event programme that focuses on promoting out-of-the-box thinking and pushing the boundaries of conventional lighting concepts.
On the upcoming GILS 2016, Ms. Lucia Wong, Deputy General Manager of Messe Frankfurt (Shanghai) Co Ltd, show organizer, commented, "As in previous years, GILE remains a breeding ground for fresh market ideas and sophisticated lighting solutions. For 2016, the quest for the next industry innovation continues and our THINKLIGHT event programme aims to stimulate participants to explore the vast and different possibilities of lighting. Concepts that are simple, smart, connected and incorporate Internet Plus are capable of adding another dimension to lighting, elevating living comfort levels, and initiating progressive innovation within the lighting community."
The event programme boasts over 100 diverse sessions that are categorized into three tracks: design, market and technology. A combination of these essential lighting aspects will create a valuable and informative experience for participants.
THINKDESIGN
Covering new design concepts, city lighting planning and lighting applications, the design track will examine how modern lighting exceeds the basic function of illumination. Contemporary designs are achieving greater levels of sophistication and creating new lighting experiences for users. Track sessions will address key topics such as personalization, optimized efficiency and simplistic designs. Participants can also be kept updated on emerging lighting applications under various conditions.
THINKTECHNOLOGY
Technology is reshaping the lighting landscape. In an evolving technological era where product life cycles are getting shorter than ever along with increasingly fierce price competition facing insiders in the marketplace, industry players must constantly upgrade and optimize their product portfolios to remain competitive. The technology track will shed light on advanced technologies that have enhanced the functionality and efficiency of lighting. Furthermore, the use of innovative materials and significance of connected lighting as well as brand new applications and improved uses for existing applications including connectivity, Li-Fi and human-centric lighting will be discussed.
THINKMARKET
With speed to market increasingly regarded a new key performance indicator for insiders in the changing lighting industry, seminars in the market track will not only dive into the benefits of market transformations, but also investigate new business opportunities in emerging lighting markets such as Brazil, Russia and Thailand. Also to be touched upon are core market dynamics, new distribution channel strategies and industry end-users' preferences.
The lighting and LED industry is full of progressive ideas and GILE's interactive THINKLIGHT programme seeks to unveil them. Having begun its pre-show efforts to engage the lighting community to build industry interaction, the programme asks experts to share their lighting industry forecasts and insights before and during the exhibition. Collected entries will be displayed throughout the duration of the show to encourage market players to think differently about lighting and its many dimensions. The programme serves as a tool for exchanging market intelligence and generating new value-added business opportunities.
A sneak peek at some entries reveals a few of the topics the lighting industry is focusing on for future development. They include simple lighting designs with hidden fixtures, connected lighting, human-centric lighting for enhanced wellness, greener energy light sources to help obtain low-carbon lifestyles and much more.
The Guangzhou International Lighting Exhibition, along with the concurrently held Guangzhou Electrical Building Technology, is headed by the biennial Light + Building event.
For more information, please visit www.gymf.com.cn