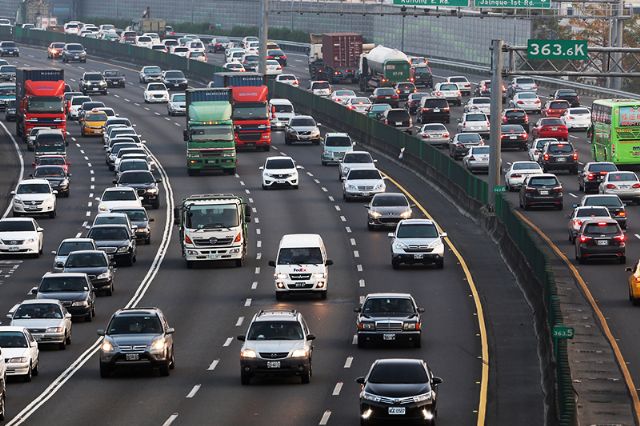 Taiwan's overall light-vehicle sales increased to 37,878 units in May from 34,953 units in April (photo courtesy of UDN.com).
Compared to Taiwan's anemic economic growth, the local light vehicle market has still expanded at solid pace so far this year, as reflected by the latest statistics compiled by Ministry of Transportation and Communications (MOTC) for May, when imports, however, posted negative growth.
MOTC's statistics show that Taiwan's light vehicle sales totaled 34,953 units in May, up 8.4 percent month on month (MoM) or 9.9 percent year on year (YoY), adding to cumulative sales of 179,452 units for the first five months of this year, 2 percent more than the same period of last year. The overall market is likely to finish the first half of this year with positive growth, based the figures mentioned above.
In the month, Hotai Motor Co., a local carmaker and seller of Toyota cars, remained atop the list of Taiwan's top 10 car vendors by posting sales of 12,084 units (including locally assembled and imported vehicles), growing by 13.4 percent from a month ago. Mitsubishi Motors Taiwan and Yulon Motor Co., Ltd. came second and third, respectively, with sales of 4,424 and 3,992 units, up 13.7 and 10.0 percent MoM.
Taiwan's Top 10 Car Vendors by Sales in May
Ranking

Vendor (Franchised Brand)

May Sales

April Sales

MoM Growth Rate

1

Hotai Motor (Toyota)

12,084

10,653

13.40%

2

Mitsubishi

4,424

3,895

13.70%

3

Yulon

3,992

3,628

10.00%

4

Honda

2,336

1,884

24.00%

5

Mercedes-Benz

1,918

1,888

1.60%

6

Mazda

1,824

2,541

-28.20%

7

Ford

1,819

1,439

26.40%

8

BMW

1,548

1,558

-0.60%

9

Sanyang Motor (Hyundai)

1,359

1,015

33.90%

10

Nexgen

1,070

1,051

1.80%

Source: MOTC
Mixed Results
Taiwan's buoyant light-vehicle market aside, an interesting observation from MOTC's statistics is that sales of locally assembled and imported vehicles saw mixed results in the month.
To say the recent robust growth of the Taiwanese market for light vehicles is entirely attributable to local carmakers is not overstated. Of the overall May sales, 20,291 units were locally assembled models, sharply surging by 31 percent from 15,493 units sold a month earlier.
Among top 10 local carmakers, Kuozui Motors Ltd., manufacturer of Toyota cars, dominated the segment in the month, when a total 8,316 locally-assembled vehicles of the Japanese nameplate were sold, significantly soaring by 50.7 percent compared to only 5,519 units in April. Yulon Motor, who makes Nissan cars, and Honda Taiwan occupied the second and third spot, respectively, with sales of 3,872 and 2,105 units. China Motor Corp. (CMC), Mitsubishi's local maker in Taiwan, sold 1,716 units to rank No.4, while Ford Lio Ho Motor Co. was the fifth-largest local automobile maker with sales of 1,631 units.
Noteworthy is that of the top 10 makers, eight finished the month with double-digit MoM growth rates. While Kuozui Motors enjoyed a growth rate of over 50 percent to lead among them, Sanyang Motor also tallied 42.2 percent, and CMC and Ford Lio Ho both scored growth of over 30 percent.
Taiwan's Top 9 Local Carmakers by Branded Sales in May
Ranking

Carmaker (Franchised Brand)

May Sales

April Sales

MoM Growth Rate

1

Kuozui Motors (Toyota)

8,316

5,519

50.7%

2

Yulon Motor (Nissan)

3,782

3,417

10.7%

3

Honda Taiwan (Honda)

2,105

1,735

20.3%

4

CMC (Mitsubishi)

1,716

1,300

32.0%

5

Ford Lio Ho (Ford)

1,631

1,228

32.8%

6

Sangyang Motor (Hyundai)

1,197

842

42.2%

7

Yulon Motor (Nexgen)

1,070

1,051

1.80%

8

Mazda Motor Taiwan (Mazda)

317

255

24.3%

9

Sime Darby Kia Taiwan (KIA)

157

146

7.5%

Source: MOTC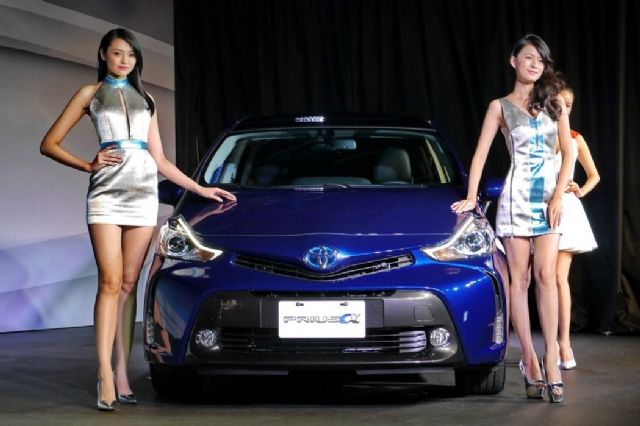 Buoyant sales of locally assembled vehicles sustained Taiwan's overall auto market in the month (photo courtesy of UDN.com).
While sales of locally assembled models and makes under different automobile nameplates generally showed impressive growth rates to sustain Taiwan's overall market demand in May, those of imported models, mostly luxury sedans and SUVs, dropped.
According to MOTC's statistics, overall sales of imported makes and models in Taiwan shrank by 17 percent to 11,553 units in the month from 13,917units as seen in April.
Leading the segment was Mercedes-Benz, whose sales totaled 1,758 units, 2.5 percent fewer than 1,804 units a month earlier. Toyota gave up its No.1 spot to the German nameplate after witnessing its May sales drastically declined by 36.5 percent MoM to only 1,741 units. BMW, Mazda and Lexus filled the remaining spots sequentially in the top five brand list, but all suffered negative growth in their sales in the month.
Worth mentioning is that Volkswagen and Audi reported positive growth rates in their sales as the only two brands among the top 10 in the segment.
Taiwan's Top 10 Auto Brands by Imported-Vehicle Sales in May
Ranking

Brand

May Sales

April Sales

MoM Growth Rate

1

Mercedes-Benz

1,758

1,804

-2.5%

2

Toyota

1,741

2,743

-36.5%

3

BMW

1,548

1,558

-0.6%

4

Mazda

1,507

2,286

-34.1%

5

Lexus

1,013

1,522

-33.4%

6

Volkswagen

801

660

21.4%

7

Subaru

526

663

-20.7%

8

Audi

430

379

13.5%

9

Skoda

398

434

-8.3%

10

Volvo

303

401

-24.4%

Source: MOTC