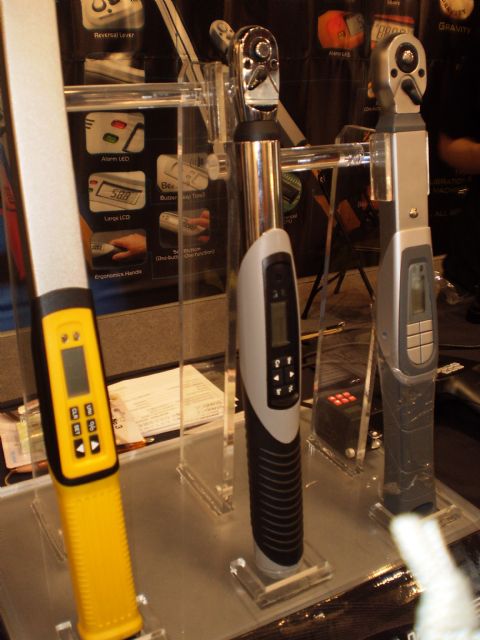 Ever more Taiwanese hand tool makers have ventured into the development of digital tools to secure sustainable growth, thanks to the nudging by ITRI.
Development of digital tools has been regarded as one of Taiwan's hand tool industry's answers to insiders' concerns over the underselling rivalry in emerging countries.
With higher torque precision than traditional mechanical models and calling for advanced electromechanical integration, digital tools, including torque wrenches and screwdrivers, generate better profits, to enable Taiwanese hand tool makers to address paper-thin margins. From another viewpoint, the higher technological levels required for production of such products are also believed to help them to move upmarket and establish a higher profile over competitors encountered in the segment for DIY-caliber tools.
Leading the development in Taiwan's hand tool industry is Industrial Technology Research Institute (ITRI), a government-funded, non-profit institution specializing in developments of IT (information technology) and electronic technologies, which worked out Taiwan's first homemade digital tool in 2004 and thereafter improved related production methodologies with help of MIRDC (Metal Industries Research & Development Centre) till 2006. Since then, the R&D body has continued engaging itself in developments of more models and related peripherals, and shared its research results with local hand tool manufacturers to speed up the industry's upgrading.
Showing Taiwan's first prototype of the digital torque wrench, Chen Chang-hsiung, product manager of Intelligent Machinery Technology Division of ITRI's Mechanical and Systems Research Laboratories, who leads an R&D team to develop digital tools, indicated that ITRI is just the birthplace of the digital tool sector, and stressed that emergence of the sector is a consequence of Taiwan's matured development of hand tool and electronic manufacturing and IC (integrated circuit) design industries.
Inspired by popularity of semiconductors in electronic devices, ITRI applied MEMS (micro electro mechanical system) chips to work out Taiwan's first digital torque wrench in 2004, which was simply fine-tuned from a traditional mechanical model in exterior design and installed with a MEMS chip-integrated torque measuring module as prototype.
Fabricated through nanometer manufacturing process, MEMS is the integration of mechanical elements, sensors, actuators, and electronics on a single silicon substrate, which can collect information from the environment through measuring mechanical, thermal, biological, chemical, optical and magnetic phenomena more precisely and accurately, and assures better precision of torque force detected as it is entirely impervious to environmental variations.
Considering extremely high unit cost of MEMS chips would drive away local hand tool makers, who are mostly small and medium in size, from venturing into the field when used as torque measurement unit, ITRI's engineers therefore turned to a more economical alternative: strain gauge. Despite proven a failure in marketability, the first digital torque wrench literally provided ITRI a more distinct orientation toward development of the brand new product category, according to Chen.
After succeeding in applying strain gauges in digital torque wrenches and improving production methodologies with help of MIRDC to make digital tools more marketable and easier to be mass produced, ITRI invited 11 interested local companies in the hand tool industry to jointly set up Taiwan's first specialized maker of digital torque wrench, Eclatorq Technology Co., Ltd. in 2006.
The 11 companies, namely Re-Dai Precision, Sound Han, K&W Tools, J&K International, Proxene Tools, Savco, Tong Lee, Infar Industrial, Yih Cheng, William Tools and Quinn, now are shareholders of Eclatorq, with ITRI providing necessary technical support. Chen noted that since ITRI debuted its digital torque wrenches, other innovatively strong hand tool makers, such as Stand Tools, Ke Hung, Matatakitoyo and Kabo Tool, have moved to develop their models, helping accelerate development of the sector on the island.