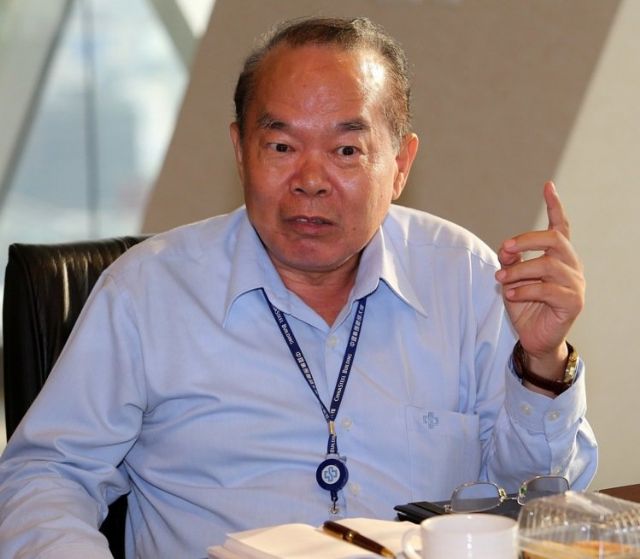 CSC's chairman Sung confirms his company's investment valued at NT$4 billion in developing solar power business (photo courtesy of UDN.com).
The Taiwan-based China Steel Corp. (CSC), the island's largest steelmaker by size, has decided to invest NT$4 billion to develop solar power business in the next five years, to make its foray into the sector, a move just confirmed by the chairman Andrew Sung at an investor conference held June 23.
According to Sung, the investment includes the installation of solar power panels on roofs of the buildings in CSC's manufacturing bases around Taiwan, an equivalent of approximately 80 hectares, as an integrated solar power generation system, with planned total annual output of 1 gigawatt, which equals to 2 percent of CSC's overall electric power consumption a year. The establishment of a new company to be engaged in operation and maintenance of the system is also part of the investment project.
Sung stressed the system will be used mainly to help sustain CSC's overall electric power supply, while unused electricity generated by it will also be sold by the planned company to TaiPower Co., a state-run electric utility, to generate turnover. By investing in solar power generation as a pilot local enterprise, the chairman noted, CSC aspires to contribute to the development of the renewable energy sector in Taiwan.
As to CSC's operating performance, Sung reported that the firm raked in after-tax net profits of NT$7.6 billion (US$237.5 million) in 2015, and cumulative net profits of 3.663 billion (US$114.47 million) in the first five months of this year, keeping in finer shape than its Korean and Chinese counterparts at a time when the global steel market has remained sluggish for a long period of time.
After months of a persistently gloomy climate, Sung emphasized that the market has gradually bottomed out for the moment, as reflected by CSC's orders received in the second quarter, which are 25 percent more than expected, not to mention those received so far to be filled in the third quarter, which have already hit the firm's goal. Hopefully, he said, the firm will see brighter prospects in the second half of this year than in the first half.
Meanwhile, CSC's executives said at the same venue that the firm will step up exploring the Southeast Asian and Indian markets in the years to come to echo the "New Southern Policy" mapped out by Taiwan's new administration, in hopes of boosting Taiwan's presence there.