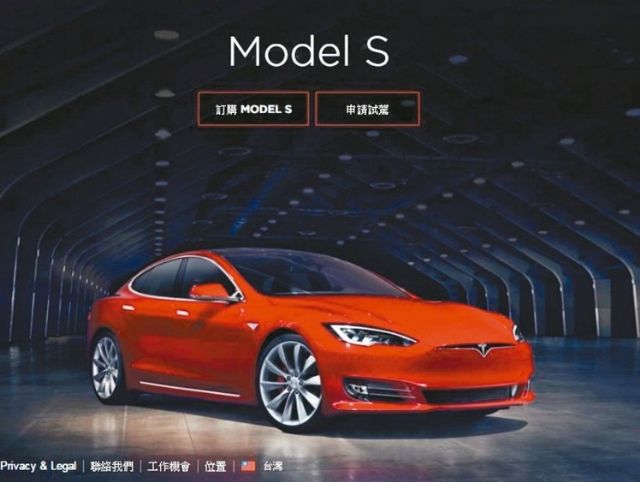 Tesla Motors has set up shop in Taiwan to tap the local market for upscale cars (photo courtesy of UDN.com).
The U.S.-based Tesla Motors, world's leading electric sports sedan developer and vendor, formally sets up shop in Taiwan by putting its local official website online to accept orders by local consumers, marking the beginning of its foray into the Taiwanese market for upscale cars.
Tesla Motors Taiwan, which just unveiled a Model S electric sedan last week in a department store in Taipei, capital of Taiwan, stated that it is scheduled to open a local showroom sometime in September.
Presently, three electric car models of Tesla Motors' have been open for pre-orders on its official website by Taiwanese consumers, namely Model S, Models X and Model 3.
Among those, Model S is available in four specifications: 60, 75, 95D and P90D, related to capacity of built-in batteries. Worth mentioning is that A Model S P90D has a shorter range than that a 90D, which is built with a 90kWh battery pack, but sells for a higher unit price. An entry-level Model S 60D with a top speed of 210 kilograms per hour and an estimated range of 400 kilograms is also orderable on the website.
By setting up its business operations locally, Tesla Motors is expected to better penetrate the Taiwanese market in the near future, stated market observers, mainly because it offers friendlier prices than those by existing trading companies, not to mention more reliable warranties and delivery.