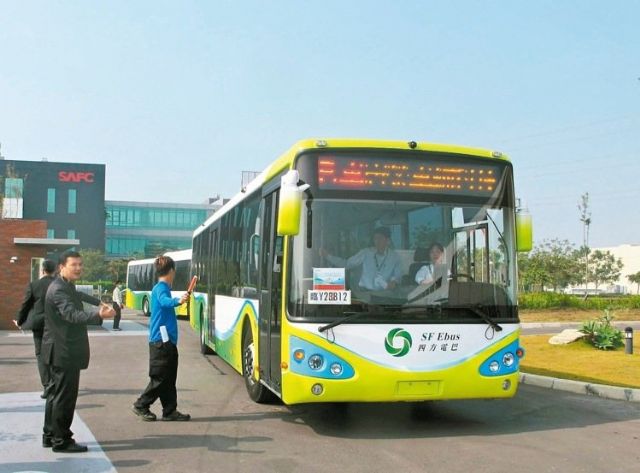 Taiwan-made electric buses offer a greater balance between quality and price than competing models from Japan and China (photo courtesy of UDN.com).
Aided by Ministry of Economic Affairs (MOEA), Taiwanese electric bus makers have teamed up with local parts and component suppliers to actively penetrate the Southeast Asian market. And better quality and price offered will hopefully help them in the face of competition from Chinese and Japanese rivals to gain solid ground there.
MOEA officials note that following years of development, a well integrated electric bus supply chain composed of local suppliers has successfully been built in Taiwan, with the sector's added-value rate already exceeding 60 percent for the time being.
Those insiders include electric bus assemblers as RAC Electric Vehicle Inc., Tangeng Advanced Vehicles Co., Ltd. and Aleees Eco Ark Co., Ltd.; motor suppliers as Fukuta Elec. & Mach. Co., Ltd., Leedan Electric Technology Co., Ltd. and Cheng Chang Machinery Electric Co., Ltd.; battery module manufacturers as Simplo Technology Co., Ltd.; chassis makers as Kian Shen Corp.; and bus air conditioning system suppliers as Suetrak Pacific Air-Conditioning Co., Ltd.
To further boost the emerging sector, which presently turns out about NT$2 billion (US$62.5 million) worth of electric buses a year, mostly for domestic sale, MOEA therefore has decided to assist local makers to join hands with each others to explore overseas markets, especially the ASEAN (Association of Southeast Asian Nations) bloc.
With Southeast Asian nations continuing to lead global economic growth, MOEA official note that Taiwan-made electric buses are expected to be well received in the regional market for several reasons.
Firstly, MOEA officials point out that Taiwanese makers generally possess excellent technology to handle custom manufacturing as required, a key factor for insiders to develop sustainably in the marketplace, given that electric buses are mainly used for city tourism and therefore call for more flexible equipment options to meet different requirements, such as battery life, seat layout and interior design.
A great balance between quality and price is also among attractions of Taiwan-made electric buses, say MOEA officials, who add that Taiwanese makers can offer better quality and services to customers than Chinese rivals, while assuring customers friendlier prices than their Japanese counterparts. The feature is particularly attractive to local buyers in most Southeast Asian countries.
MOEA officials reveal that among Southeast Asian nations intending to introduce electric buses into local tourist transport systems, Vietnam, which has just seen its economy rally, shows the strongest interest in Taiwan-made models presently. To respond to the market demand, some of Taiwanese makers, who have begun exporting to Vietnam, will consider seriously setting up factories in the country in the future, especially when Taiwan is still locked out of the free trade bloc.
In addition to Vietnam, many of Taiwan's major electric bus makers have also commenced assessing if setting up shop in other Southeast Asian countries, including Cambodia, Malaysia and Thailand.
Overview of Taiwan's Electric Bus Supply Chain
Parts and Components Supplied

Major Suppliers

Motors

Fukuta Elec. & Mach. Co., Ltd., Leedan Electric Technology Co., Ltd., Cheng Chang Machinery Electric Co., Ltd.

Motor Drivers

Rich Electric Co., Ltd., Whetron Electronics Co., ltd.

Battery Modules

Simplo Technology Co., Ltd.

Batter Cells

Delta Electronics Inc., E-One Moli Energy Corp., Amita Technologies Inc., Chang Hong Technology Co., Ltd., Dijiya Energy Saving Technology Inc.

Air Conditioning Systems

Suetrak Pacific Air-Conditioning Co., Ltd.

Chassis

Kian Shen Corp.

Source: Industrial Development Bureau, MOEA