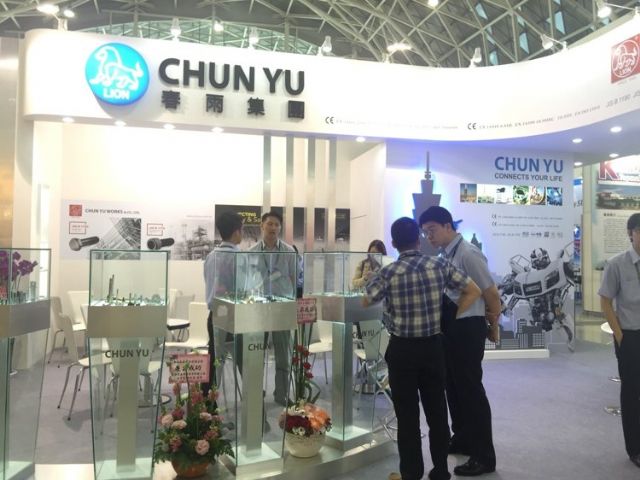 Successful product diversification and marketing strategies help buoy Chun Yu amid market changes (photo courtesy of UDN.com).
On the payoff of its efforts to continue going upmarket, Chun Yu Works & Co., Ltd., one of Taiwan's major fastener makers and listed on the Taiwan Stock Exchange, effectively keeps in comparatively fine shape among its local peers amid market changes seen lately.
After upbeat performance seen in 2014 through the first half of 2015, Taiwan's fastener industry has been confronted with growing impacts since the second half of last year, which include the fluctuating global economy, China's economic slowdown, sluggish market demand in Europe and many others. Among the worst factor, industry insiders say, is slumping steel price, which drastically dropped by 30 percent in China last year to cause many of Taiwanese fastener makers to suffer severe losses on inventory write-down in the same year.
To industry insiders, adding salt to the injury is EU's recent cancellation of its antidumping measures on fasteners from China. This February the EU decided to repeal its anti-dumping duties imposed on steel and iron fasteners imported from China to respond to the WTO rules announced earlier that require the EU to bring its measures into compliance or face retaliatory measures from China. This has cast further shadow over outlooks of Taiwan's fastener industry in the years to come.
While the woes mentioned above has spread gloom to Taiwan's fastener industry, Chun Yu, however, has remained buoyant as reflected in its financial reports for 2015: after-tax net profits sharply surged by 16 percent year on year and annual revenue slightly declined by only 8 percent.
President M.H. Lee of Chun Yu attributes the firm's robust 2015 performance to its effort on continuously developing the higher-end segment of the global fastener market and better diversified product lineup. For instance, Lee indicates that the firm, whose product portfolio encompasses over 36,000 different kinds of fasteners, has been actively developing wind turbine fasteners after successfully gaining solid ground in the segment for rail fasteners. Such a strategy works to help Chun Yu effectively hold off rivals, especially those resorting to underselling.
On EU's repealing of antidumping penalties on China's steel and iron fasteners, which has helped Chinese competitors to stage a comeback in the European market, Lee comments that it will pose little impact to Chun Yu, primarily because its products are targeted at higher-end segments to differ from those imported from China. Presently, over 35 percent of the firm's revenue is generated annually in the European market.
Bolstered by successful product diversification and positioning, Chun Yu is expected by institutional investors to score an operating profit margin of over 20 percent for the first half of this year, and end the whole year with enviable performance.