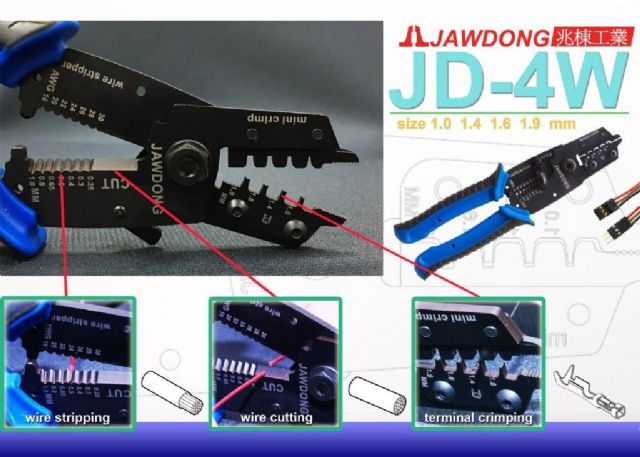 Jawdong's JD-4W is multifunctional and fits electrical wires and terminals in many sizes (photo courtesy of Jawdong).
The Taiwan-based Jawdong Industrial Co., Ltd., a specialized developer and maker of wire stripping and cutting tools, has been promoting its JD-4W terminal crimper/wire stripper, designed to help professional users in various industries, including aircrafts and automotives, to handle electrical wires and terminals with incredible ease.
Compared to ordinary crimping and wire stripping tools that are generally cranked out from conventional forging process, JD-4W is exquisitely made by Jawdong's improved, cutting-edge production skills to achieve better precision and accuracy, a distinct feature which, in turn, enables the crimping of small terminals with optimal efficiency. Despite costing over three times what ordinary models require during R&D, the tool significantly excels in qualitative consistency and accuracy and precision thanks to Jawdong's special production process, hence ensuring users greatly enhanced value and few defects.
In addition to offering excellent crimping efficiency and accuracy, JD-4W also enables the stripping and cutting of tiny electrical wires without the need for complementary tools. Building a combination of wire stripping and terminal crimping functions into a single tool looks easier said than done, but in fact requires consummate production skills to achieve, given that such design is prone to undermining operational accuracy and precision, particularly a concern among professional users. Surely not a mediocre manufacturer, Jawdong successfully works out JD-4W to address the concern, in hopes of impressing professional users with the high value and incredible convenience the tool offers.
Interested buyers and readers may contact Jawdong by dialing 886-4-2270-6161 for more knowledge of JD-4W