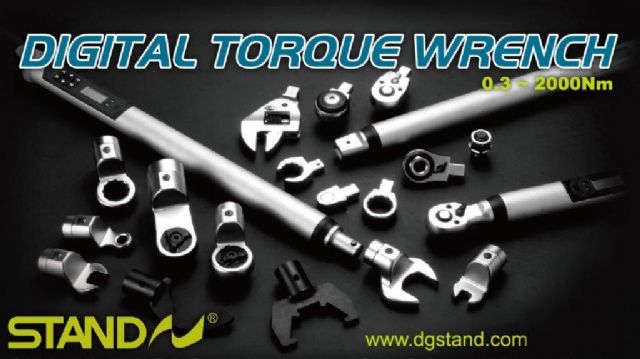 Stand Tools provides a variety of interchangeable heads for its digital torque wrenches to meet different purposes (photo courtesy of Stand Tools).
Founded about three decades ago in Taichung City, central Taiwan, Stand Tools Enterprise Co., Ltd. has established a high profile as an industry-leading supplier of hand tools, with product lineup encompassing various torque tools, from screwdrivers and related parts targeted at DIY-caliber users to high-end digital torque wrenches demanded in the aerospace industry. A couple of globally prestigious enterprises are on Stand Tools' customer list.
To keep competitive and buoyant in the increasingly challenging market, Stand Tools has taken several strategies, including having its QC lab accredited by TAF in 2000. With the TAF-accredited QC lab, the firm can better make sure torque wrenches it makes offer the highest levels of precision and accuracy, to satisfy international buyers and end-users in need of such tools with unquestionable quality. Also notable is that the firm's digital torque wrenches, available in torque ranging from 0.3 to 2,000Nm, can be customized with interchangeable heads to meet different purposes and help enhance work efficiency and convenience.
Also among Stand Tools' product lineup are magnetic tools, including basic magnetic materials, tool holders, trays and iron filing and scrap collectors, which have proven popular with customers from Europe, the U.S. and Japan for fine utility and impressive diversity. Firmly rooted in its homeland, Stand Tools has actively channeled its products to local retailers and wholesalers over the past few years, with an aim to serve domestic customers and consumers with its high-quality hand tools.
Buyers and readers interested in Stand Tools may visit the website: www.dgstand.com, or dial 886-4-2335-6489, for more information.