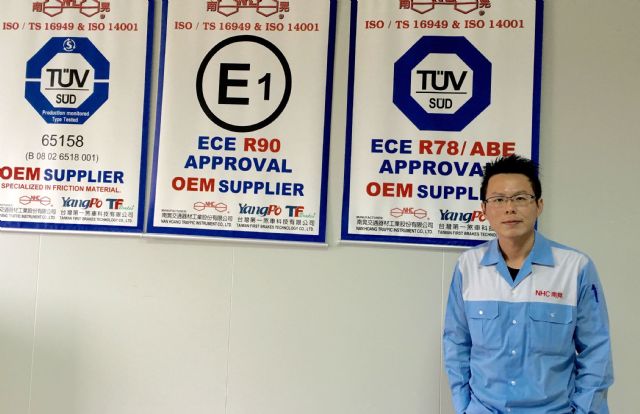 With Nan Hoang's friction materials having obtained many certificates from all over the world, chairman Cheng is confidence to see the firm attain more sustainable growth in the global market (photo courtesy of Nan Hoang).
Taking advantage of the persistently growing popularity of its friction-material products in OEM, OES and aftermarket segments worldwide, Nan Hoang Traffic Instrument Co., Ltd., Taiwan's largest supplier of its kind, has been actively boosting global market share and branded sales together with its subsidiaries, with an aim to reach another pinnacle of success in the coming years.
Chairman C.K. Cheng of Nan Hoang stresses that the firm's own brand "NHC" has effectively gained solid ground in overseas markets over the past years. For now, NHC-branded products have been distributed and retailed in 18 different countries in Asia, America, Europe and the Middle East. Meanwhile, the company has stepped up exploring the Chinese market, mainly through logistic centers set up by its subsidiaries to accelerate delivery and distribution, and better promote its products under sub-brands there.
Over 55 years of dedication to manufacturing friction-material products have seen Nan Hoang accumulate rich know-how, set up skillful R&D workforce and possess cutting-edge technologies in the line. Besides, the firm employs a full line of multifunctional, precision quality inspection instruments in house, capably conducting performance, physical, analytic and comparison tests as required by customers. Furthermore, this maker has worked out over 100 kinds of non-asbestos materials and some 8,000 items, which have been applied in more than 1,800 types of disc brake pads. Completely made in Taiwan to achieve consistent, reliable quality, its products all have passed SGS R90, R78 and TUV certifications, and measured up to RoHS and REACH requirements.
Presently, the company's major product categories include low- and zero-copper disc brake pads, non-asbestos-organic, low-metallic and semi-metallic materials, paper-based clutch discs, cork-based clutch discs, and sintered friction materials. In recent years, the company has heavily promoted its high-end disc brake pads specifically for sports cars with maximum speed of over 250 kilometers per hour.
To retain its leading status over local peers, Cheng emphasizes that Nan Hoang spent considerably setting up its second laboratory in Taiwan two years ago, where the world's most advanced testing and inspection equipment for friction materials and parts are installed to further boost product precision and safety.